Pondering the Puzzlement
Survival Seeds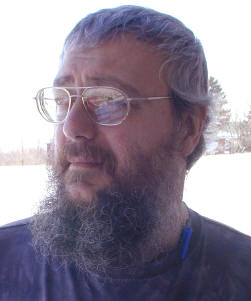 (5/1) "As the meltdown progresses, one of the first things to be affected will be our nation's food supply. Expect soaring prices along with moderate to severe shortages by spring. If you don't have the ability to grow your own food next year, your life may be in danger." ~ Survival Seed Bank (Internet commercial site)
Being an "end timer" (one who sees the collapse of our civilization as already in progress) I'm intrigued by people's responses to what is happening around us. When a suburban relative asked me about a "survival seed bank" she'd found for sale on the Net, I asked a homesteading friend for her opinion of the "offer". She blew a gasket.
From the web site: "Could you and your family get off the grid and survive in a panic?"
Homesteader: "The answer to that question is NO. If you aren't already growing your own food, you're not suddenly & miraculously going to be able to do it because you have some seeds stashed away. And let's also remember that if the grocery shelves suddenly went bare, you'd still be WEEKS, if not MONTHS, away from being able to harvest a garden from those seeds. And if you aren't already doing it, how are you going to miraculously procure the tools & equipment needed to start a garden on short notice? Do you really think you're going to be able to prepare & work an acre of land if you're too damned lazy to already be feeding yourself from a small backyard plot? You will not have the knowledge, the skills, the discipline, the backbone or the muscle mass to crank out a garden that will feed your family for any amount of time unless you're already doing it."
A promise from the site: "Total Seeds -- Enough to Plant One Acre"
Homesteader: "Unless you think you can live on lettuce & cabbage, there aren't enough seeds in this package to plant 1/4 acre of anything truly substantial, much less have successive rotations of anything while you're learning to save seeds, which is another skill you won't have unless you're already doing it! (And no, the instructions that come with the package will NOT be enough.) And I guarantee you that if you find yourself suddenly "off-grid" & hungry from turning that acre with a shovel & your bare hands, you're going to need more calories than the rabbit food this package provides. When you truly become hungry, you're going to want REAL food.
Where are the summer squash, the long-term storage pumpkins & winter squash? The wheat seeds? The dark leafy greens like kale & mustards? The broccoli & turnips & storage cabbages? The truly substantial soup beans & peas? Yeah, I know I'm going to want an heirloom variety of eggplant when I'm starving -- 10-12 days from seeding until transplant, then another 80 days or so until you get to pick one!
Do you know how long your growing season is & whether or not you can even mature some of these varieties? Bloody Butcher corn takes about 120 days to mature, longer in cooler climes. Do you already have a grinder to make it into cornmeal? Bet those are going to be easy to find in a crisis!"
Homesteader's summation: "Throwing some seed on the ground is the easy part, but it won't feed your family right away & if you don't know how to store & process the results, it won't feed your family for longer than the immediate future. Don't waste your money on this company -it's one of the biggest scams I've seen in a long time."
I'm not so sure the Survival Seed Bank is a total waste of money. I can see the product being worth the peace of mind it provides to people only slightly more ignorant than myself. Like- people refusing to leave cities as a hurricane bears down on them? People with no food or drinking water put back against the chance they might need either for the few days it takes a government relief effort to reach them?
I'd sooner spend my money on seeds than give it to the government against the day either one of them might "save" me. I'll continue collecting and growing out seeds, talking to knowledgeable gardeners and farmers. Even at that, I know I can't feed my family from any garden I've planted. Nope. As a civilization we've forgotten way too much. I wonder what the price of collective ignorance will be?
Read other articles by Jack Deatherage, Jr.