Fighting the formality of menswear
Valerie McPhail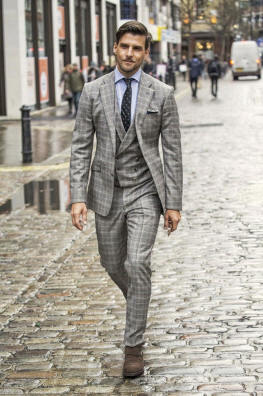 (6/2017) The sun has risen — beaming through the skyscrapers onto the Soho cobblestone, Midtown's sidewalks and the financial district's streets. As womenswear sheds its beloved tweed Chanel Jackets and New York's favorite Number 6 clog shoe, men's fashion finds a difficult time relating. In attempts, designers Stella McCartney, J W Anderson and fashion labels TopShop and Les Benjamins introduce new options for menswear.
No longer is the staunch suit and tie ensemble a comfortable look. With question the formality of the bland colored, over-dry cleaned suit presents a reason to communicate the need for an upgrade. Now, more than ever, men are looking for liberating ways to stay high and dry from the sticky suit situation – in fashion and in the sunshine.
Venture into a new style
To test new trends, reconsider how key pieces are being utilized from your wardrobe. Spring/Summer 2017 trends for men appear as oversized blazers, silky suit combinations and perhaps the clearest relation to womenswear: suede bomber jackets. Passionate for palm trees and seaside travels and beach dunes, Topman Design presented such images as prints on extra short shorts and identical short sleeved button downs. Additional trend spotting among summer suits included variations of a suit-like uniform look: a bomber jacket paired with color-coordinated shorts, and a salmon colored pullover with matching shorts of the same rhythm. The youthful, trendsetting brand introduces its young following to innovative styles of traditional menswear pieces.
In the same stride, Stella McCartney spearheads the conversation with the launch of her menswear label for Men's Spring/Summer 2017 Collection. Pieces were laid back, relaxed with loose fitting finishes and hip with current trends including sportswear inspired pieces: tracksuit pants, slide-on shoes and the exemplar double-breasted blazer. Without abandoning the ideals like button downs and solid colored suits, McCartney resurrected these pieces with modern details: silver zippers thigh high above the knee, and a mix prints with graphics on button downs — re: the Playing Cards Printed Shirt. Shoes were forward thinking, slides, slip ons, and sneakers to complement such revisions to the classic look.
Stella McCartney's debut menswear collection is heavy with prints, that create a sense of modernity from within. One look was a matching shorts and short sleeve button-down of psychedelic floral print, another, a baby blue and white striped ensemble reflective of a similar vibe to Topman Design's iconic summer suit.
For Topman, the experimentation was commendable, for young fashion is define through its interest in exploration and adventure. For Stella McCartney, the move towards such trends sets a standard for this new menswear label in light of her namesake brand. McCartney's launch could not be more fitting than ever: new discoveries in men's fashion can find themselves in new lines and labels.
Switch up the details
Summer fashion is not necessarily synonymous with spending money on new trends and fashion's latest fads. Among street style advocates, button downs layered upon t-shirts are unbuttoned to create a new look. Gucci t-shirts and Kenzo graphic tees are among fashion's favorites that shine underneath Alexander Wang's Spring/Summer 2017 multicolored printed plaid tops.
Tie dye is making a tasteful comeback on denim, jackets and cotton t-shirts. This season, Valentino offers a high fashion runway reference. The colorful print is a replacement of a graphic t-shirt, while showing enthusiasm for summer spice, a print reserved for the season alone. The button down becomes both a jacket and an accessory in this summer's scene. Pair the simple switch with trousers, khaki pants or denim to take the look into the necessary occasion.
Take a leap into new styles of trousers: Similar to the Adidas track pant, slacks are appearing ultra-causal not only by their oversized fitting, but in the sportswear style. With racer stripes down the sides of the leg, the track pants can replace suit slacks, and can be paired with the t-shirt button down look, or with light weight sweaters this season.
Pay attention to prints
Expressive prints are a definitive part of this summer's fashion, so don't forget your traditional Hawaiian button down on your summer vacations. Prints on collared shirts, oversized sweaters and jackets are highlights to the season's wardrobe. Brooks Brothers, a brand of notoriety for quintessential fits and patters — creating outfits for everyman in any season — taps into the trend by mixing prints throughout the brand's 2017 Spring Collection. In one look, a polka dotted accented accessory pops against a heathered gray plaid suit. Popular prints include the check, a variation of a plaid that appropriates in various scenarios without looking like a farmland uniform. The key to mixing prints thrives in the intention for pairing. Color coordinating shades and matching complementing colors will provide opportunities for successful risks.
Overcoming the formality of men's fashion throughout the summertime and the strict formality of the suit and tie lifestyle is not just a concern of shedding layers. Weather induced changes that initiate the spirit for a change of a way of dressing relinquish suits of their status role in society, unassumingly so to not draw attention to attire. The look is undeniably classic, but eventually gets tired, drawn out and dated. This summer's fashion breaks chains to such ideas on fashion and style. The tricks and tips mold a new perspective attending to the details commonly overlooked and disregarded. It utilizes pieces with an alteration, by reconsidering their relevance and role in creating an outfit. reimagine the power of prints and freedom released in the spirit of fashion.
Continued advancements and new ideas in the menswear industry among brands including Stella McCartney offer new ventures of design. Such news expands the capacity of the industry by offering men's fashion the opportunity to reconsider its perspective. Long gone are the days when men settled for a starchy suit year round. Combatting the formalities of menswear involves drawing attention to the significance of design, the role of pieces in the closet and an eye on new points of view; the horizon draws upon the scene in this season.