How to dress like a fashionista in resortwear
Valerie McPhail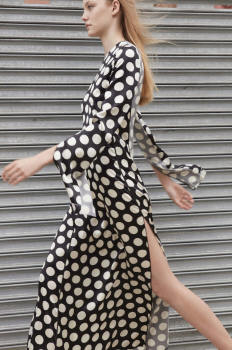 (7/2017) As the sun beats on the fashionable pockets of town, the Meatpacking District, Tribeca and the West Side's Skylight Clarkson Studios herald Men's New York Fashion Week later this month amid the latest European fashions found during Resort Fashion week. In a city filled with creative expression, New York City fosters those devoted to statements, fashion included. Exaggerated characteristics of design further a fashionista's aficionado for fashion and excitement for style, also their expression of self communicated through fashion.
Primary definitions of the term defined someone as one who observes fashion ideals among a crowd. In my college days, a fashionista could be spotted easily on campus – Fashionistas in metallic skirts hugged biology books and Socrates texts in oversized designer monogramed tote bags, as Fashionistos sported messenger bags while it was the go-to accessory during the current men's runway season. As fashion has claimed greater influence over culture in recent years, the definition of a Fashionista/o has escalated to refer to those exaggerated in dress. From the runway to realty, Fashionistas never hide from expressing their passion for fashion.
Often times exaggerated, flamboyant and attention-seeking, setting the precedent of appearance, Fashionistas are bold, fierce and fearless in their presence. To acknowledge, or even test such tactics in this summer's resortwear season requires the admiration for the trends that characterize the current resort runway season as foundation for fashionable dressing. Let the themes of sporty style, party prints and razzing ruffles guide statements of the season.
This 2017 season, the dress is the staple of resortwear fashion. A classic statement of design, the dress transitions between accents including sportswear, juxtaposed prints and amplified ornamentation as an image of summer fashion for days at the beach, backyard BBQs and Fourth of July boardwalk celebrations –essentially wherever you find yourself this summer. Definitively, without further questions the following trends will keep the fashion focused in extravagance and style.
Sporty style
Varsity styled high school throwbacks and exotic, illustrated bomber jackets, track pants and flexible knitwear are the key pieces treasured among the athleisure – athletic wear trends. A full length dress, for example, as offered in Rosetta Getty's coveted multicolored extravaganza of rainbow-stripes. The colors captured the sunbeam of summer — a kaleidoscope of cheerful color, as the nature of design offers room for comfort. French fashion house, Balmain continues the trend of sporty knitwear with a rainbow colored knit dress. Resembling connotations to a bathing suit cover-up, however not as casual, this design sleeks into a special occasion evening dress by default of its gold-link trimmed details. Such style keeps a sporty style accessible, and never too casual.
Party prints
This includes an assortment of tropical wild flowers printed on dress designs from Giambattista Valli, Gucci and Sonia Rykiel. The print makes a comeback without much of a surprise once again this season.
Other prints including patchwork from Fendi: a full length printed dress decorated with a variety of red and white prints resembling a quilt. Patches including paid, kaleidoscope diamonds and chainlink patterns personify the character of costume dressing, common to Fashionista style. The storytelling of folklore prints are among the humble styles presented this season. As all Fashionistas have a story to tell, the traditional prints that mark this dress carry novel of tales to share.
Somewhat ahead of he season is CFDA, Council of Fashion Designers of America, Rose Assolulin's plaid printed ensemble showcased in her Resort 2017 Collection. The New York Designer's fall toned two top design – a ruffled sleeved top and A-line skirt of colors including burnt orange, brown and mustard yellow romances the summer sunsets. This print is relaxed, unassuming yet paired with a exciting design forever undeniably striking at first sight.
Discotheque party dresses from the collections of Altuzarra and Carven – both French inspired labels celebrated fashion with contrasting prints on dresses. Altuzarra's asymmetrical dress of pastel pink, lavender and gold accented flowers created a look dressed up for the occasion, as Carven's sportswear inspired dress – a mix between a knit wear tank top and tulle ruffled skirt patchworked with an assortment of prints shows off a mish mash of prints in a fun, flirty fashion.
In contrast from the high fashion risks is found a classic black and white polka dotted print circa 1970s from Oscar de la Renta's Resort collection. A magenta pink belt accented the double tiered – high low dress of the classic print, creating a stable standard for those looking to traditional summer attire. Calvin Klein modernized the tradition with a sleek long bell sleeved dress. Although different in their forms of expression a polka dotted dress never shies for strong-willed expression. Historically it is referenced as a print worn by women with opinions and fearless attitudes that share their beliefs. As bold as the summer sun, the polka dotted print presents a strong voice in fashion.
Razzling ruffles
Rochas, a French fashion house originally marketed as a perfume label in 1925, has since become a reference of smart, stylish and elegance. Among the lacy accents and floral dresses showcased for Resort 2017, the brand too offered a thin strap spaghetti dress of pure purple fashion-forward ruffles and a traditional-like brooch-resembling bow. The monotone purple dress decorated with multiple tiers of ruffles created an outfit best defines a modern consideration of a Fashionista. That is, with elegance and attention to how the stylish process fashion into every day dress. Ruffle accents could possible become the next flower craze. They materialize meanings of cute, playful and iconic into a statement that characterizes forms of dress.
Playful prints, ruffles and athleisure accents: these are the fundamental characteristics within design that dictate the 2017 Resort Collections. It goes without saying that fashion empowers the person making a statement. With courage and confidence in design and aesthetic, Fashionistas broadcast style out from the trends.