Fashion treasures for a timeless age
Valerie McPhail
(3/2017) In the month of March, fashion finds itself in a limbo between seasons and direction for ways of dressing. Between the spring and fall seasons, after the rush of fun Fashion Week looks are instantly released on social media and then gushed over on Vogue Runway, the story continues abroad in London. As we say, "adieu," New York is left with rain — a torrential downpour of overdone and maxed out statements, begging for attention. Trends have become tasteless, drowned in the prescribed trendy styles treading from last year.
Variations of a similar outrageous art print and cut-out blouses can only hold interest for so long. The interest of fashion and clothing as a means of communication has turned into a statement about elitism, exclusivity and entitlement. For among these are the bloggers and reporters who wear such styles. Passion for the story behind runway collections and style has become a fight against all that stands for frivolous statements overdone. If any statement was made this season, this has become its echo. The industry is going through some growing pains and rather than latch onto the fashionable statements claimed for the season, invest in the styles that stir conversation, time after time.
Even after all is showcased and reviewed, fashion treasures those pieces of timeless age. These are those items that stay beautiful after being found scrolling page after page on hotspot designer websites, including Mr. Porter, the Outnet and MyTheresea.com, and continue to surprise style gurus with details of reform and accents that keep their design hot on the market. These items are tokens, not because their defined style, but because they offer interesting perspectives and practical applications for the ways dressing.
Jeans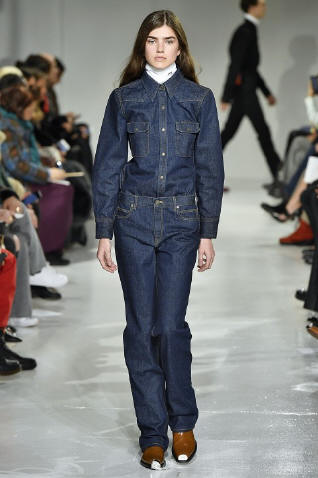 Today's denim brands Paige, J Brand, Frame and AG Adriano Goldschmeid take over the scene, as jeans become a staple for both casual attire and dress-up. In the recent world of higher fashion, Raf Simons' debut as Women's fashion Creative Director at Calvin Klein fall/autumn 2017 collection during New York Fashion week, last month, brought a whole new buzz around the denim enthusiasm.
The collection's denim pants labeled with the image of Brook Shields' 90's ad campaign ignites the one thing that made Calvin Klein's mark on the map: relaxed fashion designs and sexual sensibility. One can only predicts that Simons will take the brand to greater heights with such a start. The advent is timely since the revived street style interest in denim. The material no longer carries a strictly casual look, but rather, as editors and bloggers dress in denim to attend the shows and presentations, the denim jean stays on trend. This recent news reveals the consistent interest in denim. From the streets of style to the runway, denim surpasses all forms of fashion.
Printed jumpsuits
The frills and fun of the printed jumpsuit come with dynamic form. The designs are either shorts and long sleeves, or pants and sleeve-less tops, creating a uniform outfit taken from the colder weather through spring and summer.
Brands filled with playful energy and elegant poise, such as J CREW and L'Agence add a spark of light in the dark shadows of fashion collections by repeatedly showcasing party dresses that take over the runway. The alternative is a jumpsuit. In high fashion terms, this would also mean a power suit, jumpsuits are practically one uniform piece. This itself offers a statement. The onesie currently found in bold colors as paisley prints and animal-inspired patterns are heavy for this time of year. Its story is a style adventure focused on all that is fun, flirty and only practical for a party. The jumpsuit is a staple because among the history of fashion, its design is fairly innovative. Its design stays featured in fashion for its design is composed, it stays the same each season while its prints and interest in material and adornment with lace and appliqué — for such is the recent case — and prints create its buzz worthy attention.
Loafers and Lace-ups
This is the shoe that takes you from day to night. Dressy enough to wear to the office, and comfortable enough for an evening out after work, the loafer fancies all walks of life. The loafer is the transition shoe of the season for it can be worn with socks when days are cold, and without, for when you need time to breathe. This pair of shoes guides fashion statements to levels where practicality becomes the recognized purpose of fashion. There is a standard, found in the penny loafer and ankle cut, patent leather model. Alternative forms include a heel, Marc Jacob's Mary Jane Collection for women and suede lace-up Chuckka boots by Grenson for men.
Not only do they carry a timeline of ranks in fashion, these styles offer stability as the seasons and ways of dressings change. Pair with denim, dresses and office slacks the loafer is smartly stylish for its nature to bring solidarity to the ever so changing nature of fashion.
Anoraks
Tis the season for anoraks, also referred to as a rain coat. This simple, solid color is in the ranks of the menswear industry. The design hit the scene off runway shows since last season's AW2016 shows and has stayed on the market ever since Barbour, and fad for outdoor adventures encouraged by brands such as Canada Goose, Carhartt and Patagonia hit the market.
Some may say that a print featured by one of those street style brands may be eye catching, and influential enough to become a concept borrowed by high fashion labels including Gucci and Prada. In the end, the color of Burberry's trench, a timeless trinket of wealth stands at a caliber of the meaning of an anorak this season: Practical yet aesthetically appealing, and typically leaving this trend with solid colored pieces as opposed to prints and patterns. The anorak preps for the rain, but also serves as a light jacket when the weather takes a turn for the better.
The beauty of these pieces is found in their genuine support. It is reliable and loyal, better than another political statement fashion could ever make. As the industry chases its desire for the new, these are the pieces that consistently stay on the market for they are practical just as much as they are a statement of fashion. The pieces that consistently mix and match amongst the temporal interest in design creates a meaning for style. The denim jean, printed jumpsuit, penny loafer, anorak can face the withstand any season of fashion. Understanding its functionality is the first lesson, but seeing its vision for style within your wardrobe brings the pot of gold.