For the Love of Fashion
Valerie McPhail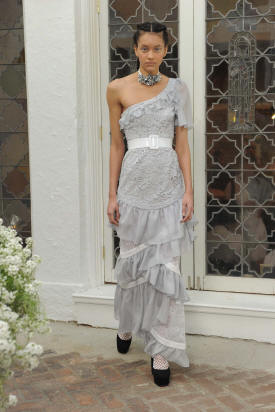 (5/2016) Love is in the New York City air. What is typically consumed with a pungent odor of garbage, cigarette smoke and cutthroat competition has permeated the city with a spirit of spring fever. It's a feeling that is warming our souls with sunshine and bringing butterflies to our stomachs over the excitement for 70-degree weather. People seem to be in flowery spirits. It seems that timing could not have been more perfect — it's bridal fashion week. Now is the season to celebrate love on the runway.
The sight of full-length gowns of lace and appliqué flowers transforms the month of April into a fashionable month for New York. New York Fashion Week: Bridal, a runway season ensues from April 14 through April 21, located on the piers along the West Side Highway of Manhattan. Highlights included collections from Oscar de la Renta, Carolina Herrera and Lela Rose. Designs of sweetheart, deep V-neck tank and sheered sleeves graced the catwalk. For their touch of elegance and eye for beauty, these designers are masters at crafting bridal gowns. All appearances on the runway depicted stylish sophistication of a typical bride at the ceremony of her wedding day.
Trendy was a term that beat out the traditional this season. As the influence from high fashion — an abundance of appliqué flowers fully bloomed on pleated Michael Kors dresses available in Bloomingdales and on gorgeous Dolce and Gabbana gowns sold online at Net-a-porter trickle onto the arena of bridal fashion, we are seeing the traditional styles reinvented.
Top trends of the season include appliqué floral decorations and intricately bedazzled bodices and elaborate floral, poesy patterns. Many were the designs of full length trains and tulle puffs like princess gowns. Few sights involved a full veil or colors other than white as snow. Such sights were exotic endeavors of the range in traditional bridal looks.
New styles included suits, a powerhouse look among the pretty dresses, as well as colors including pale pink, sorbet orange and nebulous gray. Legends of Romona Kevez showed a collection with traditional silhouettes, revealed in a pretty pink, just as Houghton offered pale colors of orange, gray and blue. Yet, lead designer, Katharine Polk has a different perspective to offer. She is ready to shake up the runway with mermaid cut dresses, peasant styled dresses with ruffles on skirts and sleeves, as well as wide-leg pants looks. Houghton designs are exciting and Polk's collection is ideal for the modern wedding.
Suits were rare and mostly limited to a single look found within a collection, allowing the outfit to speak with power and poise. Carolina Herrera's two-piece look was minimalist at its best. A matching white cigarette pleated pant with long-sleeved, pearl collared button down was elegant. As was Elie Saab's wide-leg pant paired with an elaborate long-sleeved appliqué covered top. The bridal suits of the season are best described by their poise and whispers of extreme delicacy.
What to wear to a wedding — the question never fails. Almost rooting itself as tough as a weed in confusion, picking an outfit for a wedding can be stressful. Even though such a predicament should never be the case. Weddings are times called for celebration. Therefore, have fun with it! May your dress shopping adventures be as fun as the bride's search to "saying yes to the dress." Although, when shopping, the occasional fashion rules apply. Follow these guidelines so you won't stick out like a sore thumb and be that one and only person that didn't get the memo:
Stay clear of the color white
Above all, remember the number one rule: do not wear white. Call it traditional or old-fashion but the rule still applies. Even in the day of modern day when wedding themes and destinations are planned in magical forests and beach getaways, stay away from wearing white. This color is reserved for the bride. However, there is one exception to the rule, and that is only if it does not follow the dress code.
Follow the dress code.
They call it the day of the bride. It is her day to be queen and so all the guests are called to follow her rules. Even though it be the case, there is never a need where such a situation should be restricting. Just as college themed parties were fun because they elicited creative judgment, creating an outfit for a wedding can be just the same. However, unlike those campus apartment ragers, be sure to dress with diplomacy and grace.
Tasteful before trendy
The biggest struggle of finding the right wedding attire remains in discerning the level of appropriateness. The best option carries a balance between the excitement of party dress and the ease of summer sundress. Evaluating your connection to the bride, or groom can inspire how you decide to dress. In any event, it is best to dress to the nines because when you look good, you are bound to feel good. Dressing in classic silhouettes surpass the attractiveness of cool, trendy styles that may later insinuate embarrassment down the road of review, in those moments when you look back at wedding pictures and remember.
Dress to impress
Gentlemen, if you're not going to a cocktail wedding party, don't wear a tuxedo. However, in any other circumstance please be conscious of dressing towards the formality of a tux. Your efforts will appear impressive and will never go unnoticed. I would encourage staying away from a typical button-down, khaki look. This uniform appears looking too much like Kentucky Derby attire. Plus, there are plenty of slick styles and cool prints in the world of suit and ties. They are worth exploring and enjoying.
The ways of renting a traditional suit or tuxedo have been re-evaluated. Retailers have also set up innovative ways to shop for formal events. For men, companies such as Black Tux and Rent the Runway for women are companies that allow customers to rent outfits— formal dresses, tuxes and suits for an allotted time. These websites make shopping easier. They organize their website by event and at most, provide inspiration for how you should look and be dressed as a wedding guest.
Additionally, they allow their customers to play with fashion. Aside from removing some of the stress that comes with shopping, the opportunity to experiment with different aesthetics, styles and modes of fashion would be my favorite attribute of these websites.
However, you cannot buy class. Never will the amount of money spent on clothing determine its style; Rather, it's possessed with a connection to the art of design. Therefore, the one problem I have with renting clothing is that I become attached. For just as poetry and paintings enable an artistic expression of the self, so does fashion. Although, these websites reuse clothing in the fashion of renting, I prefer to keep mine in a closet. This way, similar to a runway collection, the pieces of my wardrobe collectively provide an outward expression of my personal style.
It is bridal season, and it is an exciting time, indeed. Not only because my sister will be getting married in Miami later this summer, but also for reasons other than personal. It is times likes these where I reflect and then realize that I am reaching a point in my life where all my loved ones —friends and family — are getting married, and so weddings are becoming more relevant in my life now more than ever. It is all part of being in my 20s, I guess… But aside from the case, I also believe that it is an exciting time for bridal fashion. After all, weddings are inevitable events of life and if fashion is an artistic response to life, then it cannot help but be affected by the times of modern ideas and expressions of sophistication.