Back to School Fashion
Valerie McPhail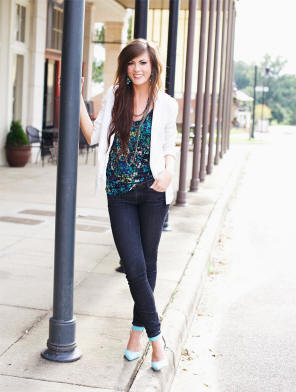 (10/2016) Through a deeply devoted interest in fashion's allowance towards expression, tweens, teens and young adults have taken over the fashion industry. Their relationship to fashion is predominantly concerned with how clothing is worn. Blog spots such as Lookbook and Tumblr, and cellphone apps including Instagram fuel such interests. Selfies are no stranger to this community. The Internet has become a resource that creates a larger scale of exposure for the fruits of this industry— how design translates into an illustration of feelings, thoughts and ideas about the world around us, even if it seems that much of this attention is fueled through the surveillance of the way celebrities wear beautiful clothes, as well as the connection to clothing and the outfits they form.
Teens use these resources religiously; the internet connects their young minds to an outlet for personal expression and these platforms allow them to explore their interests, as they develop their own cognitions on the self and the world. Through their contributions, fashion, clothing and style remain major influences. Without a doubt, fashion's relationship with the internet has developed its impact on society.
The changes in how fashion is understood since my own teenager years are expanding with visibility and personal touch. In my youth and into my teenage years, I developed an interest in shopping with attention to brand names. My intrigue took me to trips to the mall with my best friends, where we would enter into a creative outlet; a whole new world where bright lights and brand names introduced the luxuries of life. My interest held so strong to the point in which I considered shopping a hobby. In those days, my shopping destinations included Limited Too, and Old Navy. As I coveted a burnt orange embroidered graphic t-shirt of a surfer at the scene of catching a wave from Hollister, all the cool kids in my class had a wardrobe filled with floral printed tank tops, navy cardigans and polos from Abercrombie and its subsidiary, Abercrombie and Fitch. As I reminisce, there seems to be a shift in perspective. The preppy style that once navigated the needs of teen culture is now in a sad spot. Young adults are now consumed with clothing of a more dingy and solemn point of view. Shades of color remain in dark tones as the seasons change and more skin continues to become exposed. The outfits they aspire to and create reveal a clouded perception of sexual identity and disservice their idea of self, by communicating desperation for attention.
Such times have formed fashion into an explicit plea for worth, a hope that someone will pay them mind. Those with such prerogative appeal through clothing — the weirder, the better. In a sense, clothing volumizes the voice of youth. This interest has created a new platform for the fashion industry, and its movement smells like teen spirit. Here are the three trending styles that make its presence know.
Grunge
Its disposition is oh so dark, silhouettes and colors form a perspective so underground it has become trendy. Although loads of dark eyeliner define the look, these pieces create the grunge perspective because they exaggerates the nominal through designs that offer an edge, and shake things up with a rock and roll sensibility.
Cropped turtleneck
The cropped turtleneck is a form of the cropped t-shirt, just with extended fabric covering the neck. Both features of the top make an equal statement. The addition of the turtleneck is plainly a stylistic preference. Find the cropped turtleneck in stores such as Forever 21 and H&M. Each company makes both the runways trends and fashion's favorites a reality for everyone to try.
Choker Necklace
Cleopatra's statement jewelry reincarnated as a dominant piece of the recent grunge trend. The choker is a simple accessory in design. It comes in a single strap of fabric, the size and thickness varies and sometimes its design is decorated with gemstones and jewels. The choker is an intentional last detail, a true accessory that finalizes the look. Shop this added bonus at Urban Outfitters or online at ASOS.com to easily access this piece of jewelry.
Combat boots
Dr. Martens are a leading brand of this aesthetic. Its heritage with rock music has kept its style grounded and timeless. Dr. Martens are the combat boot made for the grunge style because since 1901, when the boot began as a gardening shoe, it continues to keep the grittiness of grunge fashionable.
Festival child
The hot hot heat lives within the festival season of the summertime. Unashamedly, youths waste their efforts into contriving outfits most appropriate for days secluded at the beach, and not appropriate in any other public setting. Bathing suit tops and Daisy Duke shorts create the uniform. Los Angeles' American Apparel encourages similar nuances through a new type of minimalism. This style sensibility is convinced that the fewer articles of clothing, the better.
Crop tops
Most commonly embraced during the summertime, the interest in the crop top is not for its practicality, but for its look. It confidently cuts a regular top in half, and exposes the stomach. Through its inherent design, crop tops embrace a freedom for fashion. To turn this piece in to its most flattering form, pair with high waisted jeans. I bought my first crop top at Charlotte Russe. It was a bedazzled grey Kitson top that epitomized Southern California's youthful nature. Charlotte Russe is a store that offers a like sound of mind.
High Waisted Jeans
Wrangler and Levis are back in fashion. This time, not for their durability in day -to-day life, but for their long-standing force for their high waisted design. Appreciated for their comfort and cutesy appeal, vintage store, Brandy Melville curates its collection of these brands and other unacknowledged brands to reinvent this style for a new generation.
Converse
Originally launching as a piece of a basketball player's uniform and a skateboarder's style in the year of 1908, Converse, now joined with Nike, is the shoe fit for everyday life. The Converse shoe is a phenomenon of youth for its heritage label. The white, low top with red lining pairs as a sign of classic style, restyled to shine most bright in the summertime. Converse have become mainstream to the point where they are available in the large retail world of department stores and Kohl's.
Sporty Spice
This style relates to the team player. Its denim factor keeps it casual, but its baseball cap accessory and Stan Smith statement, each mark its sporty sensibility. Athletic brands Adidas and Nike offer favorite staples.
Baseball cap
The baseball cap has quickly become a symbol of sportswear chic. What was once beckoned as an accessory for sports teams, took interest in the North East where preppy families in New England and South Jersey found its accessory appropriate for sunny days out at the lake house or in Cape Cod. Now, the baseball cap is coming back to its roots as an emblem of sportswear. New York City label Kith is a cult followed brand that carries the coveted hat. Topshop and Zara are outlets of everyday fashion that also offers the accessory.
Skinny jeans
The difference between the high waisted shorts known in the summertime and skinny jeans is how they extenuate the body. This is the practicality of women's fashion. The skinny jean makes the legs look longer, just as the high waisted jeans turn attention to the waist. The mall shop that has confirmed its bankruptcy, Pac Sun and its surfer-skater brands, Billabong, Volcom and Bullhead offered a substantial supply of skinny jeans. American Eagle is another brand that provides the similar quality to its design and production of this style of jeans.
Stan Smiths
This Adidas style remains the world's most coveted fashionable sneakers right now. Since taking on the streets of New York shortly after last year's US Open, the original green and white stripe has become a symbol of the athletics' mark on high fashion. Its style, now offered in a variety of colors, has since cultivated a mass following for sneaker fashion simply because it is the shoe almost everyone and their best friend is wearing. Its influence surpasses the Adidas flagship stores, shop this sneaker from the sportiest to the trendiest destinations in the retail word, Footlocker, Urban Outfitters and Nordstrom included.
These styles dictate how a young generation understands fashion. This youth revival is on a mission that seeks clothing and design with personal interest in expression. This dependent relationship between the industry and its followers allows each voice to grow stronger.