Fashion Trends
Valerie McPhail
(7/2015) My summertime sadness is long forsaken and is replaced with the hectic life of a fashion intern. Car rides with my sisters en route to Zara, pizza for lunch with our mom, TV binges that turned into waking up late to coffee and golf on ESPN, were routines that have all become memories of my summer breaks from school. Back then, my schedule was just as simple and laid back as the way I dressed— boyfriend jeans with tees, most days, and on others, a cotton dress paired with buckled slide-on sandals or Rainbow flip flops.
Yet, come August every year, this schedule changed. The idea of a new semester at the Mount anticipated back-to-school shopping for academic supplies and a new wardrobe of jeans. But before going back to the Mount, there was always vacation. This was an allotted time to celebrate the warm weather with family.
Part of the excitement always involved more shopping, a mission to put together outfits and essentials for the Florida beaches and the Miami sunshine. Now, as a Mount graduate who has dedicated her time and efforts to the fashion world, I understand this industry holds much more than whatever the avid shopper and fashion fanatic imagined when she was still in school.
Fashion is an industry that seeks to interact with the world and the lifestyles that inhabit it. This industry is a society where high-fashion runway pieces inspire street-style wear, and it is a world where the reverse stands true as well.
There are similarities between the artistic designs of the Parisian Couture Houses and the mass retailers' clothes that provide fashion for college girls. This link is accomplished through trends. I have hardly been one to shop for trends, yet, the more the business of fashion becomes a part of my life, the more I start to realize how well connected the industry remains between the seller and the buyer. Ultimately, the consumer establishes the future of the industry. This is why trends have become a significant reference to how the consumer shops and understands fashion.
Trends have always been something I have not identified with, and rather, I tend to shop for the clothes that I need, or the accessories that inspire me. Over the years, my love for shopping has become an investment in the fashion that communicates my love for design and art.
Trends are another approach to fashion. Trends allow a person to participate in the mass interest in fashion for the sake of remaining current and in-step with what everyone else is wearing.
For me, fashion is more of a form of personal communication rather than a modus operandi that allows one to be accepted by others—regardless of its power to communicate in this way. However, trends are the easiest way to talk about fashion. Trends make fashion comprehensible, they make sense of fashion design. At times, trends may show the functionalism of fashion. Therefore, for August, the month that has always been my time to enjoy the sweetness of summer and my time spent shopping, I would like to consider the trends from the Resort 2015 Collections.
The trends from this particular fashion season have naturally affected a time when my investment in shopping for fashion is at its prime. Trends for the 2015 Resort Collections are a resource for the functions of summer clothing. These trends appear to be advisable when shopping for any summer vacation.
When figuring the best trend for your summertime lifestyle, it is important to consider the styles, prints and designs that fancy your summer daze. Rewind back to the beginning of last summer, June 2014, and browse the styles from the Resort 2015 season. The trends from these collections have now been navigating the popular styles in stores throughout this 2015 summer. In general, these trends are plentiful. For instance, denim, a personal staple in my own wardrobe and for most everyday summer outfits, is a classic option. It is never going out of style. Denim supplies jean jackets, shorts and skirts and it is always in stock.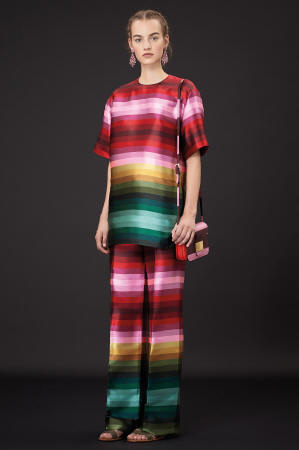 Then there are the multi-colorful printed pieces. This trend is found when tops are paired with matching bottoms that work together to form cohesive uniforms: a Valentino oversized t-shirt and baggy, full-length pant look.
Floral prints are another trend that aligns with the bohemian drapes floating throughout summer. Overall, these trends bring the excitement of this shopping season while remaining relevant to the high fashion scene and its makers. These trends create a harmonizing concept of funk and functionalism, a characteristic that is accomplished at a time in the year that is notorious for fun, excitement, and of course, a need for some relaxing time at the beach or the sea. The Resort 2015 trends are significant influencers to the items customers are buying for the beaches right now.
Among the trends this summer you will find denim. Denim, as you can tell, is my favorite fabric because I found a way to wear it comfortably. I love jeans and denim skirts. When sharing my love for jeans in conversation with friends, most have responded with a preference for fabrics that provide for a lifestyle of lounging. Leggings and yoga pants have become successors to jeans, the pants that once defined the American way of dressing. However, the key to gaining an appreciation for denim is comfort. This involves a hunt for the perfect pair, where a sensibility for style and fit must be considered. Both work together to provide a reason to wear denim. It also keeps you fashionable from day to night.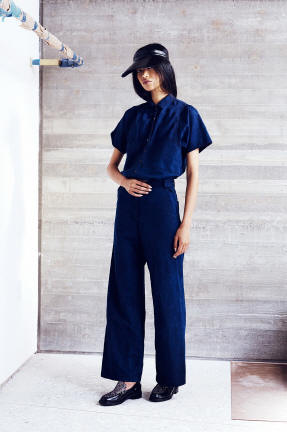 Denim is a constant piece of fashion. As popular as pie in the summertime, denim pieces are loved for a good reason: it is accessible and effortless. Perhaps its relation to cotton allows for it popularity. It is a twill of cotton in either a weave or synthetic fibers of the like. However, unlike the denim shorts that serve as a foundation to the seasonal clothing, the runway inspires other ways to incorporate denim into your wardrobe. For the warm weather, jean skirts and dresses were adored. Loose fitting bell-bottoms and culottes alongside jean button-down shirts, such as from the Rachel Comey Resort 2015 Collection, show how functional clothing still remains fashionable. Unquestionably, denim is definitively a summer essential. Its popularity in stores is expressed in high-end design presentations from the Resort 2015 season.
Also one of my favorite trends of the season is the A-line midi skirt. This too is a classic style that allows for a clean, simple look. The A-line style is a design that gathers at the waist and then embellishes outward to the hem of the skirt or dress. The length defines the midi skirt, or dress. It is style that runs to the middle of the leg calf.
Last summer, Gucci presented beautiful examples of this silhouette in the brand's Resort 2015 Collection. I am currently a big fan of these styles together because I feel that, through design and fit they communicate a soft feminine look. My interest lies with the aesthetic of this piece, however, as for its practicality this summer, it is an option among the pencil or mini skirt. I prefer this style because when the skirt is pleated, the design is characterized with volume. This defining detail adds a little craze to the simple shape. Yet it remains sophisticated and appropriate from the office to boardwalk at the beach.
This summer, resort collections are suggesting that classic fabrics and styles will provide the fashion while in sun. With various references to innovative designs, to heritage denim, elegant mid-length and A-line silhouettes, fashion reminds us to keep it classy.