Street style in the city
Valerie McPhail
(9/2015) Besides the buzz in the air that surrounds an excitement for runway shows and presentations during fashion week in September, editors, writers and readers alike are always happy to see clothes worn well. This makes street style the everlasting project and curiosity of the fashion industry.
To define street style means to shine light on an interest in clothing and the way garments transform into fashion. Style elevates the object of clothing. It brings attention to how clothes are more than items we buy just to wear. Rather, style demands expression. Style requires shopping and curating a collection of items that will create outfits.
Typically, street style is discovered in public settings and usually captures the way clothes are styled for every day life through photography. Street style means finding style in the way people wear clothes on the street. This term has quickly made fashion more accessible to the public. With the movement towards digital magazines and blogs, fashion fanatics crave street style because it celebrates clothes worn respectively. All eyes are turned towards the trend setters and fashion gurus who take pride in sharing their stylish lives. In response, their cute outfits inspire the public— a world of avid blog readers and Internet browsers. Street style is the platform for understanding what fashion means on the streets.
Living in New York City not only means calling home to the mecca of the United States' fashion capital, but also a home to various different walks of lives. The city calls those who are passionate about fashion to be here, but that is not all it encompasses. New York also stations other industries— finance, international politics and culinary— here for work as well. This means that there are many stories to tell.
Evidently, New York City has a lot of shopping to offer its people, and with good shopping comes good style. Therefore, the city holds people with great sense of style. As I walked from block to block to get to an internship in the Garment District, as well as internship downtown in SoHo and taking the subway to manage traveling around the city in these last summer months, I have seen many people dress interestingly.
Walking through the streets of New York, I have found that there are some styles of dressing that most people cannot keep away from. The navy suit that establishes Wall Street and Madison Avenue executives is never leaving the city. This look dictates a profession; it communicates how men's fashion is dictated by the work force. However, aside from the young guys and middle-aged men who wear a button-down, suit and tie uniform on the daily, there has been an interest in dressing a classic prep-look in a more casual manner. For instance, the Brooks Brothers' Golden Fleece polo is a favorite among the men in the city this summer. Yet, just because this item of clothing is an element of style for the prepster class, it cannot simply be ridden-off as a piece of fashion. This street style trend is validated in functionalism.
Since 1818, Brooks Brothers has managed to consistently offer quality clothing to compliment the American style of living. Along with the brand's oxford cloth button-downs and ready-made suits, the Golden Fleece polo is a summer favorite among men's fashion for this Summer of 2015 for good reason. As a piece from their Gold Fleece Collection, men who wear the Brooks Brothers' polo share a symbol of style and class through the Brooks Brothers' Golden Fleece sheep logo. The sheep is a true sign of style. Not only does the logo symbolize the American brand, but a commitment to quality clothing, an attribute that keeps Brooks Brothers alive.
Brooks Brothers is a brand devoted to offering substantial clothing that communicates the heritage of American style. The company was built on this country's way of life, a lifestyle defined by hard work, comfortable living and hospitality—or in the words of retail— customer service. As the oldest retailer in the United States, it has managed to stand strong in representing this way of living through the art of design. Brooks Brothers' clothing sets the standard for American sense of style.
It is a style referred to as the classic look. J. Crew, Ralph Lauren and Tommy Hilfiger are other major clothing brands with similar aesthetics. The crisp polos, sleek button downs that are commonly branded with a logo, and chinos are items that define this style. It is also a manner of dressing embraced by a history of American Presidents. A classic sense of style is characterized by these tailored menswear pieces. The men in the city who have shopped the Golden Fleece polo are investing in a polished look that stylishly reflects life in America.
It is comfortable to wear dresses in the summer. Perhaps this is why it is a popular choice among women in New York during the warm weather months. On another note regarding street style, women appear to be more focused on fashionable accessories this summer. Indisputably, the St. Louis Goyard tote bag is the mysterious piece that is all around. The printed tote bag is hidden gem among its high-fashion friends due to its sharp presence all over the city. Where fashion choices and lifestyles are distinctively different when traveling uptown and downtown, nonetheless you will find this bag.
Among all the handbags available to the consumer, this option is a stylish investment. Sporting a Goyard bag communicates attention to fine fashion. Despite it rare find in New York City— available at Barneys and Bergdorf Goodmans— the Parisian trunk maker who has been creating luxurious accessories since 1853 has held a following among celebrities and their street style photos in Los Angeles. Child-star actress Hilary Duff, Kardashian sisters and designer-blogger Lauren Conrad have all be spotted with their St. Louis Tote bag.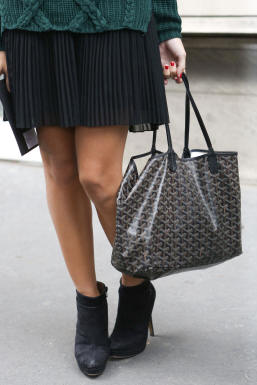 On the West coast, these consumers have celebrated the brand by customizing their handbag with monograming initials and shopping various colors. However, here in New York, the classic brown and white printed leather bag remains a current favorite. The reality is that the Goyard tote bag is a trendy style item which communicates a public interest in bringing exclusive high fashion to the streets.
Clothing is personal and created with expression and fashion is an industry that allows this to be recognized. Fashion elevates the status of clothing. Without social media, fashion blogs and magazines clothing would remain as a function to lifestyle that goes unnoticed.
My interest in fashion began with clothes and an attraction to developing my own personal style. At a young age, I found fun in shopping at the mall with friends and in discovering how clothing can complement personality. This interested blossomed a few years ago, when I received Amanda Brook's book, I Love Your Style, as a Christmas present from my twin sister. This book changed my perception on the way clothes are worn, and it has since stood as a reference to understanding style and to how I develop my own style of dressing. Style is important to me because I find it the essence of expression. If fashion is a form of communication, style is its technique.
Street style is a public exclamation of this. In this way, it is a form of storytelling. Designers and magazine directors will at times call themselves storytellers, a role that requires sharing a perspective. From a business point of view, it is a marketing tool. It is the essence of branding, characterizing a company or a brand. However, in the creative industry, it is the way to express a world of thoughts, emotions and ideas through design and style.
Street style is defined by what people are wearing and how they wear it. Fundamentally, there is a reason for why people shop and wear certain items of clothing and style presents this idea without words.