American sportswear
Valerie McPhail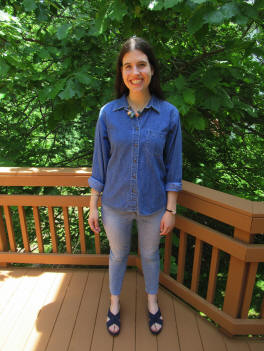 (6/2015) In my last semester at Mount St. Mary's University I took a credit-based internship with the Emmitsburg News-Journal. The focus of this internship was my four monthly fashion articles that the News-Journal published in the last months. This internship was a rewarding experience. I had the opportunity to share my interest in fashion with my community away from home while searching to find the best way to describe a love for fashion. As a result, I sharpened my approach to writing about my passion fashion. Primarily, with this passion comes my understanding that fashion is fundamentally a form of communication. It is a way to express perspective, emotions and ideas through an image. This image is communicated through clothes and style. For this reason I am interested in fashion.
With the help of my sponsor, Dr. Dudley, a professor from the Mount's English department, as well as from the support of the News-Journal, throughout the semester I learned how to explain this idea about fashion. Fashion is certainly a luxury. However, it also reflects everyday life and therefore it is accessible to every person. I accomplished my goal to relay this message through considering different aspects of the industry, including menswear, children's and women's fashion. After all, underneath all the runway trends, business methods and design aesthetics, there is a cohesive understanding about the art of dressing. This understanding is expressed through a decision to wear or, as is the case with runway collections, work with particular fabrics and prints that communicate a sensibility about the expectations and comforts in life.
The way to wear clothes is only meaningful because of fashion. With its attention to seasonal trends and "must haves" items for every occasion, fashion elevates the meaning of fabric and design. The meaning of the phrase "sense of style" describes the heart of the matter. Therefore, in honor of the patriotic theme that navigates this month's edition of the News-Journal, I would like to carry on this spirit by taking a look at American Fashion. It bests reveals the relationship between practicality and style. Great is the fashion sense in the United States. Among the various creative pursuits and innovative methods of fashion by aspiring designers in our fashion capital, New York City, or in the small towns' embrace of fashion offered by boutiques, one approach to design stands apart from the rest. This method is the master head of them all. Call this perspective the leader of American fashion. If it is not the source of all apparel design in the United States, then it is its number one influencer. This is Sportswear, and it has become the name of American design.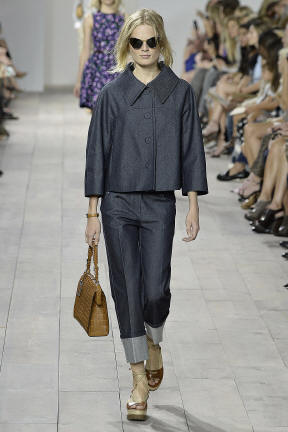 The term "Sportswear" describes everyday, casual dressing. It has become definitive to how the fashion world conceives American style. Examples of these elements of style include sneakers, t-shirts, and sweaters. These items, among other comfortable and laid-back items, have been frequently found in closets since the 1930s. During that era and through wartime, women in the United States began to look within their homeland for fashion resources since European couture houses were not easy contacts. The American woman approached fashion in the most reasonable way, and that was by sporting designs that would suit her lifestyle needs. This attitude marks the beginning of a new fashionable state of mind.
These women started a tradition. The styles and designs that they found most comfortable are the clothing that defines American culture today. The look reflects the casual Friday dress in the office, because in comparison to the suit-and-tie uniform, sportswear fashion feels comfortable in the American skin. It is in the DNA of American style. It feels natural to wear these clothes because they assist the fast-paced lifestyle that dominates American society. Just as constant information is accessible through various technological systems at the resource of our fingertips, cotton, denim and polyester along with various fibers are the staples of wardrobes. These fabrics and the various blend or weave combinations are both easy to shop for and easy to wear. The quality of these textiles has been acknowledged in various references on the runway. Ready-to-wear collections that show during New York Fashion Week reveal the attraction to dressing in these materials.
Marc Jacobs, Alexander Wang and Michael Kors are among the Sportswear designers that are favorites on the catwalk. Although there are clear differences between these brands because they are unique in their own perspectives, they show that they are all similar in their foundational approach to dressing casually. Marc Jacobs' fashion is a youthful elegance. His premiere collection of sweaters gained the attention of fashion insiders and his success shows an interest in comfortable fashion. Alexander Wang's style is precisely sporty. His designs are infused with athletic flair. Another one of his collections, T by Alexander Wang, offers cotton t-shirts, sweatpants and rayon dresses. While still remaining true to his style, this collection offers basic items for every wardrobe. In contrast to this style, Michael Kors carries the soft sensibility of American Sportswear. He too has quickly become a name identified with fashionable casualwear. The Michael Kors fashion ads project images of the urgent American lifestyle and the high demand for his products affirms the quality of the brand. However different in their perspectives these American Sportswear brands are, together they represent American style through designs that can be comfortably worn on the daily, while on the run.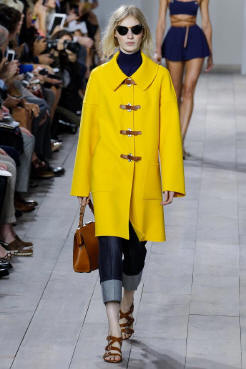 The most important aspect of Sportswear for me, personally, is denim. This is evident in my love for jeans. Sportswear cannot be defined without the American sentiment for jeans. For instance, the history of Levi Jeans tells a story about the function of fashion in California during the time of the Gold Rush. My love for denim expresses this sentiment; it projects the practicality of fashion. My attraction to sportswear is described in my devotion to denim. It is my favorite thing to wear because it is what I feel most comfortable in. Jeans were a part of my daily casual uniform to college classes. They are easily dressed up for a more formal event, or they could be dressed down, depending on how I felt or what the weather demanded. For example, while in school, jeans instantly matched my pair of my Hunter Rain boots on a drowsy day while on a hectic race against the rain to the library. Or in contrast, my favorite pair of jeans worked well if I threw on a pair of simple suede ballet flats when running to an appointment with a professor. Jeans were the stable source of my wardrobe and only because I found brands that fit comfortably and that inevitably led me on the hunt to explore for more. My interest for denim has quickly become into an obsession with comfort. This love affair reflects how American Sportswear influences my taste in style and my perspective in fashion.
In addition to denim jeans, I also love rocking sneakers. I have a few pairs that I wear religiously. I match them with everything, sporting them with jeans and shorts when I am enjoying warmer weather. However, my favorite pieces to match them with are skirts and dresses. My sneakers tone down the formality of these looks and turn the outfit into a sporty sense of style. Just like jeans, sneakers have become a part of my wardrobe. Both items reveal how comfortable fashion is a defining attribute of American style.