What to wear to the holiday party
Valerie McPhail
(12/2015) The holiday season is upon us. This is a time of the year designed for extravagance, classic joy and celebration. It is as season meant for ice-skating with friends, enjoying hot chocolate after going to see a film in theaters (all the Oscar-nominated films are starting to premiere) and then rushing to travel home, just in time for Christmas.
In every event there is little care for what outfit to wear: the focus is staying warm with the company you share. One keeps merry and bright under three layers of clothing, wrapped in check-printed scarves that match your pair of gloves and fuzzy earmuffs. Part of the fun might even be the chase for keeping cozy. Sweaters and down jackets layered over thermal vests and turtlenecks are typical ways to keep toasty in this seasonís unpredictable weather.
Without a care for fashion or trends, the thought of what to wear to a holiday party can hit you like a snowball. It is short-coming, unexpected, and a surprise to say the least. There are too many stressors at the sake of the jolliness of this season, so worry not; your holiday wardrobe is covered.
The following are the fashionable pieces that will not only get you dressed up for a holiday party, but will put you in the spirit to celebrate as well:
For the life of the party:
Womenís fashion is concerned with options. This gives ready-to-wear and couture fashion its appeal: there is an interest in the trendy styles of the moment. For the 2015 Holiday Season, embrace pieces that will bring attention. Glittery dresses, embellished accessories and baroque prints wonít hide when layered underneath the seasonís coat. These are the items that will let your personality sparkle and shine at any party.
Glitter and Sparkles
For the perfect party dress, view the decorated holiday windows along 5th Avenue. The festive windows gush with inspiration. This year clothing and accessories are sparkling in sequins and diamonds. Bergdorf & Goodmanís Holiday window display this year showcase this trend. The Fifth Avenue windows are decorated with Swarovski crystals. Glittery dresses, accessories, shoes and pants are all ways to wear some sparkle when celebrating this holiday season.
To experiment with this trend, begin with accessories. Shoes, small clutch handbags and embellishments on shirts and dresses are simple ways to start. Such types of decorations bring cheer to an outfit. The sight of sparkle on clothes promotes celebration. When picking an outfit for New Years, consider adding some sparkle and shine; I know I will. What is more fun wearing clothes that vitalize celebration?
Faux fur
We have officially reached the season of warm, furry fashion. The faux fur coat is the first sight of a fashionable outfit this 2015 Fall/Winter season. Browse the many options of shopping this trend ó whether it be a stole, vest or full coat. The styles and colors are plentiful! This trend speaks fashion.
Fur outerwear elevates the appearance of an ordinary coat or vest. My thoughts on this trend are inseparable from the thought of my twin sisterís obsession over her vintage find. She discovered her coat in a local pawnshop in her college town. The rust brown coat has reinvented the cool within the aged sophisticated staples. This season, the fur coat marks a fashionable personality. Following the likeness of the Fall 2015 from Altuazarra, Rachel Comey and Thakoon, those who wear the fur coat are trendy. This piece makes a statement: it evokes glamour and expects attention.
Baroque prints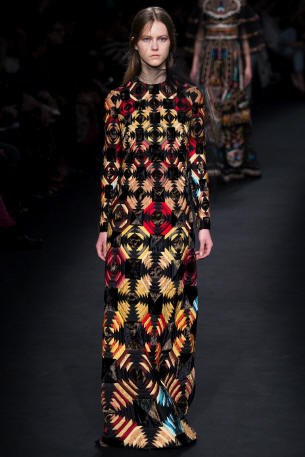 With a 1600s European reference, this print shows that fashion and good style may come from an image of the past. Although not remotely outdated, there is a sophistication of its nature. Valentino is a brand that best represents the vision of this print. Lead designer, Maria Grazia Chiuri has communicated a romance through the art of design. Paired with lace and long gown silhouettes, baroque is the final element that carries the brandís feminine perspective.
Valentino has proven a strong treatment of this print: the subdued tone and bold prints presents the strength of delicate eveningwear. Wear a baroque print on a special night: it is best experienced in gowns that show off its artistic print. In such settings, break out a baroque printed dress to make a statement: old fashion glamour is never going out of style.
For a suave look:
It is a very exciting time in the menswear industry. Designers are taking risks by elevating the appearance of the basic items that navigate its business. Take this holiday season to be adventurous and cheer to the advancements of style!
Printed sweaters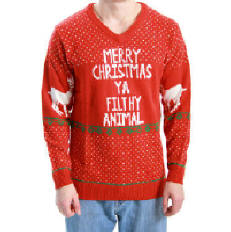 The Ugly Christmas sweater is much appreciated. It is a phenomenon developed among teenagers who fashion the vintage sweaters they scouted at thrift stores. In the last few years, the unfashionable item has become a trend and it is now a uniform to holiday looks. However, if a gingerbread man or comical Christmas phrases on your clothing deem too much of a bold move to wear, opt for a printed sweater.
Offered in a variety of colors and prints ó Aztec, stripes and snowflakes ó this is the opportunity to easily shop and test the trend out for yourself. Nautica and the Gap are retailers of such trend spotters. Essentially they are modernizing the traditional childhood attire. The printed sweater shows off some personality; it is expressive, blatantly communicating a perspective of fashion not taken too seriously. Shop this style when you want to be the life of the party; you will be sure to strike up conversation without concern.
Jeans
Denim will always be an item of style. My jeans are a piece of my wardrobe that I cannot live without. It is an item I wear almost every day from fall through the winter season. As I reconsider my previous holiday attire, denim remains a staple.
Furthermore, it seems my appreciation is compatible to the interest of jeans for men. Brands such as H&M and Baldwin worked with their denim throughout their fall and winter 2015 collections. Their incorporation of denim has not gone unnoticed. With the popularity of denim brands ó including 34 Heritage, Levi and J Brand ó fashion has invested in denim. But for a good reason, denim is a foundation piece. I personally am a denim fanatic, a jean queen because I appreciate the practicality of its design. Wear denim from day to night, dress it up and down: it remains an integral part of my wardrobe. Its functionality is even better with comfort. I invest in jeans that are comfortable; I purchase jeans I feel good wearing. In the journey for personal style, fashionís craze over denim rests in its nature of effortless comfort. This holiday season, denim is a fashion that insinuates jolly. Its comfort is the key.
Velvet blazer
The Velvet jacket accents an outfit. The jacket is a popular piece of the holiday season. Whether it be the jean jacket, full length overcoat or the velvet blazer, the jacket is the menswear piece of the season. The velvet blazer will jazz up any outfit. Wear this piece knowing that this look is suave. It has the power to complement a night out. For a simple way to break out this sophisticated item, take inspiration from Guessís fall/winter 2015 collection. The outfits on the men who modeled the velvet blazer in the ad campaign looked cool as midnight, going to show that the velvet blazers elevates the typical jacket.
Do not be concerned with holiday attire this Christmas. Rather, take inspiration from these uniform pieces so that you can focus on the joy of season. When it comes to celebrating, fashion can help play the part only as long as comfort leads the night. Have fun with fashion this holiday season!