Fall fashion
Valerie McPhail
(11/2015) Fall is my favorite season. Time to bring out the cozy, oversized sweaters and hot chocolate, and to start pumpkin picking. I like the holiday spirit this season brings. It is that time of year for Halloween decorations, Halloween candy and Halloween costumes. Can you tell I like Halloween? Not only is this holiday a fun time for fashion enthusiasts, but also a landmark for my favorite time of the year.
My second favorite thing about fall is the new fashion. This fall hit New York hard, but after all, this city is the mecca of fashion; so New Yorkers didn't seem phased, but were rather quick to sport their puffy down jackets, plaid printed scarves and camel coats. All of these essentially are the first sights of fashion. But what I enjoy most about fall fashion is what layers underneath. I also have a shoe obsession. Designed with anticipation for the now, the items that follow are the fashionable accessories and the trending pieces that trumped the fall 2015 runways back in February. These pieces are here to cover your basic needs for fall.
Ladies first: Our accessories are shoes and scarves.
The Ankle boots
Also known as the half boot or demi-boot, this style of boot guides your first step into fall. Its form is characterized by the length it hits your leg— right at the ankle.
Personally, I advocate for this boot because it plays a specific part in your wardrobe; the ankle boot is ready for colder weather. The lug sole, the shoe's practical sole, is popular companion to the design this season. This is the type of coverage you want for fall and need for winter.
The lug sole is a rubber outsole, allowing a shoe to function as the jack-of-all trades. It is a shoe to live your life in, and now, you can do so in fashion. For fall 2015, Rag and Bone and Creatures of the Wind showed patent leather styles while Marc by Marc Jacob bedazzled the shoe design with silver studs. Without neglecting their sensibilities for style, these shows were among the fall 2015 shows that supported this movement towards functional fashion.
High fashion is now becoming more inviting to everyday life; the lug sole ankle boot is a clear example. Embrace this accessory without the cost of losing style; the ankle boot is here to help you combat the cold weather of your everyday life this season.
The Block heel
I am a fanatic for the block heel. If there is one shoe I could wear through winter, this style would have my vote. What I love most about it is its style. It carries a classic look decorated by the 60's wild side. Plus it breaks all sorts of fashion rules when offered in patent leather. This heel is a pure fashion statement.
For runway references, explore the fall 2015 collections by Simone Rocha and Chanel. These brands showed nude colored styles. The shoe was simple, sacrificing its attention for the benefit of the clothing. But I think that is the best quality of a shoe. They are items that complement an outfit; they make-or-break a look. This season, keep a look out for the block heel; it is the Mary Jane style shoe with the block heel and a strap crossing the top of the foot. It may be a simple style on the runway, but it is an eye catching piece in my opinion.
The Twilly scarf
As one of the styles of the Hermes scarves, the Twilly has made a name for itself. For its size, this scarf — a length of 32 x 2 inches— is a true accessory. This is a piece that will jazz up every outfit. The prints on a twilly scarf are cute; they demand attention while their 100 percent silk-make characterizes class. The style has taken flight into world of fashion design and most recently the style has been reinvented.
In fall 2015 runway appearances, this scarf is recognized as the "Skinny Scarf" and it is longer in length. For the Winter 2015 shows, Haider Ackermann showed a pretty black and white polka dotted style as Bottega Veneta offered an assortment of sophisticated prints that complemented their classy collection.
I recently bought a Twillie — a design inspired by the original— from a New York City emerging brand called Lexicon of Style. I am a fan of its style because its offers an elegant way to wear an unconventional scarf. The Twillie allows for experimental fashion without looking outrageously avent garde. I find that this statement adamantly stands true for the skinny scarf as well. This accessory allows you to try new fashion in a small way, without remodeling your entire closet. So bundle in a cape and beanie — or wear a barrette, this too is another trending accessory. Enjoy the fashion capabilities of these scarves, this fall!
--------------------------------------------------------------------------
Gentlemen, accessories are an advantage to easier shopping.
Turtlenecks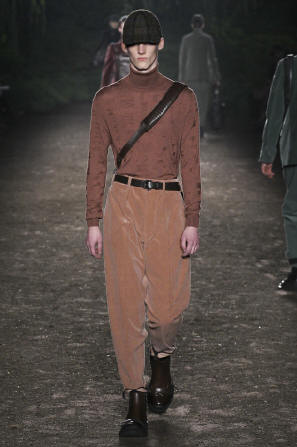 Turtlenecks are my all-time favorite items for fall. I have a real attachment to this item, and it is a basic piece in my wardrobe. The term "turtleneck" is a familiar phenomenon among shoppers here in the states, but elsewhere the title rollneck or polo neck connotes.
The collar defines the turtleneck and it is an item for fall because it is commonly incorporated in sweater designs. I find that this piece has a classic appeal to it. It carries an aged look, appreciated by classic tastemakers. Thus, it goes without explanation that the turtleneck is a current fall trend.
It was spotted on the runways of fashion houses like Balenciaga, Lanvin, and Kenzo, and re-invented throughout the fall 2015 Collections of J. W. Anderson, Marc by Marc Jacobs and Christopher Kane. In such illustrations of fashion, the item itself was utilized as fundamental piece to layer upon. The difference between how the turtleneck was incorporated within each look was simply an element of style. At these fashion houses, the turtleneck was an obvious addition to an outfit. Placed under plain white button downs, t-shirts, and blatantly incorporated into a sweater design. The turtleneck came down the runway as a true fashion statement.
For the younger brands, the turtleneck held a different purpose— that is, to merely serve as a backdrop to graphic sweatshirts, exquisite coats and jumpsuits. If there is one lesson in style we can all take away from this season it is that the turtleneck is new "plain white t-shirt" for fall.
Knitted Scarves
Perhaps the most functional option of these accessories is this item— the knitted scarf. It is an old-time favorite and a prized possession when received as hand-made gift. The knitted scarf is purposed for warmth. It is a nice addition, a final layer to your outfit, before bracing the cold weather.
This season, the Acne Studios, Hermes and Thomas Maier incorporated this scarf in their collections. At Acne Studios and Thomas Maier, the knitted scarf proved to be a true accessory – it was a truly unique piece. Hermes' fall 2015 collection was the exception. In this show, the scarf was basic item. Although shown with an array of different colors — mauve purple, charcoal grey and robin's egg blue— it was consistent to most looks.
For fall, the best way to use the knitted scarf is to pair it with an outer coat. Shop knitted scarves with patterns and graphics to update traditional systems of wearing this accessory. Or, stick strictly with solid colors to stay true to a minimal aesthetic.
Pleated Pants
I never understood the attraction towards pleated pants. I was taught they were designed to help men shop true to size— a valid statement. In fact, the name carries a self-explained title. Pleats function to provide more room for the dresser. The pleat, or a tuck of fabric in a pant, provides a wider legged. However, what has been considered an alternative to slim fit pants has been recently recognized as a fashion statement.
I initially noticed the trend among the fashion of grown men. My dad is one who naturally abides by this trend; he has been wearing this style unapologetically for years now. With serious curiosity I asked my father to explain this style and fit preference. He simply stated that he felt more comfortable in the pleated fit.
If the fashion community has been taking note on this cultural trend, it showed on the runway. Ermenegildo Zegna, Ami and Maison Martin Margiela are brands that exemplified the effortless comfort of this style pant. The prize of this pant is in the pleat; it accessorizes the typical dress pant.
The key to shopping for fall is found in the details. Accessories are the ultimate details for any outfit. An accessory is defined by a piece that completes a look. These pieces are made to work in accordance with what you wear. I hope these fall/winter items help accessorize your outfits for the season so that you can start to enjoy the holidays!