Creative Destruction
Who was Boris Nemtsov?
Edmond Pope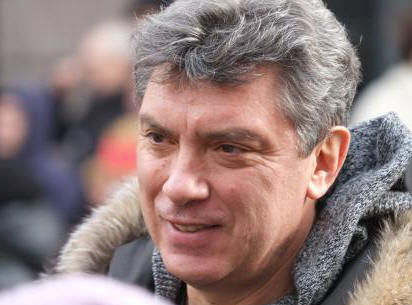 (3/6/2015) I only met Boris Nemtsov one time and that was during a conference several hundred miles east of Moscow in the city of Nizhny Novgorod back in the 1990ís. He was young, obviously very intelligent and had a strong, yet warm, demeanor. I certainly cannot say I knew him well from that short introduction, but I do feel I know him and have a strong admiration for the man and his ideals. My opinions of him are based on two primary observations from my many travels to Russia.
He was known widely both inside and outside the scientific-academic community throughout Russia and was extremely well respected. I think I got to know the real Russian soul in my 26 trips before the year 2000. I also learned far more than I ever wanted to during my last trip. While I believed several of my cellmates at Moscowís Lefortovo Prison were informants for the authorities, most were there as true "enemies of the state" as Putinís Russia viewed us. I learned some frightening things from them.
My travel in Russia primarily involved work with academic institutes and individuals with whom I had become acquainted while working at the US Navyís Office of Naval Research (ONR). Literally dozens of renowned world-class scientists had come to us seeking work and cooperation before the August 1991 collapse of the Soviet Union. That flow soon became a flood in the summer of 1991. I had hosted many of them at my home and accepted numerous individuals as personal friends. In turn, when I began my travel to Russia in 1992, many of these individuals reciprocated and were eager to introduce me to some of the very best of the Russian Academy of Sciences to include a Nobel Prize winner. Almost everywhere I would go, the name of Boris Nemtsov would come up and my Russian friends would praise his character and talents. One such person was Nemtsovís doctoral advisor, as well as being a brilliant and compassionate man in his own rights.
While Boris Nemtsov had not been a household name in the West until the last weekend of February 2015, his heritage tells me a lot about him and how the Putin thugs-goons would view him. Nemtsovís heritage is Jewish-German and he was brilliant scientifically and a true humanitarian. He was never afraid to speak out. That is also part of the reason he was educated in the city of Nizhny Novgorod where anti-Semitic feelings are far more subdued and, in general, people are accepted for their intellect and merit.
Dictatorial Russian leaders have historically feared and attacked intellectuals and any semblance of freedom of speech. Boris Nemtsov is certainly not the only one almost certainly murdered directly or indirectly by Putinís reinvigorated secret police- the FSB (formerly KGB). In fact, it was Boris Yeltsin who restructured the Russian security organizations and eventually dismissed thousands of them. With little training in anything except how to be a common, street criminal- these former KGB employees began forming their own "private security" companies and formed ever closer ties with their former comrades in the FSB. This act created deep resentment which only resurfaced in the summer of 1999 as Putin was first appointed Prime Minister under Yeltsin.
While Yeltsin will perhaps be best remembered for his many drunken antics in public, his administration did push through some significant changes in human rights and other sectors. Many of these positive steps were, in fact, orchestrated by Nemtsov. This is the time that the powerful and harsh "cabal" took control of Russia and began the march backwards toward a harsh dictatorial leadership under Putinís control. Throughout the years since then, Boris Nemtsov remained an outspoken critic and agitator for dignity and human rights in Russia.
Putin is believed to have been behind many of these crises that seemed to suddenly fall on the Russian populace. Crises that possibly included a series of apartment bombings in four different Russian cities that killed over 250 people, and were blamed on Chechen rebels. I consider it more likely that these acts were backed by government authorities with the intention of placing blame. Soon thereafter, the second major offensive against Chechnya commenced with thousands killed.
Nemtsov is only one of many who have almost certainly been targeted by Putinís FSB. One of the more notable assassinations involved Anna Politkovskaya a noted journalist who had been a harsh critic of the Putin administration, in Moscow in 2006. Several others, including two high profile Americans, were gunned down by unknown "thugs (former KGB)" almost certainly backed by the Russian FSB.
In many ways, Russia continues to search for its soul. They do not want to be accused of mimicking any other culture, but do not seem to know what they want to be - other than "different".
Much of their confusion stems from a great loss of prestige that they associate with their former Soviet rivalry with the West. With the loss of Boris Nemtsov, the segment of Russia hoping for positive change and greater freedom of personal liberty has been dealt a significant blow. Unfortunately, my reading of the tea leaves tells me that Putin is becoming more aggressive by the day and is poised for trouble in Europe sooner than we think.