A Teen's View
First week of college
Danielle Ryan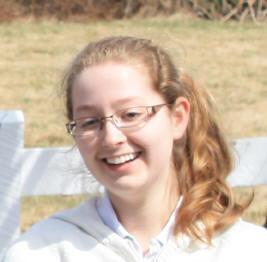 (9/2011) On August 20 I embarked on my first day of college. On the twentieth I had to attend orientation at Penn State Mont Alto. I was a little annoyed at the idea of driving all the way to school just to participate in a couple of silly activities that were a prerequisite to starting classes on Monday the 22. Earlier in July I was sent an agenda telling me about the different activities that I would be participating in during orientation. To say the least, I was not really interested in attending any of these activities, but the letter that accompanied the agenda made it clear that the activities were mandatory for all new students. So on Saturday morning I reluctantly got out of bed and drove to Mont Alto to attend the activities that were scheduled for that day.
When I walked through the doors of the gymnasium, I was shocked at how loud and energetic everyone. Now remember that it is a Saturday morning at the end of summer and I am in a room full of teenagers. I would have thought that the mood would have been pretty quiet because it was so early in the morning, but it wasnít. all the students were ushered into one side of the gym and were given a folder with the dayís agenda and other information. After we received our folders we entered the loud part of the gym, which housed our "spirit leaders" who were supposed to lead us to our different activities for the day. There was cheering and shouting and plenty of spirit as I made my way to my group. Even with our insatiably cheery leader, we new students remained relatively quiet.
Then it was time for the day to start. We began the day with convocation, and listened to many of our professors and faculty speak about the upcoming year. From there we played a game based on different trivia and facts about the campus, learning and faculty. After lunch we went outside and got to know the other members of our group by playing yet another game. We finally ended the day with a speaker/comedian who spoke to us about the upcoming year, making friends, being who we are and all the while adding comic stories and scenarios to the speech. This speaker was by far my favorite part of the day. He made the day worthwhile.
Then came Monday, the first real day of college, the day my classes began. My first class began at 10:00 so I left my house at 9:10 giving me plenty of time to get there because it only takes me 30 minutes to get to school. As I was driving to school something funny happened; I somehow managed to get stuck behind every garbage truck, tractor and slow driver known to mankind. This put me back ten minutes as it was so I was already starting to get panicked. Then as I got to school I pulled in to campus, and the parking lot that I was planning to park in was completely full. It wasnít just full they had it coned off so I couldnít even turn around. Instead, I had to drive all the way around campus just to turn around. I only had one other option; I had to park in the overflow parking lot across the street. At this point it was ten minutes to 10:00 and I still had to get all the way across campus. As you can imagine I booked it across campus and luckily I made it to class just in time, with two minutes to spare. This was a great way to start my year. On top of this, I had to start the day with a math class. I had originally thought that this class was just going to be an algebra class and that it would be an easier class. I quickly found out that this was no basic algebra class, it was a pre-calculus class. I took pre-calculus in high school, but I never expected to take it again in college. Luckily this class is only 50 minutes long so I donít have to sit through it for too long.
After these events I decided to go home because I didnít have another class until 4:15. I decided that I would leave an hour early this time so that way I would be plenty early for class. And I was; I was 30 minutes early but at least I got a parking space. I proceeded with my next class which was just a first year seminar, basically an easy credit. After this class I had to go to my most dreaded class that I scheduled which is a chemistry course. The class was supposed to start at 5:20 but as 5:30 came and went, so did 5:45, most of the class decided that the professor wasnít going to show up so they left. I, along with three other students decided to wait just in case he did come. At 6:00 the professor arrived, and was stunned that there were no students. Apparently there was a mix-up in the schedule and he thought that the class started at 6:00 instead of 5:20. To my amazement he proceeded to have class even though there were only four students. Eventually, some more students showed up for the lab portion of the class and we then totaled eleven. The class was quiet and small but I actually enjoyed it. Unfortunately the whole class totals close to 50, so chances are it wonít be that quiet ever again. I then ended my day at 8:40 and proceeded to go home.
These first three days were my first days of college. Iím sure some of you had similar experiences. I suppose the best way to put this is welcome to college.
Read Other Articles by Danielle Ryan