Cold War Warriors
The Silent Service during the Cold War
Captain William Hicks, USN Ret.
Editor's Note: I will be the first to admit, I was less then perfect as submarine officer. While I loved running the submarine's nuclear power plant I did not inherit my father's seafaring skills, which made me a captain's nightmare. However, I can say with all honestly having worked with had Commodore Hicks "Bill" for over 15 years now, that had he been my Captain, I would have grown to love the sea, and the submarine service, and the Navy would have been my career choice. I guess you can say thankfully he was not, otherwise you would not be reading the this note. Bill reflects everything that was, and is good, in the US Submarine Service.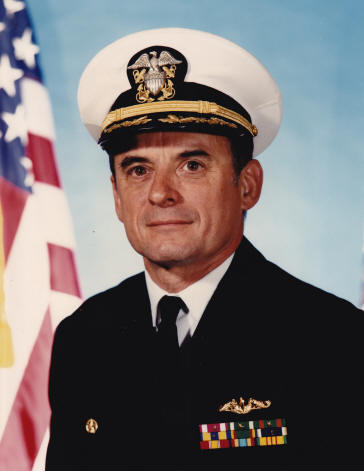 I was born in 1940 on a family, dairy farm in central Pennsylvania. World War II is a time of vague memories such as collecting cans and scrap metal and milkweed pods for the war effort and listening to my mother fuss over ration stamps. The Korean Police Action is more vague with the main memory being the firing of General MacArthur and discussions in the milking barn with the hired help as to whether President Truman should be fired, or not. As I remember, I had no opinion.
October 4, 1957 was the day that my life changed and my career was defined. On that day, Sputnik 1 was launched into orbit by the Soviets and the cry across America was about the missile gap and the need for our education system to focus on science and the need for more engineers. At my small high school in central Pennsylvania, the curriculum was focused toward jobs on the farm, the railroad, or the paper mill. Science and engineering were not on the screen, but that all changed following the launch of Sputnik. I now had a mission—to become an engineer even if I did not know what one did or how to become one beyond going to college.
Going to college—that was another challenge for a boy from a poor, family farm. I looked into scholarships and grants, and the Naval Reserve Officers Training Corps (NROTC) came to my attention. It provided full tuition, books, fees and a $50 per month stipend. What a deal!! I applied, was accepted and the die was cast, it did not include the farm, and I never looked back. When I arrived at Penn State as a freshman in the NROTC program, I had never been on a ship and had only seen the ocean from Jones Beach in New York when visiting my Aunt. I did not know anyone who was or had been in the Navy. Let the adventure begin.
I majored in engineering and NROTC. I did well in class and received an intense indoctrination into the Navy, both in theory and practice. Summer cruises took us to small ships with port visits in Boston and Montreal; amphibious training at Little Creek VA, and Naval Aviation indoctrination at Corpus Christi, Texas and aboard an aircraft carrier in the Mediterranean. I found all that Navy stuff to be interesting and not too hard, although my cruise aptitude grades did not always reflect my successes. However, none of it really "turned me on".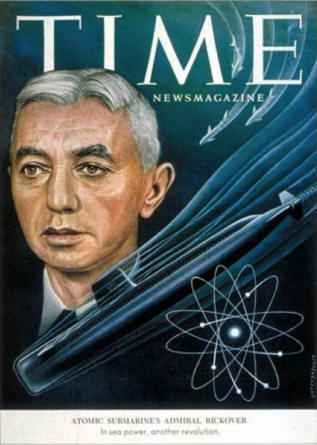 By the beginning of my senior year at Penn State, I became aware of the Naval Nuclear Propulsion Program run by Admiral Rickover. For the first time, the program was accepting direct inputs into training. Previous entrants were required to be qualified in submarines (or some other warfare specialty) before applying. I had never been on a submarine, but it could not be all that bad and the Nuclear Propulsion program sounded challenging. I applied, was tested and interviewed in Washington, and accepted. I have no interesting stories to tell about my required interview with Admiral Rickover. It was pretty benign— and we were told that he had some upcoming, congressional testimony on his mind.
Early submarine training
June 6, 1962 was both my Penn State graduation and Navy commissioning day. My orders were to report to a diesel submarine, USS Trutta, SS 421 in Key West for three months to await the start of my nuclear power school class.
In Key West, I got my introduction to submarines as well as the men and families who make them function. I also learned that Cuba was closed which was a great blow to the Key West submarine community who spent many weekends in Havana. There was even an LST that took the wives across the Florida Strait to enjoy the weekends. I qualified as a diving officer on the diesel submarine and learned about torpedoes as the assistant weapons officer. We also watched the filming of the movie PT 109 about the exploits of President Kennedy as a Lieutenant in WW II.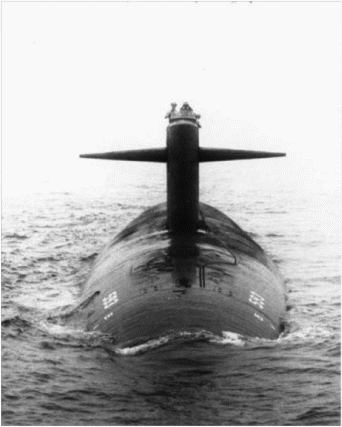 USS Thresher SSN 593
One retrospective memorable event in Key West was visiting the USS Thresher SSN 593 following the shock testing. It was my first visit to a nuclear submarine. The shock tests had caused visible damage which was to be repaired in the upcoming shipyard availability in Portsmouth NH. Thresher sank on the initial deep dive following that shipyard availability on 10 April 1963 when I was on my way to Submarine School. Some of the damage had not been visible.
I arrived at Nuclear Power School in Bainbridge MD in October 1962. The school had just moved from New London, CT so we had the adventure of opening the buildings and berthing in a shuttered section of the, WW II Naval Training Center. Shortly after arriving, we were restricted to base as the "Cuban Missile Crisis" unfolded. The Cold War was now up close and personal. We had no idea how we could contribute, but we were on the base and ready. Nuclear Power training was intense and the most difficult academic curriculum I ever experienced, before or since.
College engineering was easy in comparison. After six months, most of us graduated and moved onto Prototype training at which we would learn and become qualified to operate an actual nuclear propulsion plant. I was assigned to the prototype in Windsor, Connecticut. We lived in the community and had to cook and clean for ourselves as we spent many 12+ hour days at the site trying to keep up or catch up. Again an extremely intense six months of training. After six months, most of us had qualified as Engineering Officers of the Watch (EOOW) and moved on to the Submarine School in Groton Ct. While on my way to Submarine School, I heard on the radio that the Thresher had sunk.
Submarine School, Groton, CT (1963)
Submarine school was a change of pace from nuclear power training. The attitude was more relaxed—more like what I had experienced in Key West. The material was challenging, but the pace was more relaxed and the evaluations were more subjective in areas such as acting as a diving officer or as a member of the fire control party during a simulated approach to attack a target. The culture and the values of the submarine force that were so successful in WWII were to some degree in conflict with the rigorous adherence to formal requirements that we had learned in nuclear power training. It is often described as a conflict between knowledge based (experience and memorization) and requirements based (procedures and process) philosophy of operating. This conflict in values and methods continued to be a challenge for the next 20 years of my career in nuclear submarines. President Kennedy was assassinated while I was in submarine school.
I was in the tactics trainer about 2 on that Friday afternoon when we were told of the assassination. Classes were suspended for the day. As I remember, we were back in class as scheduled on Monday morning. As submarine school was reaching graduation in the spring of 1964, we had the opportunity to select the submarine to which we would be assigned. The selection was in the order of class standing. There were few operating submarines and even fewer attack submarines available. The Thresher sinking had resulted in much delay in delivery of both new construction and submarines in the shipyards for maintenance. Due to the threats from the Soviet Union, the top priority for delivery and manning was given to the ballistic missile submarines (SSBNs) at the expense of the attack submarines (SSNs). My class standing was such that I could select an SSN and I was drawn to the possibility of a trip under the Arctic Ice and chose the twin screwed Skate Class SSN, USS Sargo, SSN 583 in Pearl Harbor, Hawaii.
Lieutenant (JG) Hicks Reports to Sargo (SSN 583)
SSN 583 was a Skate Class SSN. The four ship Skate Class was the first class of nuclear submarines. In hull design, they looked like the diesel submarines including having bow planes and twin screws. Due to the twin screw and bow plane configuration, they were ideally suited for missions under the arctic ice pack. Sargo made a winter trip under the ice and experienced significant damage as the ice was thicker than thought. Sargo also experienced a serious fire while charging oxygen which resulted in significant improvements in the equipment and procedures used in charging oxygen. This issue would be mitigated in the later class submarines who had oxygen generating equipment installed and thus did not routinely charge oxygen banks from off-hull.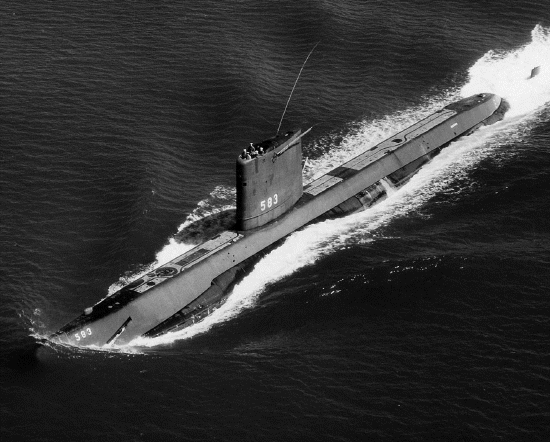 Following graduation from submarine school with orders in hand, I headed for Sargo. A phone call from the Weapons Officer informed me that they would be in the Western Pacific when I arrived but I was to stop in Pearl Harbor for a week of prospective weapons officer school. My orders did not reflect this stop over, so there was some confusion when I informed the transportation folks that I need to stop in Pearl Harbor. Fortunately my flight from California to Japan had a stop in Hawaii and I found my bag in the hold and got off. Getting me on to Okinawa after my week in school was now the problem for the COMSUBPAC Staff and they did it.
I met Sargo in Naha, Okinawa on a Sunday night, was given some scary security briefings to sign about the upcoming operations, given a bunk on a bench in the wardroom, and told we were sailing in the morning for a special operation of 60+ days. Welcome to the operating fleet Lt.(JG) Hicks. The Spec Op was in the Sea of Japan and for me was mostly about getting qualified as EOOW and Officer of the Deck. As the prospective weapons officer I did get involved in some tactical parties including photography and fire control tracking. Much of the operation was associated with the Soviet, first generation nuclear submarines, including attempts to determine whether they were in fact nuclear powered. The most significant event was running aground that resulted in loss of part of the rudder that we did not know about at the time. The mission continued until its scheduled completion at which time the divers in Naha reported the damage. Our Naha port visit was shortened and we proceeded to Subic Bay in the Philippines for drydock and repairs.
While in Subic Bay, we were forced to leave drydock to avoid a typhoon. Upon returning from typhoon evasion, we learned of the Tonkin Gulf events in which the Maddox and Turner Joy were attacked. Within a few days, we were ordered to get underway and proceed to the Tonkin Gulf for surveillance of activities and to ensure the Chinese did not decide to become involved. A very uneventful few weeks once we stopped patrolling in areas that were reported to be uncleared, WWII mine fields. Fortunately we found no mines. We did face the challenge of operating up to and at periscope depth in an area with lots of Vietnamese craft without engines. We could not hear them and they were too shallow-drafted for our torpedoes to hit. We found some comfort in the fact that our sail was hardened to penetrate the Arctic ice sheet so we hoped it could penetrate a wooden junk as well. The term "Ramming Speed" took on new meaning. Fortunately we never tested the theory.
After a few weeks in the Tonkin Gulf, we returned to Subic Bay, completed some repairs and returned to Pearl Harbor after six months away. During the deployment we had a few sightseeing and liberty opportunities. Flights were arranged from Naha to Hong Kong and to Tokyo. I had the opportunity to go to Tokyo via the Yokosuka Naval Base. One interesting situation was that due to the continuing occupation, only occupation currency could be used to pay for things and we did not have very much so our purchases were limited. We went to Tokyo which was very active rebuilding the city for the Olympics. We then flew back to Naha after about 48 continuous hours of activity. While in Okinawa we visited what was reported to be the actual Teahouse of the August Moon made famous on stage and in movies. While in Subic, we visited Manila. The most memorable part was the trip to Manila. The countryside was rice patties and poor villages with the houses on stilts. Water Buffalo were in use with few motorized vehicles. The people were extremely friendly and remembered the liberation of WWII with great gratitude. During my next visit on Bates, I did not find the same level of appreciation and friendliness. The following link more fully documents the Sargo West Pac Cruise of 1964: http://www.ssn583.com/History/Milestones/WESTPAC64.htm
Upon return to Pearl Harbor, Sargo operated locally for the next few months with mostly one week at sea at a time, known as weekly OPS. Torpedo exercises were frequent and as the weapons officer, I had some interesting challenges managing the preparation of torpedoes and documenting the torpedo exercise firings. Five months after returning, Sargo again deployed for two months on a special operation directly from Hawaii. Once again, Soviet submarine operations were the primary focus of our operation. I was the photography officer for the operation which required me to select, catalog, classify, and prepare the photographic record for submission. Only selected officers were granted the highest security clearances for these operations. I was not one who had the special compartmented clearance which resulted in the interesting twist that once I had classified the photographic record I managed, I was not cleared to have access to it.
The Cold War continued to define my career. Just prior to the deployment I completed my qualification in submarines which meant I could wear the submarine dolphin insignia. Completion of qualification in eleven months was unusually fast, but I had little else to do since we were at sea so much and I had little social life due to limited time in port. Following the second spec op, I was transferred after only 13 months aboard the Sargo. During those 13 months, we were at sea nearly 11 months which put significant strains on family and personal lives. It was a very short tour, but submarine qualified officers were in demand in other places. I was on my way to provide some salt and sea experience to the nuclear power school in Mare Island, California.
Shore Duty as a Nuclear Power School Instructor
I arrived at the Nuclear Power School at Mare Island Naval Shipyard in Vallejo California in July 1965. It would be my last shore duty until I completed my Squadron Command in 1989. I was one of about five sea- experienced officer instructors in the enlisted department. The Nuclear Power School was an intensive six month course that starts with enlisted students who are high school graduates and provides them with the basics of nuclear reactor theory and operations. The necessary math and physics to permit them to understand the theory of the material they are expected to take away from the school was provided as academic building blocks. The six month course was much more intensive and fast paced than any college curriculum. As a result, many of the students struggled, both to accept the pace and to keep up with the material, but to their credit, most completed the training successfully and some were very successful, showing a strong academic capability.
In 1965, the draft for the Vietnam War was in full swing, so the Navy and the nuclear power program were the beneficiaries of many enlistees with education beyond high school. In many cases they had college degrees and a few advance degrees. During my two years, I taught mostly practical subjects which built on the basic courses in math and physics. I was also a senior student adviser which meant that I got to work with the ones who were struggling the most to succeed. Watching and helping them work so hard was a gratifying experience. As a division director, my group developed a consolidated three month duration course, including the texts and training materials, in Chemistry, Radiation Controls, and reactor materials. Life in the community in Vallejo was enjoyable. No ship at the pier to demand attention; Time for a social life and sports including being a 12th Naval District Wrestling Champion for 1966. The major cloud on the horizon was the anti-war and free speech movements which were in full swing at UC Berkley a few miles to the south.
Some of our staff instructors were fresh out of college and Navy Officer Candidate School and were spotted participating in the anti war, demonstrations. A difficult leadership challenge!! After two years at Nuclear Power school, it was back to the fleet, sort of; as I was assigned to a new construction pre commissioning unit for USS Sunfish SSN 649 at the Fore River Shipyard in Quincy Massachusetts.
Read other articles by Captain William Hicks