Cold War Warriors
Cold War Fallout
Commander John A. Murphy, USN Ret
Captain Edmond D. Pope, USN Ret
(6/2012) I moved to Gettysburg, Pennsylvania in 1990 to teach Russian at Gettysburg College. For me, the Cold War was over. Or, so I thought. Then, as the Soviet Union officially disappeared on New Year's Eve 1991 my phone started ringing off the hook with requests for Russian language work. First, some translation work and later simultaneous interpreter work at meetings and multi-day conferences. In the U.S. and overseas. There was a very active dialogue going on between the former Cold War rivals. The Russians were looking for work and the Americans were looking for "deals" - and new ideas. I should have seen it coming. It happens after every major war. Former adversaries adjusting to the new world around them. Once I really got involved…. I thought " This is what the wild west must have been like. No rules. Just cowboys (on both sides) running around … looking for gold!" 1992 and 1993 are indelibly etched in my memory. Also, the rest of the '90s for different reasons. It was like a "courtship" began in 'late '91 and early '92 that was followed by marriages in 1993 and 1994. Some endured and others fell apart. Now… twenty years later, we can see what happened in the 90s, but are not sure how the story is going to end. Anyway, here is the beginning – from my perspective.
The Flood Gates open - In the Spring of 1992 I was asked to do some "Russian language work" at the Navy's Office of Naval Research (ONR). They were being bombarded with requests from the former world of Soviet science and technology to sponsor scientific projects. The requests came from a diverse world of top Soviet scientists and engineers working at places known and unknown in the west. At major, Soviet universities, institutes with factories, individuals, friends of earlier émigrés, and new Russian" buzziness" ventures (i.e. Informal sidewalk "business" ventures). They understood the meaning of "buzziness" about as well as they pronounced it. From places that were in "closed" cities (to foreigners and to most Russian citizens) and at facilities that had no names – just Post Office Box numbers. This was the dark world of Soviet, secret, military-industrial research, development and manufacturing. Many of the scientists who sent the requests were top names in the world of Soviet science.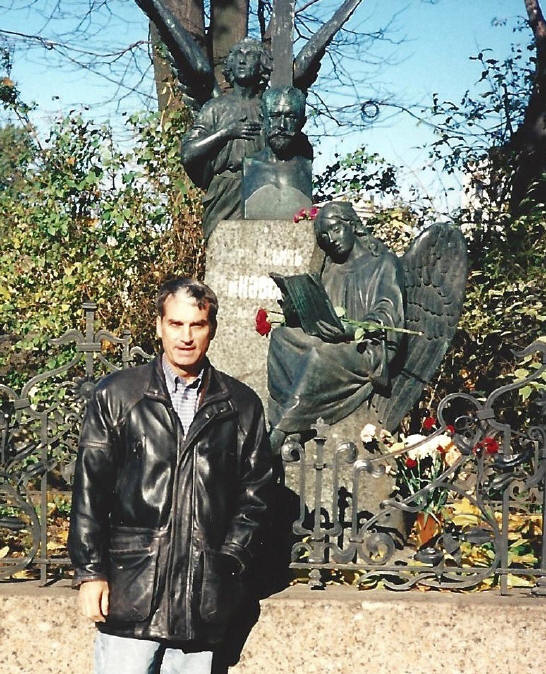 Ed Pope at Tchaikovsky's Grave in St. Petersburg's Alexander Nevskiy Cemetery.
Ed Pope Comment: We had vast files on many of them from our own intelligence collection efforts of the past, but these people were never allowed to travel anywhere that would give us access to them. Our initial thoughts were that this flood of world-class talent was a new counterintelligence operation contrived by the KGB (State Security) and GRU (military intelligence) so we took extra precautions in dealing with them until we soon realized that they just wanted to work with us. In many cases, probably from their own KGB-GRU intelligence collection operations, they knew far more about us, our laboratories, funding, organizational structure and methods than we could have imagined. (A case in point - During my 3rd trip to Russia - in a meeting with a group of very senior scientists in Moscow, I informed them that I had accepted a position at Penn State University. The immediate response was "Oh, wonderful, you are going to the Applied Research Laboratory")
Many of these top Soviet institutions had lost their funding support from the former Soviet Union (FSU) and Russia was not stepping up to pick up the tab. They were on their own. World class scientists who were trying to keep their highly educated and talented staff employed. I began working in an ONR office known as the Science Opportunities Program (SOP) in the Spring of 1992. Under Captain Edmond D. Pope, USN – a senior, Naval Intelligence officer who was on his "sunset tour" after being diagnosed with a rare form of cancer.
I could see that Ed and I thought alike in many ways. The office staff began referring to us as being like "two kids playing with their favorite toys" when working with the "opportunities" that were flooding into the office on a daily basis.
Ed was a dynamo. A "16-balls in–the-air" kind of guy who was ideally suited for the SOP program. He was a blend of huckster and technical guru. He had a natural instinct for the real and the phony proposals coming into ONR. Just what the Navy needed. My job was to translate the stuff and data base it for him.
He was preparing for his first trip to Russia in the Fall of 1992. As a former Naval Attaché to Sweden, Ed was in his element when traveling to closed cities such as Nizhniy Novgorod or Murmansk or top, former Soviet institutes in Moscow or St. Petersburg. He was a class act and I sensed that the Russians liked and trusted him. He came back from his first Russia trip with his bags filled with 'goodies'. Sure there were work proposals and sample materials, but more importantly- it was the Soviet mementos that everyone in the office really wanted. It was like Christmas in July. Soviet flags, military hats,KGB insignias, Russian binoculars and night vision devices. Then in early '93 Ed asked me if I wanted to go on a trip with him – to St. Petersburg and Moscow. I jumped at the chance. Finally, after 45 years of studying the Russian language and culture… I was going to see the place for myself.
My first trip to Russia - In May 1993 I boarded a Finnish Air flight in Helsinki – bound for St. Petersburg, Russia. As we crossed over the Russian coast I snapped away with my Canon camera until I was told to stop… by the Finnish Air stewardess. "Please ! That is not allowed!" I thought sure I was going to be handed over to the KGB when we landed, but several young Russians sitting nearby laughed and said "Forget about it. Take all the pictures you want. This is the new Russia." I felt a little better, but still was nervous when I was met by a group of Russians at Customs who escorted me to a dark blue,mini van parked at the terminal's entrance. Then they said "Captain Pope sends you greetings. We are to take you to him for meetings already in progress at the Krylov Institute." Now I was in hog heaven. Riding through the streets of St. Petersburg. It was GREAT to really get a chance to use my Russian. Then we pulled up to the Krylov Institute- Russia's historic, shipbuilding and design bureau. It could trace its roots back to the time of Peter the Great in the 18th century. Before I knew it … I was entering the Krylov's executive conference room and there was Ed Pope with a bunch of Russians and a couple of American businessmen (i.e. "cowboys").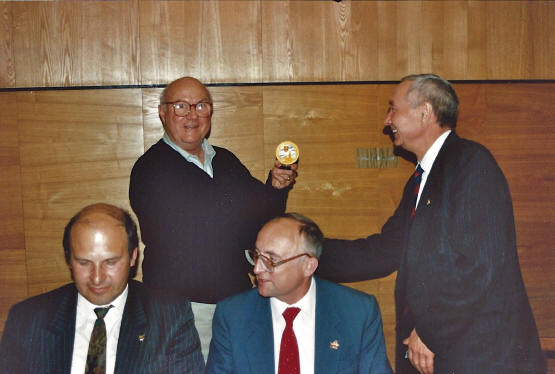 Director Valentin Pashin presents Krylov gift emblem to John Murphy.
I was introduced to the Krylov's legendary Director - Professor Valentin Pashin and his senior staff. Also a couple of guys who I was to see many times over the next year – security officers from the KGB, (or SVR,or GRU or FSB ?) or some other acronym. Who cares? This was the new Russia. Forget the old Soviet "baggage".
Ed Pope Comment - In a meeting at the Krylov in the late '90s, I was told that one Vladimir V. Putin - a young KGB officer- had begun his career at this very Institute and often attended meetings where we now sat.
All seemed to be going quite well when I arrived. Of course, they were two drinks ahead of me. Ed Pope was literally "holding court" and was the obvious center of attention. "Just like back at the office! " I thought. He was telling stories of his days as a Naval Intelligence officer in Sweden. They LOVED it. This was so much fun that I decided to get into the act myself. I told a story of my own from the Cuban Missile crisis. Of the prosecution and surfacing of a Russian FOXTROT submarine that the Krylov Institute helped design. How, when challenged to give us the ship's name - the Soviet Captain responded– 7–?-C-! #-9. All the Russians went into hysterics as a Russian interpreter explained to the Americans that 7?C!#9 was the Russian word for SHIP. I thought this was amusing during the Cuban Crisis and again on this – my first day in Russia. Then, ten years later I heard the other side of the story – the Soviet side. In a Russian book published in 2002 we learned that our aggressive pursuit of this particular FOXTROT nearly ended in WWIII. The Foxtrot's Captain was so rattled by the depth charging he received … that he was ready to order the firing of his nuclear torpedoes. Until his officers convinced him otherwise. A story I am glad I didn't know in 1962 or at the Krylov in 1993.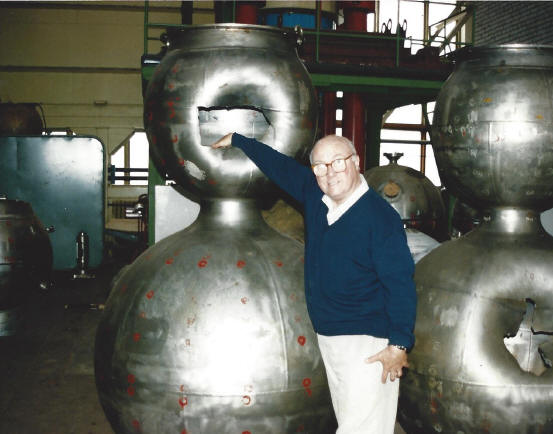 Krylov Institute submersible laboratory. John Murphy in area where "submersibles" undergo pressure testing. "If it bursts… we have failed!" Object is to determine maximum survivability for submarines and research vessels at deep ocean depths.
Following the St. Petersburg meetings I accompanied Ed Pope to Moscow. We took the overnight train (the famous "Red Star" or Krasnaya Zvezda) and arrived at Moscow's St. Petersburg Station on Komsomol Square at 7AM. We took a cab through central Moscow via the Kremlin to the President Hotel (formerly the "Oktyabrskaya") on the Moscow River. As we passed through Lubyanka Square – Ed played tour guide and pointed out the site of KGB Headquarters and the infamous Lubyanka prison. Also, the site of the former Felix Dzerzhinsky statue (KGB pioneer) which had been torn down by irate citizens the year before.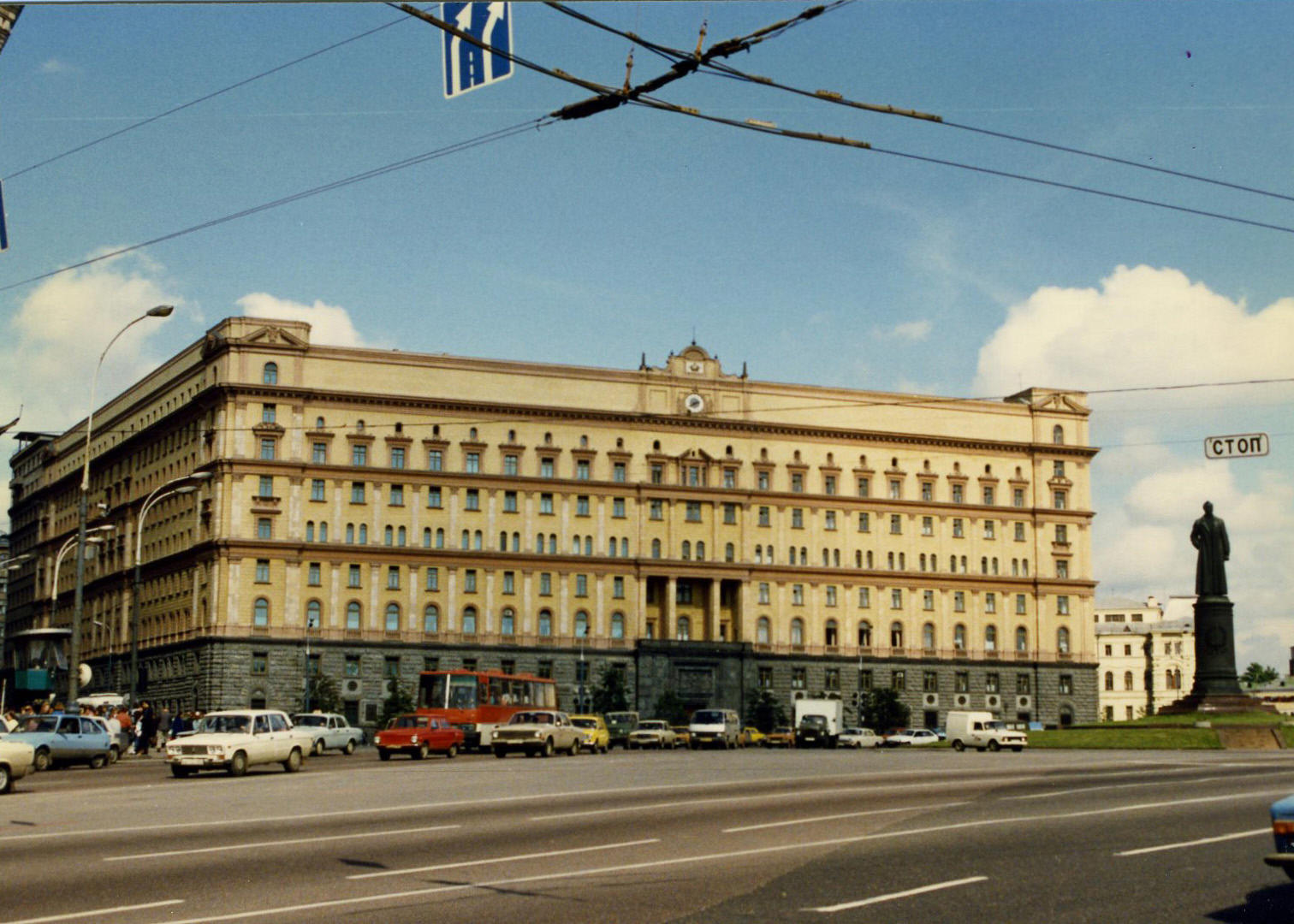 Lubyanka Square-KGB Headquarters with Felix Dzerzhinsky statue.
The cab driver and Ed had a good chuckle about the dark history of this square. Little did we know that Ed would get to see the inside of Lubyanka prison and become a resident of the equally infamous Lefortovo prison a few years later. But that is another story.
Ed planned to travel to the formerly, closed city of Nizhniy Novgorod after a brief stop in Moscow. This gave us plenty of time for some informal meetings with several Russian and western business contacts in the luxurious President Hotel's lobby. We were told that this was a Communist party hangout during many, major Soviet Conferences and Congresses. I could just see the Party leadership and Congress delegates relaxing in this very lobby … after a hard day at the Kremlin.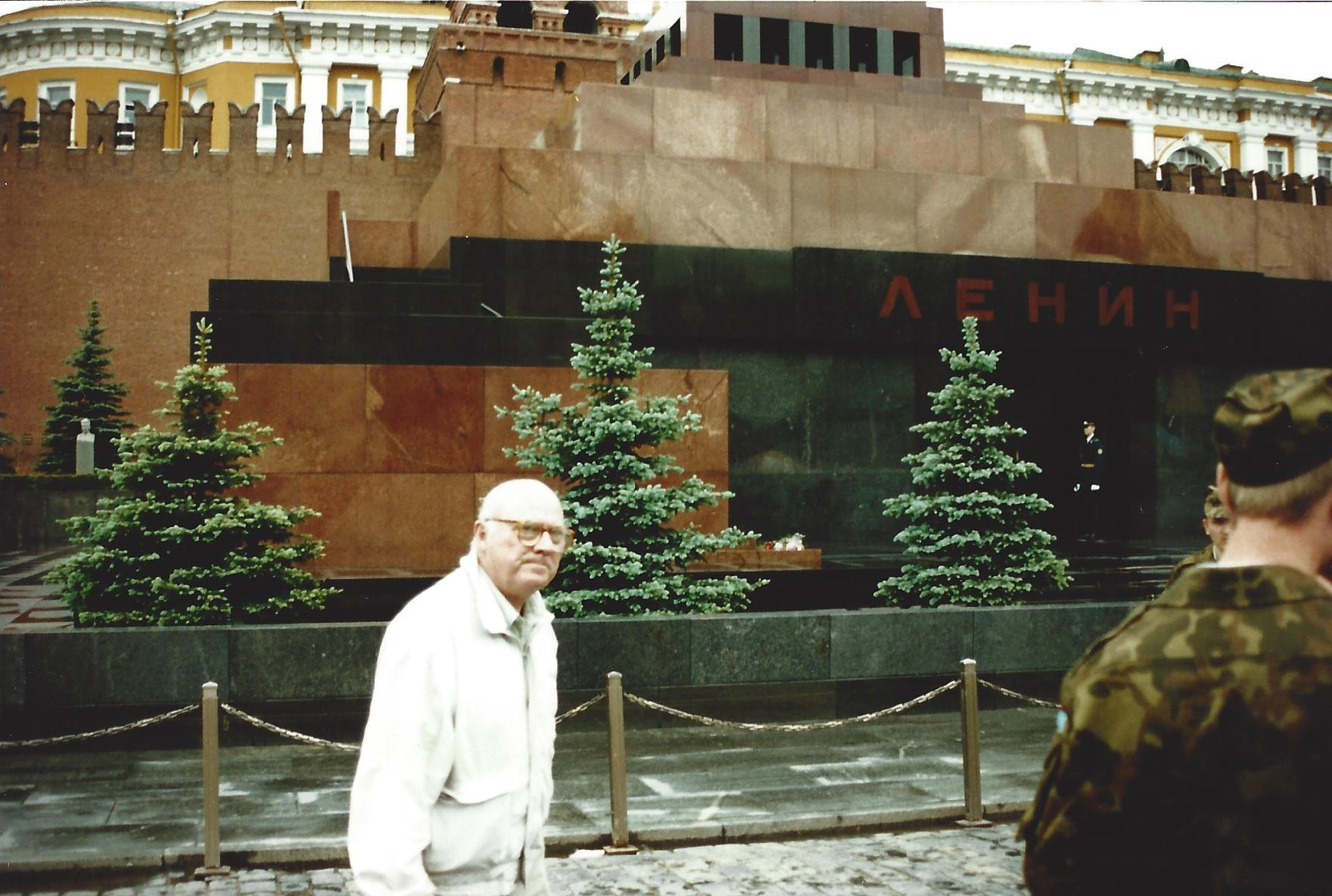 John Murphy at Lenin's Tomb- Still a tourist attraction for curious Russians.
Site of many a May Day parade during the Cold War.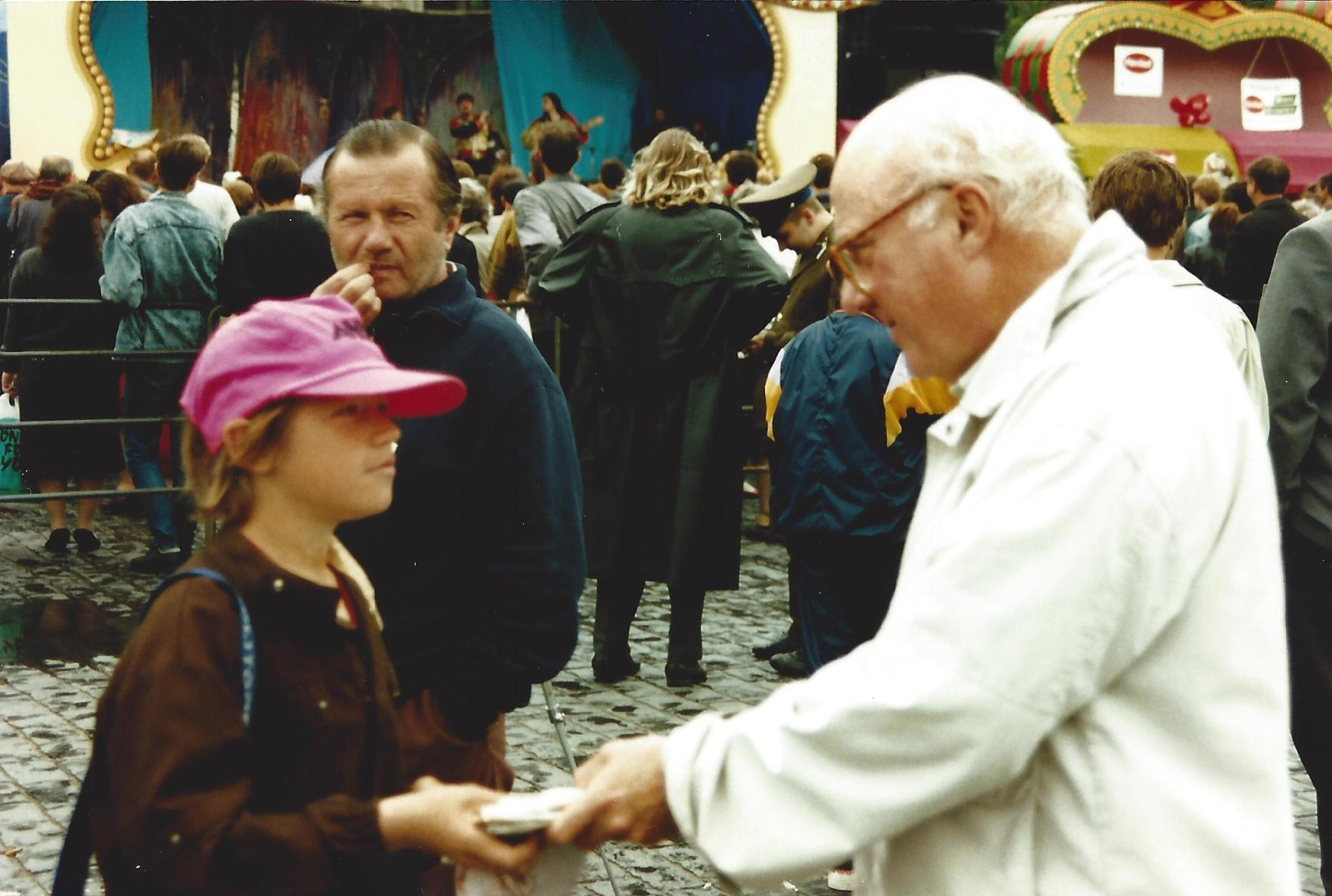 Capitalism thrives outside GUM Department store – John Murphy purchases a
Russian book from a young merchant in Red Square.
Note the Rock Band on an outdoor stage outside GUM Department Store.
We also saved some time for tourism. We made the obligatory visit to Red Square, Lenin's tomb, the Kremlin and GUM (the State or Main Department Store). Then it was on to the "new Arbat" market at Izmailovo. A real "people place" if ever there was one. Now I knew where Ed was getting most of his Soviet-era trinkets.
During our time in both St. Petersburg and Moscow I sensed that the average citizen was really enjoying life. Also, there were some not-so-subtle signs of change…. such as the huge, colorful, "Marlboro Man" billboard looming over Nevskiy Prospekt (St. Petersburg's " Fifth Avenue"). I was struck by another sign of "creeping capitalism" in St. Petersburg – the small, portable kiosks that were spread throughout the city. They were filled with everything you needed on a daily basis. The "St. Petersburg Times", cigarettes, water, coke, vodka, candy, a chuck of cheese or sausage, a slice of heavy black bread and the latest edition of "The New York Times" or "Playboy". All – thanks to the visionary Mayor of St. Petersburg – Anatoly Sobchak.
However, Ed and I were also sobered by the sight of so many bullet and shell holes in the walls of the beautiful buildings along Nevskiy Prospekt- compliments of Adolph Hitler in WWII. When I returned two years later … the kiosks were gone. They had been replaced by "mom and pop" stores in almost, every neighborhood. I thought "This is the way it was in America in the early 20th century – about the time the USSR was being created. First, came the "huckster wagons"; then the neighborhood "mom and pop" stores, and next (I thought) will come WallyMart !" At the "mom and pop" stores you could buy everything that you could in the kiosks, but they also had fresh fruits and vegetables. That never happened under Communism. Under Communism, the stores were usually empty. The change was looking good and the people were beaming with hope for better things to come.
I noticed, the average citizen on the street in Moscow and St. Petersburg went out of their way to smile and be friendly. One cab driver told me "We talk to each other now. In restaurants, in bars, cabarets (bistros) and on the street. We never did that before. It was dangerous to talk informally. Like I am talking with you. A year ago we would not have done this. Things are changing." Obviously, on the street, but what about in the world of the former, Soviet military-industrial complex ?
New thinking for a new day
The Russians Ed and I met in '92 and '93 were pretty upbeat. Hopeful… optimistic…. excited! They were opening their "closed" institutes and factories to foreigners. They needed new partners. They sure weren't getting work from their own government. And of course, on our side, there were plenty of "cowboys" out there looking for "deals". I can recall an American businessman riding on a bus to the Krylov institute loudly discussing a "major deal" he was about to close with the Director of a closed institute in Severomorsk (Murmansk). I thought "Most know that the guy sitting up in the front seat is KGB….the times are a changing but "loose lips (still) sink ships." I guess I was not as comfortable with this new "glasnost' (openness) as some. And yet – I saw many top Soviet-era scientists and industrial leaders who seemed to be buying it. Yes, they had been involved in super secret Soviet work, but that was then and now was now. They showed a jaundiced attitude towards KGB- types and their obsession with security. "They put stamps on everything". Both the KGB types and the super scientists saw themselves as Russian patriots. One was locked in the methods and thinking of the past while the other (the scientists) saw themselves as looking to the future – without all of the constraints of the past.
A new chapter in the long history of Mother Russia was being written before our very eyes. How would it end? We would soon see… as Russia and the world proceeded towards the millennium.
That is another story – the Cold War's Fallout-Part 2.
Authors – John Murphy is a retired Navy Commander and Editor of the Cold War Warriors column living in Gettysburg, PA. He is a former Russian professor at Gettysburg College and member of the Gettysburg Borough Council (1991-2007).
Edmond D. Pope is a retired Navy Captain and former Naval Intelligence Officer. Following retirement from the Navy he was employed by Penn State's Applied Research Laboratory. He was accused and convicted of espionage by the Russian government in 1999. More about his adventures in Russia can be found in his book "Torpedoed" and at his Web site http://edmondpope.com/ . Edmond Pope currently lives in State College, PA.
Read other articles by Commander John Murphy
Read other articles by Captain Edmond D. Pope