Mount Creative Writers
When the Christmas tree smiled
Alexandra Tyminski
MSM Class of 2015
(12/2013) I looked to my left and to my right. The snow sat on the tips of my branches, resting, until it was swiftly blown away by the crisp wind.
"On the first day of Christmas, my true love gave to me, a partridge in a pear tree. On the second day of Christmas, my true love gave to me, 2 Turtle Doves and a partridge in a pear tree."
The speakers above me began to play the same song, like they do every morning, since we opened for business. I could never get tired of it. The Christmas music keeps me calm as I eagerly await a new home.
Ö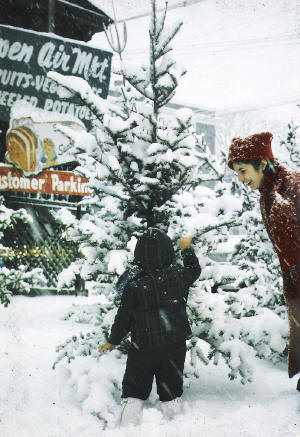 "Daddy! Daddy!" I felt an abrupt shake of my broad shoulders as I was still all snuggled in bed.
I opened my squinty eyes to see Rosieís dark brown pigtails, that one freckle on her nose, and hazel eyes staring back at me. She smiled at me with her little dimple on her left cheek. It was impossible to resist smiling back at Rosie. Her two front teeth were missing and boy, was she the sweetest little 6-year-old I ever met. However, I was probably biased because she was my daughter.
"Letís go, Daddy! Itís time to get the tree! We must get the tree!" Rosie looked up at me with her big, eager eyes.
"Alright, buddy. We can go get the tree. We have to eat first!" I said to her, sitting up in bed. She tugged on my arm once again.
"I did already!" Rosie said.
"You did? What did you eat?" I asked her.
"I had Christmas spirit!" she said with a huge smirk on her face.
"You always make me laugh little Rosie. We can get some breakfast on our way there. Go get ready, and we will adventure for our tree."
Ö
"You better watch out, you better not cry. You better not shout, Iím telling you why. Santa Clause is coming to towwwwnnn!"
All of the families walked by me. Up, down, up, down. They took a few glances at me and then moved on to the next one. Was there something wrong with me? Were my branches too thin? Was I not tall enough?
I watched as my friends were all being tied onto the roof of an Escalade, a Subaru, a big black Navigator, an old-school Chevy, and a green van that looked like a space ship. The snow from the morning was still sitting on my outer branches. I began to feel discouraged. I was almost sure that someone would come pick me up today. I could feel my Christmas spirit dropping until I spotted the little girl down at the end of the row. Her smile was infectious. It lit up the entire place. I was hopeful that maybe this little girl would want to give me a new home.
"Daddy, I really like this one!" the little girl said.
In my surprise, I was towering over at the little girl I saw just moments ago. She was wearing white sneakers with pink shoelaces. Her face was freckled, but only on her nose. I thought she seemed very friendly.
"Little Rosie, are you sure this is the tree that you want?" the tall man standing next to her asked.
"Yes!" she shouted.
Then, he looked over at her and said, "Then this is the perfect tree for us! And guess what, Rosie?" She looked up at him with wide eyes, eagerly waiting for what he was going to say next.
"This is a live tree, so even though it costs a little bit more, we can plant it after the Christmas season is over and enjoy it for the rest of our lives!"
The little girl could barely contain her excitement, and neither could I!
The tall man bent down and I could feel myself being gently picked up. I was so excited to finally be going home. Not only would I get to wear decorations for the first time, but I would also get to ride on the back of a car for the first time. I was hoisted up onto the top of a silver Lexus. I didnít know cars too well for I was only a tree, but from what Iíve heard, a Lexus is a nice car. So, it made me even more thrilled to experience it.
Ö
"Well kiddo, do you think it will fall off the top?" I said jokingly, looking towards the backseat at Rosie.
"No, Daddy! This tree is ours forever! I love that tree already." She said.
"Forever? Love it already? Youíre funny. Itís just a tree, darling!" I questioned her.
"Yes, Dad, but trees have feelings, too," Rosie corrected me.
"Oh, of course they do," I said, quickly redeeming myself. I began thinking to myself: If Christmas trees were animated, I wonder what they would say. Do they have preferences of where they end up for Christmas? Christmas trees must see so many different types of family traditions. They get to experience all of the decorations and presents. If only we knew what they were thinking. What a funny Christmas that would be!
"Daddddd! Dadddd!" Rosie caught my attention as I started to day dream.
"Weíre home!" she shouted at the top of her lungs.
We got out of the car and with all my strength, I lifted the tree off the top of the car. It hung over my shoulder and little Rosie trailed in front of me. It reminded me of when my father and I went to get our Christmas tree together. My mom never liked getting up early nor trekking through the snow, so we always picked it out before she was even out of bed. Rosie and I walked up the four stone steps into the house, and I placed the tree in the stand near our fireplace.
"Iíll grab the lights!" she squealed, running into the basement. I sat down on the couch and waited for Rosie to bring the decorations up. It truly amazed me at how much joy Rosie got out of picking out a tree. She never could explain why she wanted a certain tree. She just knew it was the right one. I guess that same concept can be applied to a lot of things in life.
"Rosie! What are you doing?" I asked while laughing. She was tangled up in the colorful lights.
"Letís start at the top and work our way down!" she demanded.
"Whatever you want little Rosie, but Iím going to put on some Christmas music first," I said.
Ö
They had such a beautiful home. It wasnít very big, but it was quaint. I had never seen the inside of a home before. It smelled like cinnamon and some type of sugary goodness all around me. I looked at their happy faces, and I was glad that my presence could give them joy. If only Rosie and her dad knew what a Christmas tree smile looked like.
"Jingle bell, Jingle bell, Jingle bell RockÖ"
The music began again, but this time it was different. I could enjoy it in a place that was now my new home. Rosie and her dad began to place the different colored lights on my branches. As each light hit me, I felt a branch or two gravitate towards one end or the other. I felt beautiful.
"Letís put the sparkly stuff on it!" I heard Rosie say.
Her dad reached to the top branch and decorated me with some gold shiny tinsel-like string. I wasnít sure what it was, but I could feel it illuminating my appearance. Is this what every Christmas tree gets to feel like?
"Does this look alright?" Rosieís dad looked at her and then right at me. I wonder if they could tell how thankful I was for them.
I wondered where the rest of Rosie and her dadís family were. I saw a picture of Rosie, her dad, and a pretty woman with them. She looked like Rosieís mother, but I wasnít sure where she was. Regardless, I was glad Rosie still possessed the Christmas Spirit. Rosieís father seemed very willing and genuine. He would always partake in Christmas because it too was important to him.
That night, Rosie sat in front of me all night. She placed ornament after ornament after ornament on my branches. She hung an ornament that was of an angel and on the wings, it said, "To my little Rosie, for through this I will be remembered." On the back of the ornament was engraved, "Love, Mom."
As Rosie placed this ornament on the tree, she looked up at me, and I locked eyes with her. She smiled at me, and I could see the joy in her heart. Christmas was her favorite holiday. And I was a part of it. Thanks to Rosie, I was given a new home. Her spirit of Christmas gave me life. Rosie had a very special gift. Her gift was joy, and for the first time, I found someone that shared something in common with me. I believe that my gift was joy, too.
Although my smile wasnít visible, I could tell I lit up the entire house by the look on little Rosieís face. It was the best Christmas I had ever had.