Simple Servings
Tempting Thanksgiving sides
Carol Cogliano
Hollabaugh Bros., Inc.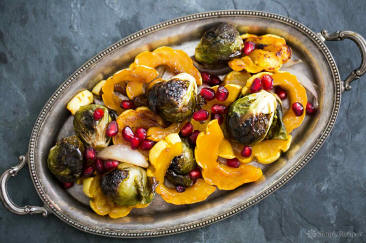 (11/2017) Thanksgiving is just around the corner, and if your family is anything like mine, your meal consists of family favorites that might make an appearance only once or twice a year – but without them, something would be missing, and Thanksgiving just wouldn't be complete!
For my family, our annual Thanksgiving meal consists of turkey, stuffing, mashed potatoes, candied sweet potatoes (with marshmallows on top, of course!), Mom's cranberry sauce and quick breads, and "corn stuff" – a name we gave it years ago, because "escalloped corn" just isn't as exciting as "corn stuff".
Regardless of your family's holiday menu, it would be safe to wager that it could use a little shake up, right?? Now, I'm not talking about trying flaming cherries jubilee if you've never attempted those before – no one needs a trip to the emergency room on Thanksgiving Day -- but what about some roasted brussels sprouts? Or sweet potatoes, prepared in a slightly different way? Thanksgiving is a great opportunity to try something new and not feel overindulgent if you still choose to prepare it the standard way, too. I mean, you can't have too many sweet potatoes … can you?
For those of you who find yourselves tasked with the responsibility of cooking the meal, consider adding something new to your family's repertoire this year! For those of you who find yourselves tasked with the responsibility of eating the meal – Enjoy!
Roasted Brussels Sprouts & Butternut Squash
Prep Time: 20 minutes, Cook Time: 20 minutes, Total Time: 40 minutes, Yield: 6 servings
Ingredients:
Roasted Brussels Sprouts:
3 cups Brussels sprouts, ends trimmed, yellow leaves removed
3 tablespoons olive oil
Salt, to taste
Roasted Butternut Squash:
1 and ½ pound butternut squash, peeled, seeded, and cubed into 1-inch cubes (Yields about 4 cups of uncooked cubed butternut squash)
2 tablespoons olive oil
3 tablespoons maple syrup
½ teaspoon ground cinnamon
Other Ingredients:
1/2 cups pumpkin seeds
1 cup dried cranberries
2-4 tablespoons maple syrup (optional)
Instructions:
Roasted Brussels sprouts: Preheat oven to 400 F. Lightly grease the foil-lined baking sheet with 1 tablespoon of olive oil. Make sure Brussels sprouts have trimmed ends and yellow leaves are removed. Then, slice all Brussels sprouts in half. In a medium bowl, combine halved Brussels sprouts, 2 tablespoons of olive oil, salt (to taste), and toss to combine. Place onto a foil-lined baking sheet, cut side down, and roast in the oven at 400 F for about 20-25 minutes. During the last 5-10 minutes of roasting, turn them over for even browning, the cut sides should be nicely and partially charred but not blackened
Roasted butternut squash: Preheat oven to 400 F. Lightly grease the foil-lined baking sheet with 1 tablespoon of olive oil. In a medium bowl, combine cubed butternut squash (peeled and seeded), 1 tablespoon of olive oil, maple syrup, and cinnamon, and toss to mix. Place butternut squash in a single layer on the baking sheet. Bake for 20-25 minutes, turning once half-way through baking, until softened.
Note: You can roast both Brussels sprouts and butternut squash on 2 separate baking sheets at the same time, on the same rack in the oven – that's what I did.
Assembly: In a large bowl, combine roasted Brussels sprouts, roasted butternut squash, pumpkin seeds, and cranberries, and mix to combine. Optionall: For more sweetness, add 2 or 4 tablespoons of maple syrup, if desired – do not add all maple syrup at once, start with 2 tablespoons, then add more, if desired, and toss with the salad ingredients to combine.
Easy Cinnamon Apple Cranberry Sauce
Don't settle for cranberry sauce from a can – this flavorful cinnamon apple cranberry sauce is super simple to make and can even be made a day or two in advance! Recipe courtesy of: www.rachelcooks.com
Prep Time: 5 Minutes, Cook Time: 15 Minutes, Total Time: 20 Minutes, Yield: 4 Cups
Ingredients:
5 cups fresh cranberries, washed and drained
3/4 cup apple cider
2 cups small-diced apples (about two medium apples)
1 1/2 cups tightly packed brown sugar
1/2 teaspoon allspice
1/2 teaspoon cinnamon
Instructions:
Combine all ingredients in a large pot (choose an extra big one to prevent yourself from being a splatter-victim).
Bring to a boil and reduce heat to medium.
Stir frequently and simmer for 15 minute or until apples and cranberries are soft and sauce is thickened.
Cool before serving.
Note: Works best with a firmer apple like Granny Smith, Gala, or Honeycrisp. Softer apples like Macintosh will turn into mush.
Nanou's Garlic Green Beans
Garlic Green Beans is one of my favorite side dish recipes! It's easy to make and pretty healthy with Crispy Green Beans sautéed in a skillet. Fresh parsley adds a great, herbaceous brightness with a little bit of butter and garlic. This is special enough food for Thanksgiving or any other holiday meal and also great in a pinch on a busy weeknight! Author: Sylviane Reepmaker.
Prep Time: 10 minutes, Cook Time: 15 minutes, Total Time: 25 minutes.
Ingredients:
1 lb. of green beans
2- Tbsp. butter (you can halve it with olive oil if you're trying to be healthier)
3-4 cloves of garlic, minced (I use a garlic press because I'm lazy)
1/4 cup of fresh parsley, chopped fine
Salt and pepper to taste
Instructions:
Boil your green beans for around 10 minutes and drain well.
In a sauté pan, melt your butter over medium high heat.
Add your garlic and sauté for a couple minutes stirring here and there.
Add the beans and the parsley and mix all together.
Add salt and pepper to taste.
Notes: Like all the best family recipes, there are no true amounts; it all goes by taste (and really, I always encourage you to taste your food as you go along!). That being said, the measurements given are based on how I make it when I cook it for my family. Feel free to adjust the amounts as per your preference.
French Style Sweet Potato Soufflé
Ingredients:
2.5 pounds sweet potatoes (about 3 large)
1/2 c. heavy cream
1/2 stick (4 T.) unsalted butter, melted
4 large egg yolks
1 t. salt
1/4 t. fresh ground pepper
1/4 t. fresh ground nutmeg
2 large egg whites
3/4 c. pure maple syrup
1 lemon
Instructions:
Peel potatoes and cut into cubes. Place in a large stock pot and cover with cold water. Bring to boil and then simmer until fork tender. Drain. Potatoes can be made a day or two ahead and stored covered in the refrigerator.
Preheat oven to 375 degrees.
Butter a 1 1/2 qt. round baking dish.
With a hand or stand mixer, puree the cooked sweet potatoes together with the cream, butter, egg yolks, salt, pepper and nutmeg. Transfer mixture to a large bowl.
With a hand or stand mixer beat the egg whites on high until stiff peaks form.
Using a spatula, fold in half the egg whites to the sweet potato mixture. Then fold in the other half until well mixed.
Transfer to the buttered baking dish and smooth the top.
Bake for 50 - 60 minutes until top is browned and the soufflé is firm to the touch.
Squeeze the juice from the lemon and discard the seeds. Whisk together the fresh lemon juice with the maple syrup. Serve with the soufflé.
Carol Cogliano is the Director of Events at Hollabaugh Bros., Inc. which is located at 545 Carlisle Road, Biglerville, PA 17307. Visit www.hollabaughbros.com for a full listing of their upcoming events and classes or call 717-677-8412 for more information.