Simple Servings
The British are coming! ... for High Tea
Carol Cogliano
Hollabaugh Bros., Inc.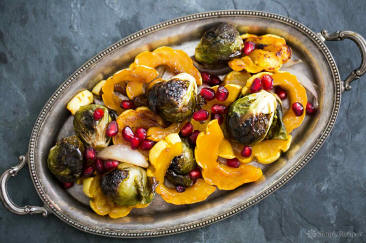 (4/2017) England certainly got it right when they adopted the daily ritual of High Tea. Setting time aside each afternoon, to enjoy some freshly-brewed tea along with indulgent pastries and scones, while enjoying the company of friends and family. Afternoon tea (or "High Tea" as it is sometimes called, since it was traditionally enjoyed seated at a table, as opposed to a comfortable chair) is a light afternoon meal that was meant to tie people over until a more formal dinner later in the evening.
The custom of afternoon tea originated in England in the 1840s, among the wealthy classes. By the end of the nineteenth century, afternoon tea became a practice that both the upper and middle classes observed. Afternoon tea might have consisted of cucumber or watercress sandwiches, scones with clotted cream and jam, delicate pastries and finger sandwiches (with the crusts removed).
Afternoon tea has gained popularity in the U.S., and I wonder if their appeal is due to our desire to slow things down, take a break, enjoy some delicious foods, and spend time together? It is a special occasion that you can celebrate at a tea room, a hotel or even a cruise ship; but whatís to stop you from preparing your own Tea Party, invite some friends over and enjoy some mouth-watering treats along with a "spot of tea"?
The following recipes will provide you with a proper English Tea staple: Scones, Clotted Cream and Fruit Jam. Supplement these recipes with some of your favorite sweets and sandwiches, and you are well on your way to enjoying a High Tea thatís fit for a queen!
We host quarterly Ladiesí Teas at Hollabaugh Brothers Fruit Farm and Market in Biglerville, PA. I invite you to join us for one of our upcoming gatherings! We enjoy several courses of delicious treats, then spend time creating a seasonal craft while enjoying the company of new friends. Be sure to check our website for more information: www.hollabaughbros.com
These Fluffy English Style Scones bake up light and fluffy. Serve them with some fruit jam or clotted cream for a special English breakfast or a spot of afternoon tea.
Fluffy English Style Scones
Recipe courtesy of www.fifteenspatulas.com
Yield: makes 9 scones, using a 2.5-inch cutter. Prep time: 10 minutes. Cook time: 15 minutes. Total time: 25 minutes
Ingredients:
2 cups flour
4 tsp baking powder
1/2 tsp salt
1/4 cup sugar
6 tbsp unsalted butter, at room temperature
2/3 cup whole milk
1 large egg
Strawberry jam or other desired jam, for serving
Instructions:
Preheat the oven to 425 degrees F.
In a food processor, pulse the flour, baking powder, salt, and sugar a couple times to combine. Add the butter and pulse 7-10 times until the butter is completely distributed. You shouldnít see any chunks of butter, and the mixture should have a sandy texture to it. Transfer to a large mixing bowl. Note: If making this recipe by hand, whisk to combine the dry ingredients in a large bowl, and mix in the butter with a hand mixer. Proceed with the recipe as instructed.
In a small bowl, whisk to combine the milk and egg. Save 2 tbsp of it for the egg wash later, and pour the rest into the mixing bowl. Stir to combine with a spatula, until a rough dough forms. Transfer to a lightly floured countertop and knead about 15 times until the dough comes together into a smooth ball. Roll the dough about an inch thick and use a 2.5Ę cutter to cut about 7 circles. Re-roll the scraps and cut out another 2. Place the scones onto a parchment or silicone mat lined baking sheet and brush the tops with the reserved egg wash. Bake the scones for 13-15 minutes, until about tripled in height, and golden brown on the tops and bottoms.
Slow Cooker Clotted Cream
Clotted cream is a highlight of a true English tea, but it is very hard to come by in the U.S. Itís a wonderful topping that isnít quite butter, but itís not exactly cream cheese or whipped cream, either. Itís sweet and tangyÖand absolutely indulgent! The traditional way to prepare clotted cream is very time-consuming, by letting the cream sit in an oven at a very low temperature, for a very long time. This one-ingredient recipe (more like a process) takes all of the guess work out Ė Enjoy! Recipe courtesy of: www.macheesmo.com
Yield: 2 cups clotted cream. Prep Time: 5 minutes. Total Time: 12 hours
Ingredients:
4 cups pasteurized heavy whipping cream
Instructions:
Add the cream to your slow cooker and set on the lowest heat. Check your manual. You donít want the cream to get above 180 degrees F. Ideally it would cook between 165-180 degrees F. Cover and let cook for 8 hours.
Remove from heat and transfer cream to the fridge to cool down for four hours. Be careful to not disturb the skin on top of the cream too much.
Once the cream is really chilled down, use a spoon to scrape the clotted cream layer off the top of the cream. Transfer it to a bowl and stir it together. There will be some cream gunk at the bottom of your slow cooker that you can just discard.
Transfer the clotted cream to an air-tight container and use it within a week on any sort of pastry!
Easy Strawberry Jam Recipe w/o Pectin
Top your fresh scones with a dollop of your clotted cream and a teaspoon of some fresh strawberry jam. You will instantly be transported to your own personal High TeaÖfit for a Queen! Recipe courtesy of: www.scatteredthoughtsofacraftymom.com
Ingredients:
16 oz strawberries, hulled and coarsely chopped
3/4 cup of sugar
2 tbs lemon juice
Instructions:
In a heavy bottom sauce pan, mix strawberries, sugar, and lemon juice
Stir over med-low heat until the sugar is dissolved
Increase heat to med-high and bring mixture to a rolling boil
Stir frequently mashing the strawberries as you stir, continuing to boil, until jam is thickened and bubbles completely cover the surface of the jam (about 10 minutes)
Transfer jam to a jar and let cool to room temperature
Seal jars and store in refrigerator for about 10 days (or freeze)
Makes about 1 3/4 cups.
Additional tips: If you have a candy thermometer, when the jam reaches 215 F, itís ready.
If you want a less chunky jam, you can process fruit in a food processor before cooking or use an immersion blender while fruit cooks.
Carol Cogliano is the Director of Events at Hollabaugh Bros., Inc. which is located at 545 Carlisle Road, Biglerville, PA 17307. Visit www.hollabaughbros.com for a full listing of their upcoming events and classes or call 717-677-8412 for more information.