Simple Servings
Potatoes: From the field to the plate
Carol Cogliano
Hollabaugh Bros., Inc.
(3/2017) Most everyone loves (or at least, likes) potatoes, in some way, shape or form – baked, mashed, deep-fried, pan fried – it's a staple side dish in many of our diets. But how much do you actually know about how potatoes are grown? I was faced with this question last summer, when I had to teach children attending our summer "Read, Learn, Grow" program all about potatoes. Each week, when faced with a fruit or vegetable topic that I was unfamiliar with, I would ask our Production Manager, Bruce Hollabaugh, for the "101-level" crash course on the crop of the week. So before sharing my yummy recipes with you, I'd like to pass along the "Potatoes 101" information that Bruce shared with me this past summer. Chances are, you will learn something new about how it is farmed (at Hollabaugh's) before it makes it to our farm market and your plate!
Potatoes are an annual crop (from an agricultural perspective), planted from "seed potatoes" which are potatoes saved from the previous year's harvest. This is asexual propagation – as is done with fruit trees.
A potato is a tuber which is the below-ground starch "organ" or rhizome used to pack away carbohydrates by the plant, and is what we eat. We dig it up before the plant starts to grow and take back out of its tuber. A potato plant is actually a perennial – we just don't allow it to be one, or we'd never harvest anything!
You don't eat the berries from a potato plant, as they are poisonous! They're also the way the potato plant naturally reproduces. Again, just like tree fruits, the potato plant that grows from the berry seeds will not resemble the parent it came from. That is why we step in and treat it as an annual crop – because we want potatoes!
Potatoes are in the solanaceous family. They are actually closely related to tomatoes (their flowers look very similar – except white or pink, instead of yellow). Interestingly, they are also in the same family as nightshade – a poisonous weed that's quite pesky on our farm and grows little yellow berries that look a lot like potato berries!
When kids say, "Ew, gross…my potato is green, and I don't want to eat it"…you really shouldn't eat it! It's green from lying out in the sun, and it will have higher levels of toxin found in the berries and can make you sick. It takes a lot more than a serving to make you sick, but it can…
"New potatoes" are just the first potatoes harvested in the "new" season – not a different variety of potato. The skins are soft, tender and almost always eaten with the potato.
At Hollabaugh's, we wait and harvest potatoes after they have "toughened up" their skins. This happens naturally after the tops have all died back in the late summer or fall. After they've been brown and "dead" for at least 2 weeks, we'll dig the potatoes and store them in the dark, at room temperature.
If you store potatoes in the cold, the starch will start to break down into sugar, and the potato will have a slightly "sweet" flavor. Since this isn't desirable, if you store it back at room temperature for a few days, it will mostly convert the sugars back to starch and be normal tasting.
Storing potatoes in the cold will also make them tend to turn brown when cooked.
I hope that this crash course taught you as many new things about potatoes as it did for me! Now…on to the delicious recipes…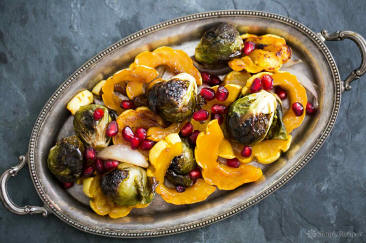 Loaded Baked Potato Casserole
Recipe courtesy of: The Hollabaugh Family Cookbook
Ingredients:
5 lbs. potatoes, washed, peeled and cut into large chunks
Enough water to cover potatoes in a large stock pot
1 (8 oz.) pkg. cream cheese
1 stick butter
½ cup sour cream
¼-½ cup milk
1 tsp. salt
½ tsp. black pepper
½ tsp. garlic powder
2 cups sharp cheddar cheese, shredded
8 slices bacon, cooked and crumbled
4 green onions, sliced
Instructions:
In a large stock pot, arrange the potato chunks. Add enough water or chicken broth to cover the potatoes. Bring to a boil and cook for 20-30 minutes or until the potatoes are tender. Drain the liquid from the potatoes. Return the potatoes to the pan.
Add in butter, cream cheese, sour cream, salt, black pepper, and garlic powder.
Using a potato masher, mash the potatoes until most of the clumps are removed.
Preheat oven to 375 degrees.
Add in the milk, up to ½ cup and continue mashing until the potatoes are smooth and fluffy. Add more milk if desired.
To the potatoes, add in 1 cup cheese and half of the cooked bacon crumbles. Stir to combine.
Spread the potatoes in a lightly greased 9x13 casserole dish. Top with remaining cheese and bacon. Bake for 20-25 minutes or until the cheese is melted and bubbly.
Garnish with green onions and serve immediately.
Slow Cooker Baked Potato Soup
Recipe courtesy of: The Hollabaugh Family Cookbook
Ingredients:
6 large russet potatoes, peeled and cut into ½ inch cubes
1 large onion, chopped
3 (13 oz.) cans chicken broth with roasted garlic
¼ cup butter
2 ½ tsp. salt
1 ¼ tsp. freshly ground pepper
1 cup whipping cream or half-and-half
1 cup shredded sharp cheddar cheese
3 Tbl. chopped fresh chives
1 (8 oz.) container of sour cream (optional)
4 bacon strips, cooked and crumbled
Shredded cheddar cheese, for topping
Instructions:
Combine potatoes, onion, chicken broth, butter, salt and pepper in a 5-quart slow cooker. Cover and cook on high 4 hours or on low 8 hours or until potatoes are tender.
Mash mixture until potatoes are coarsely chopped and soup is slightly thickened.
Stir in cream, cheese, and chives.
Top with sour cream, if desired, and sprinkle with bacon and cheddar cheese before serving.
Parmesan Crusted Potatoes
Recipe courtesy of: www.cooktoria.com
Ingredients:
5 medium red potatoes, peeled
1/2 cup grated Parmesan cheese
1 tsp paprika
1 tsp garlic powder
3 tbsp olive oil
salt to taste
chopped fresh parsley to garnish
Instructions:
Cut the potatoes into 1/2 inch thick pieces.
Place the potatoes into a medium mixing bowl and add the rest of the ingredients, excluding parsley. Mix everything well.
Arrange the potatoes in a single layer on a baking sheet. I recommend using parchment paper or silicone mat to prevent the potatoes from sticking to the sheet.
Bake in preheated oven at 450F for about 25-30 minutes. Take them out of the oven, flip each piece over, and bake for another 10-15 minutes.
Garnish the potatoes with some chopped parsley and/or grated Parmesan.
Carol Cogliano is the Director of Events at Hollabaugh Bros., Inc. which is located at 545 Carlisle Road, Biglerville, PA 17307. Visit www.hollabaughbros.com for a full listing of their upcoming events and classes or call 717-677-8412 for more information.