Simple Servings
Add a touch of flavor and spice with herbs
Carol Cogliano
Hollabaugh Bros., Inc.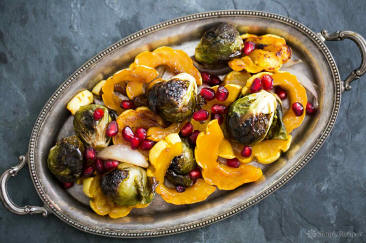 (6/2017) There is nothing quite like the fragrance that fresh herbs provide. Their jarred, dried counterparts don't hold a candle to flavors that they can impart into recipes. What's wonderful is that if you love the fresh, aromatic flavors that fresh herbs can add to your cooking, you can keep a constant supply at your fingertips by planting a simple indoor herb garden. All you need is a sunny windowsill, some containers with drainage holes and saucers, herb seeds (or plants) and potting mix.
First, you need to choose the herbs that you wish to use. Ones that you will enjoy great success with include: basil, dill, rosemary, thyme, sage, oregano and cilantro. Depending on how quickly you'd like to "harvest", you can choose to start the herbs from seed or purchase small plants. Annual herbs are easy to start from seed, but perennial herbs take a longer time to germinate, so it's easier to start with plants.
Next, you'll need to choose individual containers for each herb, so that you can give each plant the specific care it needs. If you plan to plant more than one type of herb in a container, be sure that they require the same type of care. When you're ready to plant your seeds (or plants), a potting mix or peat-based compost is preferable to garden soil, as soil may contain unwanted organisms. Sow the seeds in the soil depth recommended on the seed packet, and be sure to provide them with the suggested conditions (sun exposure, temperature, etc.). As your herbs grow and are ready for use, be sure to snip and pinch them back to keep them from getting too long and wild.
If you follow these simple steps, you'll have a window herb garden that will provide your kitchen with fresh flavors…not to mention the plants themselves will provide a fresh scent in your kitchen.
Julia Child's Herb Biscuits
Julia's biscuit recipe is easy-as-can-be, but oh-so-good! It doesn't get any simpler than this. Try it as a flavorful addition to your next weekend brunch, afternoon sandwich break or evening meal. Recipe courtesy of: www.food.com
Prep Time: 15 mins
Total Time: 25 mins
Servings: 24
Ingredients:
3 cups all-purpose flour
2 teaspoons salt
4 teaspoons baking powder
1 teaspoon baking soda
8 tablespoons chilled shortening
4 tablespoons chives, minced
4 tablespoons parsley, minced
2 eggs, beaten
1 1/2 cups buttermilk
Instructions:
Combine all dry ingredients in large bowl.
Cut in the shortening.
Add minced herbs.
Stir in the eggs& buttermilk.
Turn onto a floured surface& knead mixture briefly.
Pat or roll out to 1/2" thickness& cut into rounds.
Bake on an ungreased baking pan at 450 degrees for 10-15 minutes.
Olive Oil and Fresh Herb Sauce
Herb dipping sauces are wonderful with fresh crusty bread, as you enjoy a rich, Italian meal – but you can also use them as seasonings for fish and chicken, serve them as a sauce for pasta, or drizzle them over grilled vegetables. The herbs provide a fresh, clean flavor that is simply delicious. Recipe courtesy of: www.abiteofinspiration.com
Ingredients:
¼ cup high quality extra virgin olive oil
1 tablespoon Kalamata olives, finely chopped
1 garlic clove, minced
½ teaspoon fresh basil, finely chopped
¼ teaspoon fresh rosemary, finely chopped
¼ teaspoon fresh oregano, finely chopped
Freshly ground black pepper
Pinch of crushed red pepper (optional)
Bread, for serving (optional)
Instructions:
Pour olive oil into a bowl.
Add all the other ingredients and stir well.
Serve with bread alongside for dipping, if desired. You can also enjoy this sauce mixed in with pasta, on top of chicken or fish, or tossed with steamed veggies!
Notes: This dipping sauce doesn't really need salt because the olives play the role of the salty component. However, if you would prefer it on the saltier side, feel free to add salt. You can also add a teaspoon of parmesan cheese as an additional salty component, if you would like!
Easy Sheet Pan Lemon Herb Chicken and Parmesan Asparagus
Take advantage of fresh asparagus season being in full swing, and prepare this delicious 1-pan dinner which is highlighted by the freshness of herbs and citrus. Recipe courtesy of: www.butteryourbiscuit.com
Ingredients:
3 bone in chicken breasts
¾ cube butter melted
Zest 1 lemon plus juice
2 tablespoon olive oil
2 tablespoons fresh rosemary
2 tablespoons fresh thyme
1 teaspoon kosher salt
½ teaspoon pepper
1 lb asparagus
¼ cup parmesan cheese
Instructions:
Preheat oven to 400.
Rinse the asparagus and trim off woody end pieces, set aside.
In a small bowl, mix butter, lemon zest, plus juice of ½ lemon, and herbs.
Working with one breast at a time, use your fingers to carefully separate the skin from the meat. Rub some butter herb mixture under the skin, then brush some over the top.
Place the chicken breasts on a rimmed baking sheet. Bake 30 minutes.
Remove pan from oven place asparagus around the chicken and drizzle with 2 tablespoons olive oil. Sprinkle kosher salt and freshly ground pepper. Sprinkle parmesan over the asparagus. Bake for another 12 minutes.
Remove from oven, squeeze remaining half of lemon over chicken and veggies.
Carol Cogliano is the Director of Events at Hollabaugh Bros., Inc. which is located at 545 Carlisle Road, Biglerville, PA 17307. Visit www.hollabaughbros.com for a full listing of their upcoming events and classes or call 717-677-8412 for more information.