Simple Servings
Christmas Cookies to Put You in the Holiday Mood!
Carol Cogliano
Hollabaugh Bros., Inc.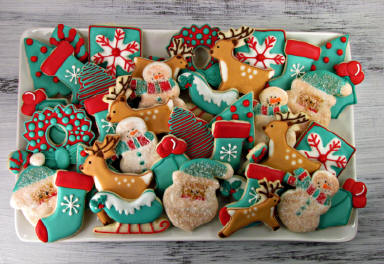 (12/2017) I just returned home from a few days in Philadelphia, where my eldest son had the opportunity to participate in their annual Thanksgiving Day parade. It was quite the production: rehearsals, television production run-throughs… months of others' efforts and planning, compressed into a mere 24-hour experience for him. It was a chaotic whirlwind of a trip, but I have never found myself MORE in the Christmas spirit, than I am now.
While my son was busy with his group's rehearsal activities, my husband and I were able to spend time exploring the city. Seeing everything decorated for Christmas, hearing the music, and picking up a few unique gifts made for such an enjoyable kickoff to our holiday season. I found myself in front of the Macy's (formerly Wanamaker's) holiday windows, wishing that their annual light show would be running, to experience something my family did almost every year, back in "the day". (Alas, it was scheduled to begin on Black Friday.) Simply being in all of the retail spaces that were already decked out for weeks to come…well, I'm ashamed to say that it worked. It got me all excited for Christmas.
The parade itself was an experience that I'll not soon forget. I mean, I've watched plenty of parades on TV over the years, but as I stood at the curb, I realized that I'd never seen one in person before. The huge character balloons, with their crews of people trying so desperately to control them…being met with fun chants of "Spin around! Spin around!" from the crowd, and obliging them by furiously running around in a circle, to make the characters spin – to the numerous marching bands from all across the country, belting out Christmas carols and seasonal tunes – to the floats with local celebrities, sports stars and cheerleaders – it was so much fun.
Not to mention the finale, when Santa and Mrs. Claus welcomed in the holiday season. Just as Santa's sleigh rounded the corner, I noticed the children that were sitting near us all started getting up, shedding the blankets that had kept them warm during the parade, and pulling out envelopes and letters. The next thing I knew, uniformed postal workers started approaching all of the kids in the crowd, collecting these letters and envelopes – the kids' letters to Santa! I found myself tearing up, realizing how completely exciting this moment must be to them.
It was a great trip. One that I enjoyed to the fullest, but also one that made me appreciate being home in my small town, looking forward to the weeks ahead of decorating, shopping, preparing and worshipping! So much of my family's preparation is all about little family traditions and the time we spend together. My daughter's favorite part is spending time baking cookies together, and she has made me VOW that we will take time for that in the weeks to come. I've already started planning by finding some new recipes that will be combined with several of our family favorites that without, no holiday is complete.
I hope that you enjoy the following recipes with your families and have a healthy, happy holiday celebration! Merry Christmas and Happy New Year!
Candy Cane Cookies
Soft buttery cookies coated in crushed candy canes & drizzled in white chocolate. Candy Cane Cookies are the perfect complement to hot chocolate, by a warm fire. Also, a colorful addition to Santa's plate! Recipe courtesy of: www.kleinworthco.com
Ingredients:
1½ cups sugar
½ cup butter softened
½ cup shortening
2 eggs
2¾ cups all-purpose flour
2 teaspoons cream of tartar
1 teaspoon baking soda
¼ teaspoon salt
Topping
¼ cup crushed candy cane crumbs
1/4 cup melted white chocolate
Instructions:
Heat oven to 400ºF. Line baking trays with parchment paper, set aside.
Place crushed candy canes in a small bowl & set aside.
Cream together 1½ cups sugar, the butter, shortening and eggs in large bowl.
Mix together dry ingredients. Stir into wet ingredients.
Shape dough into 1¼-inch balls. Dip 1/2 of each ball in the crushed candy canes.
Place 2 inches apart on baking sheets.
Bake 8 to 10 minutes or until set. Cool 2-3 minutes, then transfer to a wire rack.
Drizzle each cooled cookie with the melted white chocolate & then sprinkle with additional candy cane crumbs
Kris Kringle Crinkles
Festively-colored sugar cookies, with a touch of mint. Rolled in powdered sugar, these cookies will remind you of the snowflakes that are blowing outside as you enjoy these delicious treats, warm and cozy inside! Recipe courtesy of: www.twosisterscrafting.com
Ingredients:
1 cup Butter (softened)
1½ cups Granulated Sugar
2 Eggs
1 teaspoon Vanilla
1 teaspoon Peppermint Extract (or Almond, Lemon or Mint)
½ teaspoons Baking Soda
3 cups Flour (all-purpose)
Powdered Sugar
Instructions:
Cream the butter and sugar until completely combined.
Add in eggs, vanilla and peppermint extract and mix until the dough is fluffy.
Add in the Baking Soda.
Mix in the flour, a third at a time.
Split into two portions and color one red and one green.
Refrigerate the dough for 2 hours.
Roll dough into balls then roll in powdered sugar.
Bake in a 350 degree oven for 9-10 minutes.
Oatmeal Lace Cookies Recipe
Oatmeal Lace Cookies are thin, crisp, delicate and buttery cookies. This lace cookies recipe is a family favorite. Makes 5-6 dozen cookies! Recipe courtesy of: www.addapinch.com
Ingredients:
1 cup (2 sticks) butter
2¼ cups light brown sugar, packed
2¼ cups rolled oats
3 tablespoons all-purpose flour
1 teaspoon salt
1 egg, lightly beaten
1 teaspoon vanilla
Instructions:
Preheat oven to 375º F. Line baking sheets with parchment paper or silicon baking mats. Set aside.
Heat butter and brown sugar in a 2-quart saucepan over medium heat, stirring frequently with a wooden or silicon spoon, until butter has melted and mixture is smooth. Stir in oats, flour, salt, egg, and vanilla.
Drop cookie batter by the teaspoon onto prepared baking sheets, leaving about 2 inches between each cookie to allow them to spread.
Bake for 5 -7 minutes, watching closely to prevent them from over-baking. The lace cookies should be golden brown.
Allow to cool on the cookie sheet for 30 seconds and remove onto racks to cool completely.
Store in an airtight container.
Carol Cogliano is the Director of Events at Hollabaugh Bros., Inc. which is located at 545 Carlisle Road, Biglerville, PA 17307. Visit www.hollabaughbros.com for a full listing of their upcoming events and classes or call 717-677-8412
for more information.