Simple Servings
Mission Romance: Breakfast in Bed
Carol Cogliano
Hollabaugh Bros., Inc.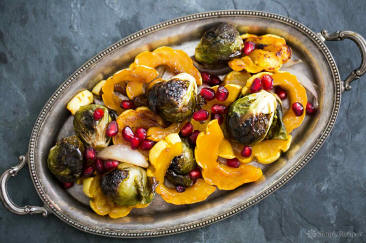 (2/2017) Are you the "romantic" in your relationship? ...or are you lucky enough to be the recipient of romantic gestures, from your other half? Or…are you possibly like me: a romantic, who could be accused of getting a bit lazy about showing romantic gestures after 20 years of marriage? If you fit into ANY of these categories, might I suggest a simple gesture for Valentine's Day?
Breakfast in Bed. That's right – cook a special meal for your sweetheart. It doesn't have to be fancy or overly involved. For some of you, this might be the first time you've cooked for your partner in years! Or maybe – dare I say it - ever! Let me assure you that if preparing a meal for your sweetie is something out of the ordinary for you to do, the brownie points that a simple breakfast in bed will earn for you will far outweigh the time and effort that you put into it.
For some of you, the biggest challenge will be getting up, unnoticed (or earlier than your partner). Once you've figured that part out, be sure to have everything ready to go, so you can keep things relatively quiet. Whether or not you involve children in your efforts…you might want to give your other half a "heads up" about what's going on, so they stay in bed. OK – you're up, you're prepared, you've thought through what you're going to make… you're set!
If you're comfortable in the kitchen, one of the following recipes would make for an amazing breakfast! All three of them can be prepared ahead of time, so that could save a bit of stress for you, the morning of the big breakfast. Think about what you're comfortable making. Don't try a crazy new recipe, if you're an amateur in the kitchen. You know the old saying, "It's the thought that counts"? I would be much happier being greeted with a smile, a kiss and some toast & jelly, than burnt eggs benedict.
Of course, some strong coffee and a homemade card wouldn't hurt, either. Have a Happy Valentine's Day, and enjoy those brownie points!
In order to prepare this absolute favorite of mine, you will need to stop into Hollabaugh Bros., Inc. to acquire some of their delicious Apple Cinnamon Bread – but I guarantee you won't regret stopping by!
All Recipe courtesy of The Hollabaugh Family Cookbook
Hollabaugh's Overnight French Toast
Ingredients:
2 Tbl. corn syrup
½ cup butter
1 cup brown sugar
1 loaf of Hollabaugh's Apple Cinnamon Bread
5 eggs
1 ½ cups milk
1 tsp. vanilla
¼ tsp. salt
Instructions:
Combine corn syrup, butter, and brown sugar in saucepan and simmer until butter has melted and sugar is dissolved. Pour into bottom of a 9x13 pan.
Place sliced bread on top.
In a bowl, beat eggs, milk, vanilla, and salt. Pour over bread.
Cover and put in refrigerator overnight.
The next morning, preheat oven to 350 degrees. Uncover the French toast and bake for 45 minutes and serve immediately.
Broccoli Cheese Quiche
Ingredients:
4 eggs, beaten
1 ½ cups half and half
½ tsp. salt
¼ tsp. cayenne
1 ½ cups shredded cheddar cheese
1 cup chopped fresh broccoli
1 Tbl. flour
1 9-inch unbaked pie shell
Instructions:
Preheat oven to 350 degrees.
Whisk together eggs, half and half, and seasonings.
Toss cheese and broccoli with one tablespoon of flour.
Put broccoli and cheese mixture in bottom of pie shell, pour liquid mixture over.
Bake at 350 degrees for 40-45 minutes or until set and pastry is golden brown.
Mocha Chocolate Chip Banana Muffins
Ingredients:
1 cup butter
1 ¼ cups sugar
1 egg
3 ripe bananas
1 Tbl. instant coffee, dissolved in 1 Tbl. water
1 tsp. vanilla extract
2 ¼ cups flour
¼ tsp. salt
1 tsp. baking powder
1 tsp. baking soda
1 cup semi-sweet chocolate chips
Instructions:
Preheat oven to 350 degrees.
Blend butter, sugar, egg, bananas, coffee and vanilla in food processor for 2 minutes.
Add flour, salt, baking powder and baking soda, and blend just until flour disappears.
Add chocolate chips and mix with wooden spoon. Spoon mixture into 15-18 paper-lined wooden cups.
Bake for 25 minutes or until toothpick inserted in center of muffin comes out clean. Cool on wire racks.
Carol Cogliano is the Director of Events at Hollabaugh Bros., Inc. which is located at 545 Carlisle Road, Biglerville, PA 17307. Visit www.hollabaughbros.com for a full listing of their upcoming events and classes or call 717-677-8412 for more information.