Simple Servings
Seasonal mixed berries: Summerís bounty
Carol Cogliano
Hollabaugh Bros., Inc.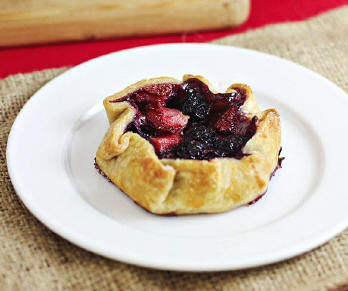 (7/2017) Summer is a time when so many fruits and vegetables start coming into season! My personal favorites are berries: strawberries in May, then on to blueberries in July and raspberries in August. It can be wonderful if you have the opportunity to pick-your-own, but even if you donítÖ to be able to enjoy the bounty of the season with the fresh, local berries available is summertime at its best.
I am fortunate enough to live in an area where pick-your-own opportunities are readily available -- from my neighbor who grows strawberries that are as sweet as candy, to the blueberries and raspberries that are so plentiful that my children leave the pick-your-own patches, stuffed from the berries that never make it into their buckets. (Hence the "Sin Bin" charitable collection jug at my friendís farm, encouraging parents to pay for what their children might have snacked on, while picking!) If, however, you live in an area where those opportunities are not available, I urge you to seek out a farmerís market where local berries are sold. You simply canít beat the flavor and the quality of freshly harvested berries (and other fruits and vegetables, for that matter!).
Enjoying fresh berries just plain in a bowl -- or with a dollop of whipped cream, or a sprinkle of sugar -- might be your favorite way to enjoy them, but they are also amazing prepared in pies, cakes, muffins, jams and sauces. Be sure to take advantage of summerís bounty and give one of the following recipes a try!
Mini Mixed Berry Galettes
Recipe courtesy of: http://homecookingmemories.com
This Mini Summer Berry Galettes recipe is an easy dessert with strawberries & blueberries baked in a pie crust. So delicious!
Servings: 12 mini galettes
Ingredients:
1 pound strawberries hulled and cut into small pieces
11 ounces blueberries
1/4 cup sugar
1 tablespoon cornstarch
1/2 teaspoon ground cinnamon
Zest of 1 lemon
3 pie crusts 1 1/2 package of premade refrigerated pie crust
1 egg
1 teaspoon water
Sugar for garnish
Instructions:
Bring pie crust to room temperature by allowing it to sit on kitchen counter for about 15 minutes. Prepare a large baking sheet by lining it with parchment paper. Preheat oven to 350 degrees F.
In a large bowl, combine strawberries and blueberries. Sprinkle with sugar and cornstarch, gently toss with fruit to coat. Gently stir in cinnamon and lemon zest and set aside mixture.
Carefully unroll one of the pie crusts on a lightly floured surface. Using a bowl with a diameter of approximately 4 1/2" to cut out circles out of the dough, similar to how a cookie cutter is used (you should be able to get 4 circles out of one pie crust). Repeat process with remaining 2 pie crusts.
Lay one of the 4 1/2" circle pie crusts onto the parchment paper lined baking sheet. Place approximately 1/4 cup of the fruit mixture in the middle of the pie crust, leaving the edges empty. Take care to not scoop excess liquid that might form with the fruit (using a slotted spoon can help). Bring the edges up over part of the fruit filling, overlapping them as necessary until all the edges have been brought up around the fruit. Gently press together the areas where the crust overlaps to help ensure that they stay up around the fruit. Repeat process with remaining pie crusts.
In a small bowl, mix together egg and water with a fork until combined. With a pastry brush, brush crusts with egg wash. Sprinkle with additional sugar both on crusts and on top of fruit.
Bake galettes in oven for 30 minutes or until crust is golden brown. Serve warm or cooled. If desired, top with whipped cream or a scoop of vanilla ice cream.
Mixed Berry Ricotta Cake
Recipe courtesy of: https://naturallyella.com
The perfect ĎLetís Celebrate Summer while itís still hereí cake!
Serves: 8-10
Ingredients:
1/2 cup unsalted butter
3/4 cup maple syrup
1 3/4 cups all-purpose unbleached flour
2 teaspoons baking powder
3/4 teaspoon salt
1 1/2 cups whole-milk ricotta
3 large eggs
1/2 teaspoon vanilla extract
1 1/2 cups mixed berries: raspberries, blackberries, blueberries (fresh or frozen, thawed)
Instructions:
Preheat oven to 350< and line a 9" cake pan with parchment paper then spray with nonstick oil (I prefer coconut oil).
In a small sauce pan, melt the butter and maple syrup together, set aside to cool.
In a bowl, combine flour, baking powder and salt. In a separate bowl, whisk together the ricotta, eggs, and vanilla extract. Fold into the dry ingredients until just combined.
Repeat the folding process with the butter/maple syrup mixture, being careful to not over work the batter. Finally, fold in 1 cup of the fresh berries. Pour batter into prepared pan and sprinkle with remaining 1/2 cup berries. Take a spatula or spoon and lightly press the berries into the top of the cake.
Bake the cake for 50 to 60 minutes. The cake should be golden and have a knife come out clean when inserted into the middle. Let the cake rest for at least 20 minutes before removing from the pan.
Mixed Berry Compote
Recipe courtesy of: http://photosandfood.ca/
This mixed berry compote is light, sweet and fruity. It's the perfect topping for pancakes, waffles, ice cream or any other food that requires a delicious topping.
Serves: 1Ĺ cups
Ingredients:
ľ cup water
1 tbs cornstarch
Ĺ cup sugar
2 cups quartered strawberries, no stem
ĺ cups raspberries
Ĺ cup blueberries
Instructions:
Add the water and cornstarch to a medium pot.
Whisk the cornstarch until it dissolves in the water.
Add the sugar and turn on the heat to medium high.
After one minute, add all the fruit and stir to combine all ingredients.
Once the mix starts to boil, reduce the heat to medium low and cover.
Let simmer for 10 minutes, stir every 3 or so minutes.
Uncover and shut off the heat.
Let cool down. The compote will thicken a bit.
Serve warm or cold on pancakes, waffles, ice cream or any other dish that will go with sweet yummy fruits and syrup.
Carol Cogliano is the Director of Events at Hollabaugh Bros., Inc. which is located at 545 Carlisle Road, Biglerville, PA 17307. Visit www.hollabaughbros.com for a full listing of their upcoming events and classes or call 717-677-8412 for more information.