Simple Servings
Blueberries: good things come in small packages
Carol Cogliano
Hollabaugh Bros., Inc.
(7/2016) Even if you didn't have the experience of picking blueberries as a child, I suspect you might remember the beloved children's book "Blueberries for Sal" by Robert McCloskey. You are transported to Blueberry Hill, with a young girl named Sal. Sal has been tasked with gathering more blueberries for her mother, and when they hit the bottom of her little tin pail, they make an unmistakable sound: "ku-plink, ku-plank, ku-plunk." Sal and her mother are gathering berries to can for winter, while a mama bear and her cub are eating berries to fill up for hibernation. A sweet comedy of errors follows when the youngsters accidentally wander off and follow the wrong mothers.
Now I want to go pick some blueberries…but without the bears!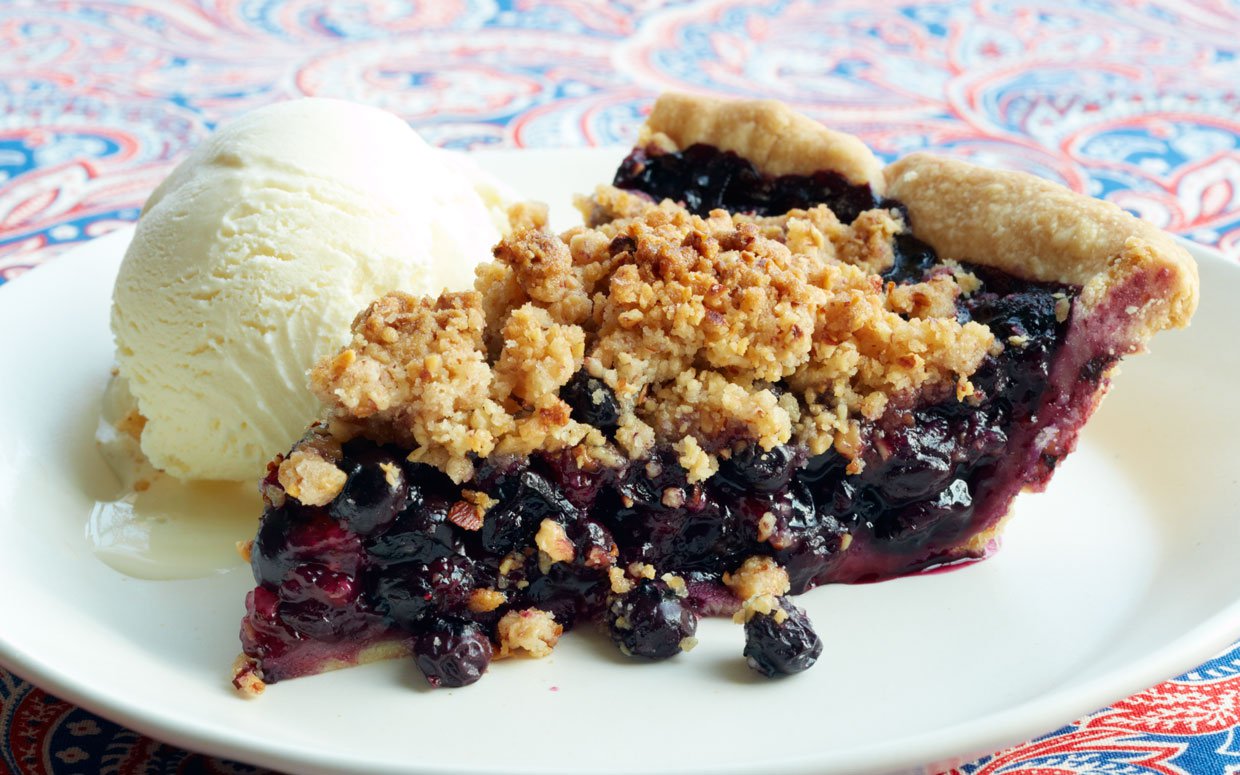 Considering they are some of the tiniest fruits we eat, blueberries are massive when listing the countless reasons to fall in love with them. Plump, sweet and juicy, these summer fruits are little powerhouses of flavor and health benefits. Blueberries can be enjoyed fresh, or baked in a delicious batch of muffins; but did you know that they can also be easily frozen, to enjoy for months to come? Although we now have access to blueberries year round at the grocery store, now is the time to take advantage of bountiful local blueberry harvests by stocking up on these tiny treasures.
Blueberries are low in fat, full of dietary fiber, packed with vitamin C, and an excellent source of manganese. Researchers are currently pursuing four tracks to better understand the role that blueberries may play in promoting good health: cardiovascular health, brain health, insulin response and cancer research.1
For local farmers, blueberry bushes can be somewhat difficult to get established. They require a certain type of soil makeup and pH balance to thrive – but once blueberry bushes are established in good soil, they will live for decades. Blueberries like good drainage, so they are often planted in raised beds, in a sandy soil (which is why so many are grown on the eastern shore). You may notice that many farms use netting over their blueberries – this is to keep the birds away. Hollabaugh Brothers blueberry yield doubled the first year after they installed netting – the birds ate THAT many berries! To this day, they are still determined – swooping over the fence, looking for a way to get in!
I encourage you to stock up this coming month, either by purchasing fresh blueberries at your local farmer's market, or by visiting a location that offers the pick-your-own experience. Don't forget your little tin pail!
Blueberry Muffins
Recipe courtesy of: Patricia Lowin
The following recipe for Blueberry Muffins originated with my mother, but I hold a vivid childhood memory of waking up at my aunt and uncle's farm to the aroma of freshly-baked blueberry muffins. My aunt was "famous" for these muffins, and upon her death last year a copy of her recipe card appeared on Facebook…with "Pat" (my mother's name) noted in the corner. I'm going to be whipping a batch of these up within the coming weeks!
Ingredients:
1 ½ cups flour
1 egg
½ cup sugar
½ cup milk
½ tsp. salt
¼ cup oil
3 tsp. baking powder
½ to ¾ cup blueberries
Instructions:
Beat egg then and add milk, dry ingredients and oil.
Add berries.
Transfer into greased pan (or pan with muffin papers).
Sprinkle tops of muffins with sugar.
Bake at 400 degrees for 20 minutes.
Blueberry Buckle
Recipe courtesy of: "The Hollabaugh Family Cookbook"
Hollabaugh Bros cookbook is full of their favorite family recipes, and this is one that I will be trying this blueberry season!
Ingredients:
Blueberries
¾ cup sugar
¼ soft shortening
½ cup milk
2 cups sifted flour
2 tsp. baking powder
½ tsp. salt
2 cups blueberries
Instructions:
Mix sugar, shortening and egg together thoroughly. Stir in milk. Sift together and stir in the flour, baking powder, and salt. Finally, blend in carefully 2 cups of washed blueberries. Spread batter in a greased and floured 9x9 pan.
Crumb Topping
½ cup sugar
1/3 cup sifted flour
½ tsp. cinnamon
¼ cup soft butter
Instructions: Mix together and sprinkle over batter. Bake in 375 degree oven for 45-50 minutes or until a toothpick comes out clean.
Frozen Blueberry Yogurt Bites
Recipe courtesy of: www.SkinnyMom.com
Nothing beats a cool, healthy snack in the summertime. These Blueberry Yogurt Bites are simple to make and refreshing to eat! They feel like a sinful snack, but they are packed full of everything that is good for you!
Prep time: 10 minutes. Cook time: 1 hour freeze time minutes. Yield: 10 servings. Serving size: 12-13 frozen blueberry bites
Ingredients:
1 pint container blueberries (about 125 blueberries)
1 cup vanilla, nonfat Greek yogurt
1 tablespoon stevia (or your favorite sugar substitute)
Instructions:
Line a baking sheet with parchment paper or a nonstick Silpat® mat, and set aside.
In a medium mixing bowl, stir together the yogurt and sweetener.
Working in 2 batches, gently fold in the blueberries to coat in the yogurt. Scoop them up with a fork and tap the excess yogurt off.
Place the blueberries on the baking sheet, being careful not to have them touch.
Freeze the baking sheet until the blueberries are completely frozen, about 1 hour.
Store leftovers in an airtight container in the freezer.
Carol Cogliano is the Director of Events at Hollabaugh Bros., Inc. Visit www.hollabaughbros.com for a full listing of their upcoming events and classes or call 717-677-8412 for more information.
Hollabaugh Bros., Inc. offers Pick-Your-Own Blueberries! Stop in during the summer months to enjoy harvesting your own berries from our plentiful supply. Blueberries are available from Monday through Saturday from 7:30am – 4pm. . Hollabaugh's is located at 545 Carlisle Road, Biglerville.
Cooking events
Kids' Summer Cooking Series – Snack Attack! (for kids ages 9-13) Series Schedule: July 5th: Make it with a grain of salt (Salty Snacks) / July 19th: I've got a sweet tooth! (Sweet Snacks) Cost: $30 per session, registration required.
Cooking Class – "Healthy Substitutions and Recipe Sneak-ins" – Thursday, July 14th, 7-8:30 p.m. Cost: $30 – $5 off for 2 summer classes, $10 off for all 3 summer classes
Hollabaugh's 61st Anniversary Weekend – July 16th and 17th
Visit www.hollabaughbros.com for a full listing of their upcoming events and classes or call 717- 677-8412 to register.