Bedtime Stories
The Sickly Stag
Amy T. Wilkinson
Illustrations by Austin Beach
There once was a stag who was taken quite ill, he had been sick since he was a lad.
He had fever, a headache, and a chill, his overall prognosis was bad.
He lived his life sleeping in a clearing, where things were peaceful and safe.
No one bothered him or called him names like, degenerate, needy, or waif.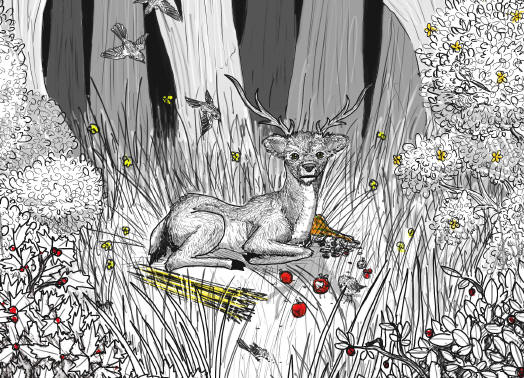 His mother and brother would visit him, bringing him grass and other legumes,
And though his family loved him much, he lived a life of gloom.
What he really wanted was a friend, someone with whom he could play,
who wouldn't care that his legs were weak and his chills made him sway.

When his brother came to visit him next, he voiced his inclination.
His brother said, "Stag, I will try to help, but I can offer no consolation."
His brother left and set off at once, he was determined to find a mate
that would keep the sick stag company so his loneliness might abate.

His brother searched far and wide until he found a pretty deer,
He approached her happily and exclaimed, "It is nice to see you here.
My brother is a sweet and lovely fellow, though I'm sad to say he's ailing,
I'm looking to find him a companion, it is something for which I have been praying."

Brother explained that Stag was ill and was yearning to find a friend,
she asked a lot of questions, but agreed to visit him in the end.
So, the very next day the doe set out to meet our good friend, Stag.
She spent the whole trip talking of herself and took the time to brag
about what her best qualities were, the list went on and on,
all the vain and egotistical chatter made Brother stag yawn.

They made their way to the clearing, where Stag spent his days.
The doe wagged her tail as she walked in, which made Stag's eyebrows raise.
She sat close to him and cuddled herself up against his side,
it was then that she noticed how well his food stash was supplied.

When she asked to have his food, the stag, he readily agreed,
because he was a wholesome fellow, he knew nothing of avarice and greed.
Once the doe had eaten her fill, she said it was time for her to leave.
She didn't even say good-bye and left poor Stag to grieve.

The following week, Brother arrived to bring Stag his provisions.
When he saw poor Stag, hungry and alone he said, "This is not what I envisioned."
Stag explained what had happened, and Brother was very cross.
Said he, "I will find you a friend, I will do better to sift through the dross."

So, Brother set off on a journey again, with the intention that he would find,
Stag a friend, who would not take advantage and would be loving and kind.
After days of searching he stumbled upon a group of friendly looking mice.
Even though they were small of stature, he thought the would suffice.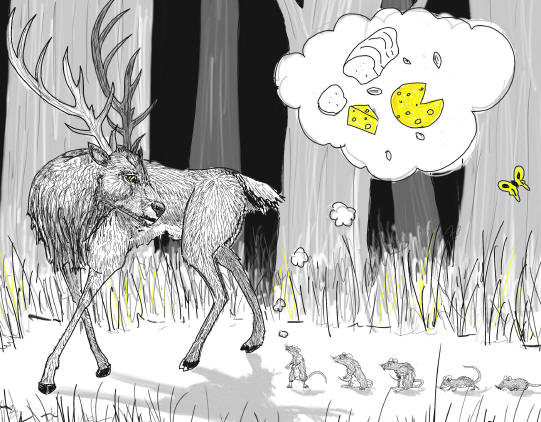 He approached them and said, "You look a friendly group of chaps.
My brother is in need of company, I assure you, it is an easy task."
The mice decided they would go with Brother back to meet the stag.
They had almost made it to Stag when their journey hit a snag.

When they reached the clearing, the leader of the mice stood up and inquired,
"How are we to be paid for this? And how much of our time will be required?"
"I think you have missed the point of this venture," said Brother with a frown,
"I brought you here to be his friends, now go on, get out of town."

Brother sighed and walked away, thinking, 'Third time is a charm.
I will find my brother a companion friend, there's no cause for alarm."
Again he ventured off into the woods, this time determined to discover,
a life long mate who would be cordial and help his brother recover.

Brother searched both high and low; he searched for weeks on end.
But no matter in how many nooks he checked, he could not find a friend.
He trudged his way back to the clearing feeling frustrated and unnerved,
that he could not find his brother the friend he coveted and deserved.

What he saw when he reached the clearing both shocked and alarmed him,
even though the scene looked nice, he could not help from feeling grim.
His brother, Stag, was laying down laughing at the dancing
of a little brown squirrel who frolicking around; hopping, skipping, and prancing.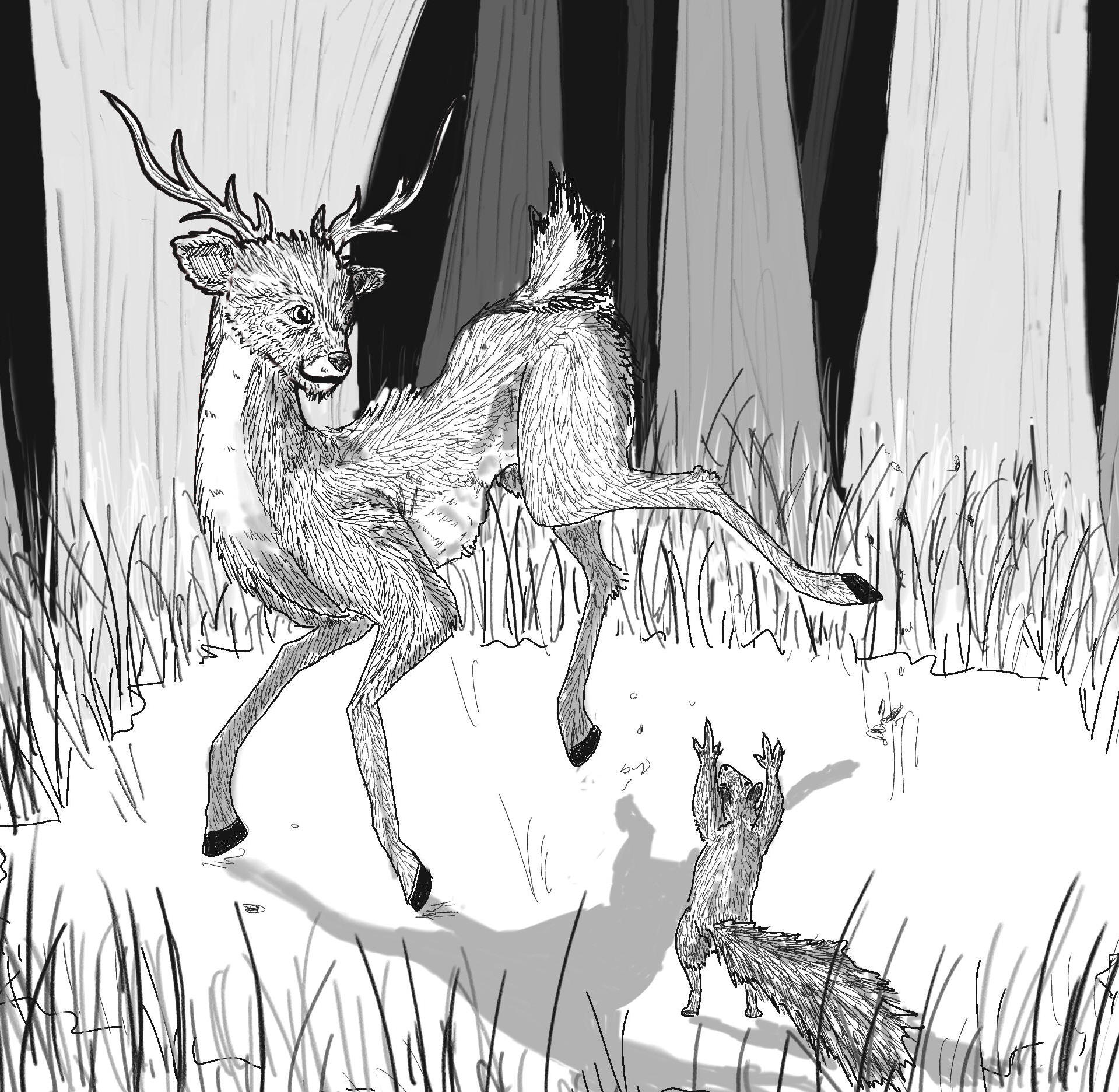 Brother yelled, "Squirrel, you knock that off and march right over here.
Explain yourself, what are you doing? And are your intentions sincere?"
The squirrel said, "Brother, I am not certain, what I have done to cause you alarm.
I promise, I am here because because I am fond of Stag. I will not bring him harm."

"But I have searched the forest wide, in search of someone like you,
who would simply be his companion and not think it a job to do.
How is it that you just walked on up and decided to be his friend,
when no one explained to you the type of condition he is in?"

"My brother stag, you worry too much, for how could I not see,
that your brother is unwell when it is plainly in front of me?
But, you should know that, ill or well, a true friend will not care,
a friend will like you for who you are, not the materials you have to share."


Brother learned a lesson that day; a friend is not something easily found.
It is not something you will discover from searching up and down.
A friend who someone who shows up in your life at a moment you may not expect,
and ends up staying with you there because of mutual loyalty, love, and respect.

Some people may say, when it comes to friends, it's best to have a ton,
but as you grow, you will find, of true friends, you'll be lucky to find just one.
Read other Bedtime Stories by Amy Wilkenson
---
Amy Wilkinson is a graduate of Hood College with a Bachelor's in Law and Society and lives in Frederick Maryland.
Amy began writing and telling stories at a very young age. Starting with daily journals at around 8 years of age, she later progressed to fiction and poetry never putting her pen down for more than a few hours. Nature and animal lover, essayist, and poet, Amy Wilkinson sets many of her stories in a forest or other outdoor setting. Much of the material for children focuses on various life cycle, coming of age, morality, and individual interaction issues frequently seen through the everyday lives of her woodland creatures. Her bedtime stories balance equal parts of lively prose with food for parent/child discussions.
Austin Beach graduate from Urbana High School and is a current Frederick Community College student studying art.

Austin has been drawing since before he could walk but did not begin learning other traditional mediums until high school when he began art classes. He has worked in most mediums including but not limited to oil paints, watercolor paints, pastels, Ink pen, charcoal, pencil, and digital media. In addition he has worked with many mixed media projects, clay, and found objects. Austin's subject matter has included landscapes, figure studies, portraits, whimsical illustrations, and fantasy related scenes and characters among other things.

In addition to art Austin has worked with numerous advocacy oriented organizations in Frederick and has been recognized as an emerging leader by Vice President Biden for founding and becoming Executive Director for a local Non-Profit.

He can be reached for other commissioned work via Facebook at Facebook.com/AustinBeachArtist.