The Graduate
A new school year
Katelyn Phelan
MSM Class of 2011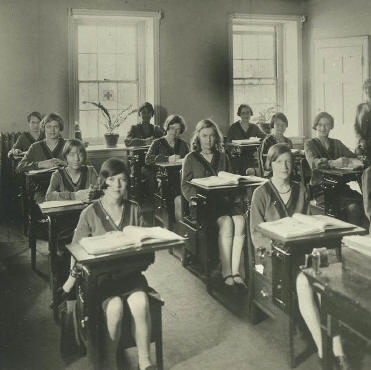 (9/2012) A lot of people have asked me what Iíve been doing this summer. When I donít respond with "work" they seem confused and invariably end up blurting out, "wait, you mean you donít have to go into school in the summer? You mean you have the same summer as the kids?" Well, more or less, the answer is yes. Teachers have the same last day of school as the students; though of course there is end of the year clean-up, and grades to finish which pushes a few days into summer. After that, though, teachers arenít required to do anything, until August that is.
So teachers can just be lazy and kick back in the summer, right? Well, not quite. Many teachers take time over the summer to tweak or create new lesson plans, projects, or other teaching materials. A lot of teachers I know get second jobs to supplement their income. A lot of teachers with young families really enjoy the summer off because they are able to be home with their kids and donít have to worry about daycare or nannies.
Just about every teacher I know makes a concerted effort to spend time focusing on hobbies during the summer, which tend to get shoved to the wayside during the hectic school year. I know that during the school year my ability to read for enjoyment is almost eliminated because there are always more productive things that I should be doing, like grading or preparing lesson plans. Unlike some other jobs, teaching isnít really a profession that you can "leave at work;" as soon as one activity, lesson, or day is over, thereís another one to prepare for, which can get very time consuming and tiring.
I did two of these things this summer: I took a second job and read for enjoyment. The job I took wasnít what you would probably think of as typical. I painted a custom mural for a Philadelphia steak and hoagies shop in Camp Hill, Pennsylvania. The mural included the skyline of the city, plus landmarks like the Rocky statue, the Liberty Bell, Independence Hall, City Hall, and the Citizens Bank Park. I also painted the storeís logo. While this wasnít an all-summer project, it was enough to get a little money and to keep adding to my mural portfolio, which, by the way, you can see for yourself (along with some of my other work) at www.muralportfolio.weebly.com.
I was also able to read some books for pleasure like My Cousin Rachel and Tell the Wolves Iím Home. But, what really took up most of my summer was...summer school. I didnít teach summer school, but I was a student myself. You may recall that last Spring I was enrolled in Wilson Collegeís teacher education program, but I decided to switch to the program at the Mount for a few reasons. One, the Mountís program is a Masterís and teacher certification combo, which means that I wonít have to go back to school (again) later to get my Masters. Iím getting the whole Education degree out of the way in one fell swoop. Two, because I am a Catholic school teacher and the Mount offers discounts to Catholic school teachers enrolled in classes, it was less expensive than the program I was already in. Three, I actually needed to take fewer classes in the Mountís program than I did through Wilson. Four, itís the Mount and I love being back on campus, even though itís a little weird being there without my friends and without a dorm to call home. Nevertheless, itís nice to be back.
So, for all of those reasons I came back to the Mount in full force this past summer. I took three classes: Technology in Education, Learning Theory and Human Development, and Special Education. Honestly, between these three classes and driving from Carlisle, Pennsylvania to Frederick two to four days a week, I felt like my summer was kind of shot. It doesnít sound like very much to take three classes, but keep in mind that these are summer classes, which means that 15 weeks of material is squished into 10 three-hour classes. Plus, all the regular semester reading is normally required also, which means that each day I was reading 50+ textbook pages. I have to tell you, that gets old after a not-so-long time.
But the classes were interesting, and time did go pretty quickly, which considering it was summer break, was not necessarily something I wished for! In no time at all, it seems, September has arrived and another school year is starting. However, a teacherís school year starts a week earlier than the studentsí year.
Teachers are required to participate in "in-service" days where we discuss school matters like any changing rules or updates, create goals, assess strengths and weaknesses, and so on. We also sometimes hear guest speakers addressing anything from positive school image to refreshing us on ways to help students with learning disabilities. During in-service days teachers also have the opportunity to meet with their departments and other small groups and discuss specific matters. We have a week of in-service days before the year starts, and then a few sprinkled throughout the year. Generally theyíre tacked onto the ends or beginnings of breaks or onto long-weekends. In general, in-service days are times for the faculty to work together on general aspects of the school (like the schoolís mission for example), which tend to be overlooked in the hustle and bustle of ordinary days.
The summer in-service days are good ways to get back in the swing of school, after some time off. Itís also been a time for me to reflect a little bit on the start of the second year teaching. Iím certainly looking forward to a new year and getting to know a new set of kids, while hopefully keeping up with the ones I taught last year. Iím really looking forward to knowing a little bit more of whatís going on this year and just being familiar with the workings of the school. Iím also looking forward to becoming a better teacher. Over last year, I made note of things that seemed to be working well and things that needed improvement. Iím excited to make some changes and to see how they work out.
I am a bit nervous about all the things on my plate this year. One of my classes has changed, so I canít reuse most of my teaching materials for that class, which of course means a lot of work and thought. Iíll likely have more responsibilities with my job in the Library, because I wonít have as much help from the Sister who ran the Library previous to my arrival. Iím also taking two classes from the Mount this fall, one of which is in Frederick, which means a lot of driving on Wednesdays (Carlisle to Hanover to Frederick to Carlisle!). However, Iím sure Iíll be just fine with a little obsessive planning and organization on my part and support from my colleagues, friends, and family. Itís sure to be a challenging year, but at the very least, Iím happy to no longer be a "freshman" anymore! Hereís to a rewarding, educational, exciting, and delightful 2012-2013 school year!