Then & Now - Photos Of Emmitsburg
South Side of West Main Street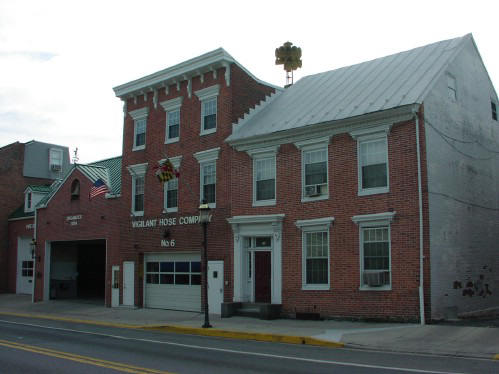 Frederick Beard House (right) - 3rd older brick building in Emmitsburg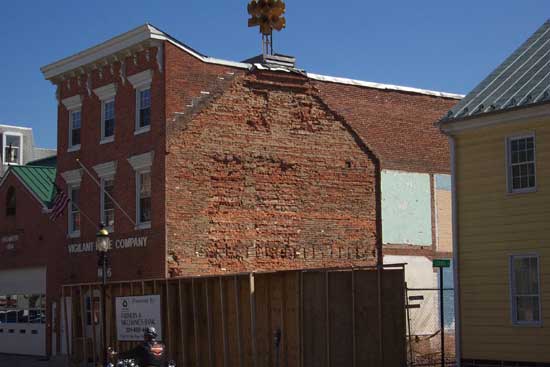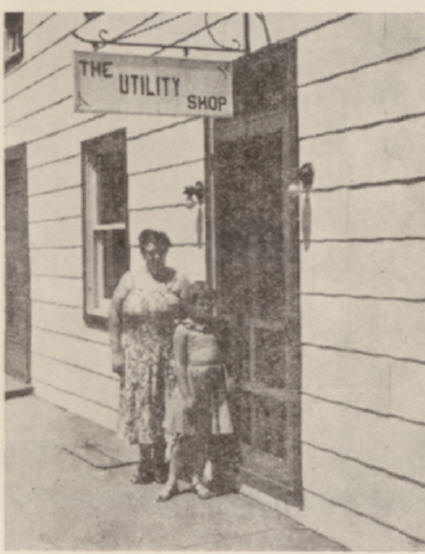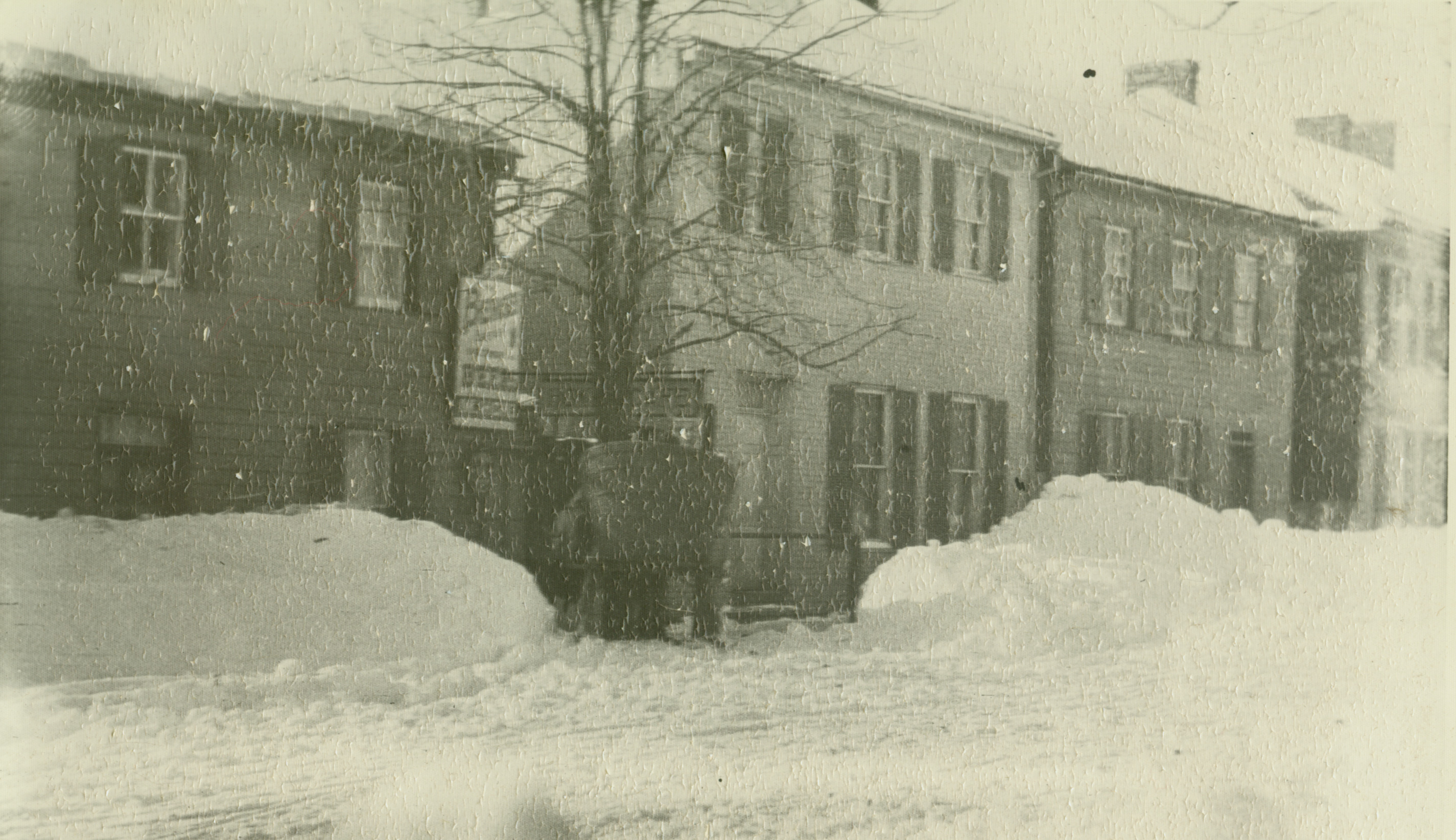 Hoke's Restaurant
Brick House was Ben Ogle's. White House Murphy Bell lived there for a long time..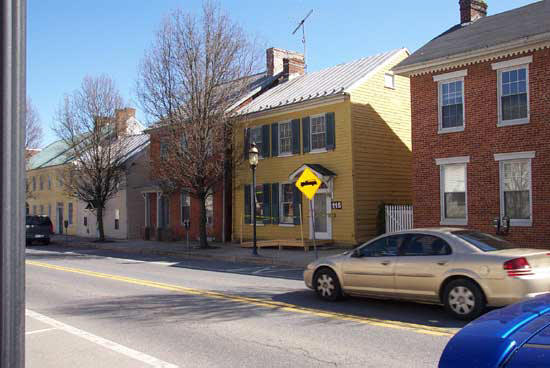 Hoke's Cafe was behind the white house. Access was via a walkway between the red and white house. White house was owned by Michael Smith? Red Brick House belonged to Ogels. Yellow house was owned by the Shrivers. Red house to right belonged to Bollinger.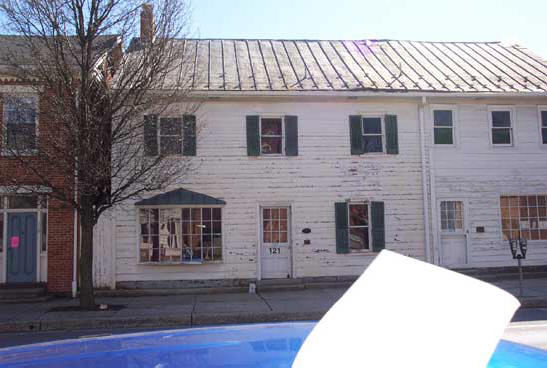 Belonged to Winter Family - Stone mansions, Related to Helmans,
Winter family did sketches in the history of the Smith Family.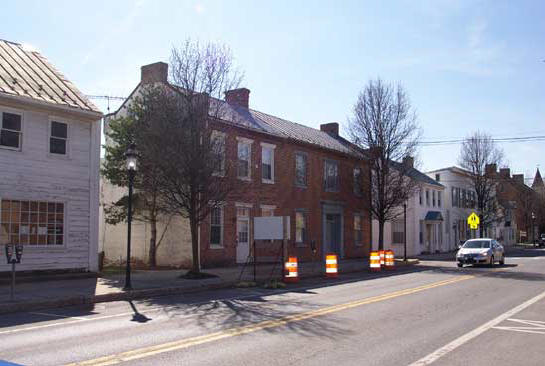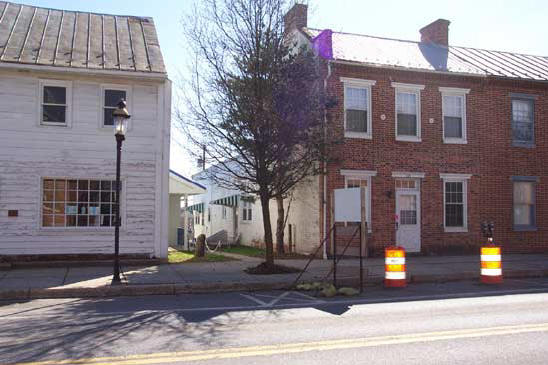 Gem Theater - House to right is Dr. Jameson's House
Zimmerman's House is across the alley, next house is Gelwicks Hardware store, later it was broken into three residences, one being the library, the other two occupied by Rebecca Hoke and Jack Humorick, later George Gingle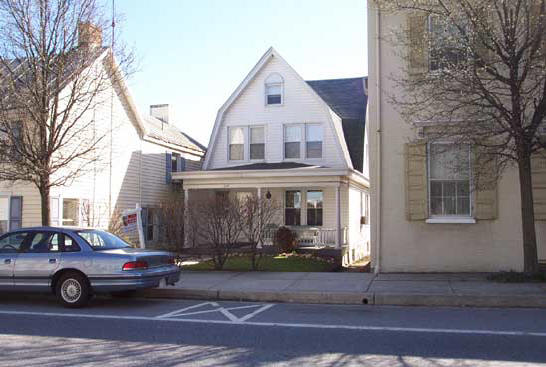 House on left was Eyster Resident. Middle house is Sterling Galt house,
brother in law to President Wilson. House on right was Motter House.
Joshua Motter was merchant in Emmitsburg.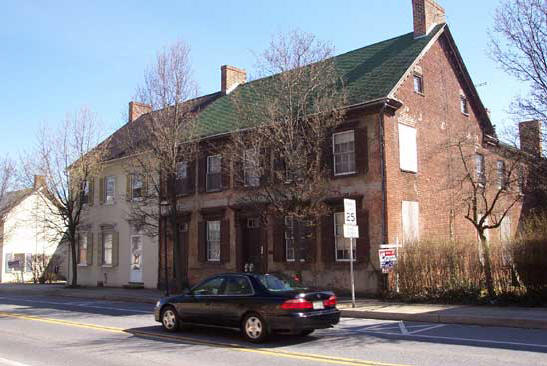 Motter House. Rev Higby lived in red part. Used to be a large brick barn
behind the house with decorative vents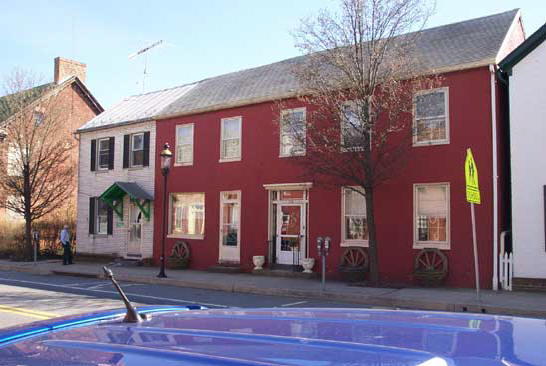 One time this was one house.
White portion house was owned by the Stoke family. Big show window was Gillens Butcher House. Darker Red house on right was Zacharias House.
White brick house on far right is Addlesburger. Next House (missing) is Sterling White's house. Next building is Methodist Church. Next to church is a brick building (Summers)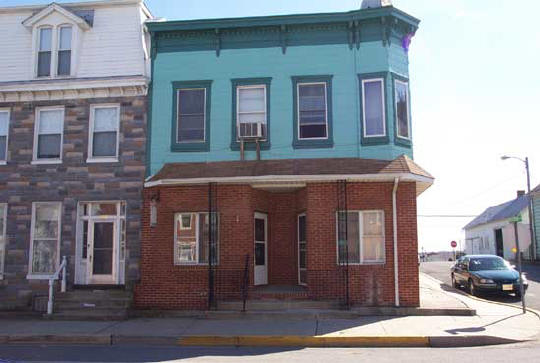 Building on left was always a residence. corner building is Hoke's, later Clarence Frailey,
and later Welty's Store. Welty's converted this into apartments.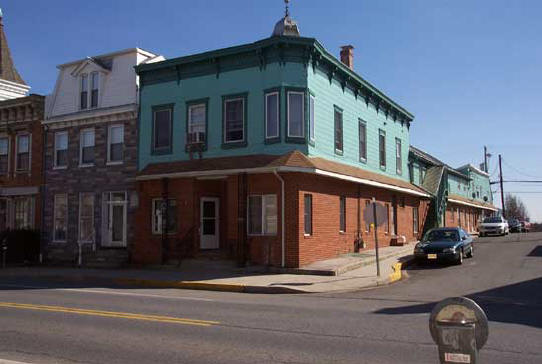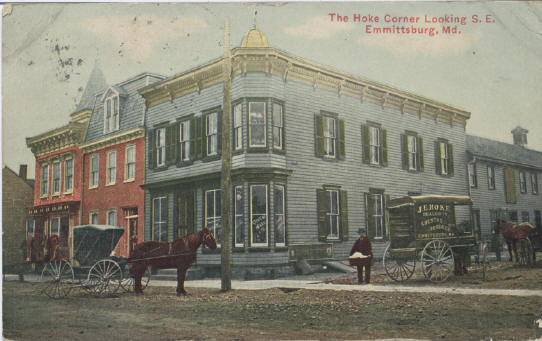 Hoke's Store, later Fraley's Store ~ 1913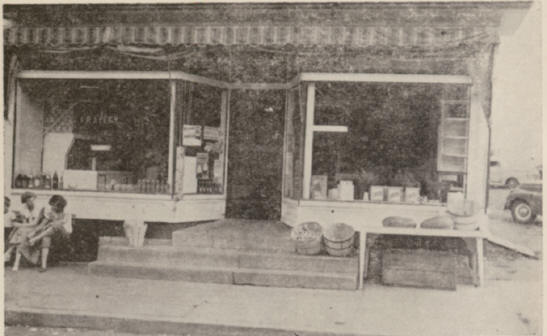 Frailey's Store, West Main Street - Read the History of Frailey's Store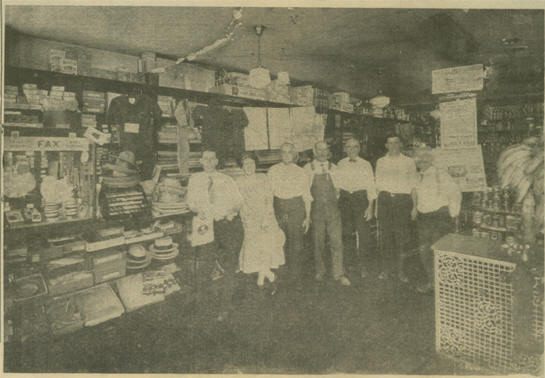 Clarence Frailey operated the store on West Main Street where Welty's Market is now located Pictured above are (left to right): Mr. Frailer, Bessie Hoke, Joe Hoke, Howard (Baldy) Rowe, Bill Sellers, Harry Troxell, and Clarence's father, Oscar Frailey. This picture was taken about 1920.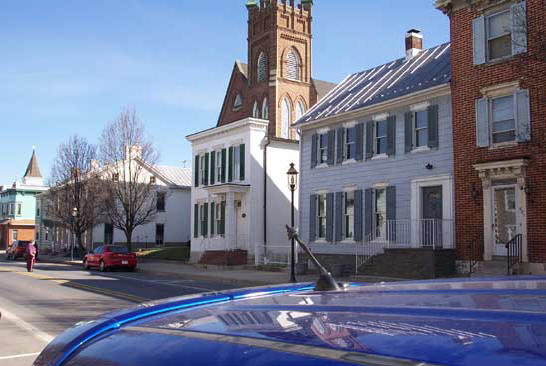 Building next to Patterson was Hoke's home. Next is Presbertian Church, then the Jim Hays House - white house (See story of Hays). Next house Frank Weant the banker lived there.

Brick Building Edgar Annan's House. Log house with brick facade.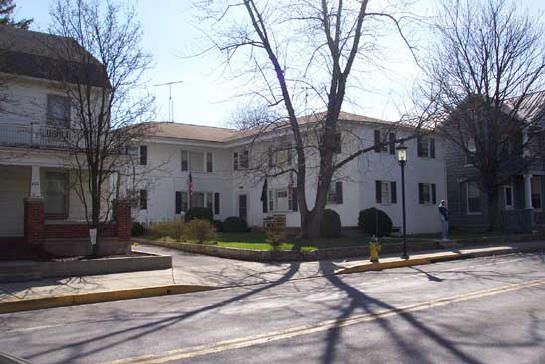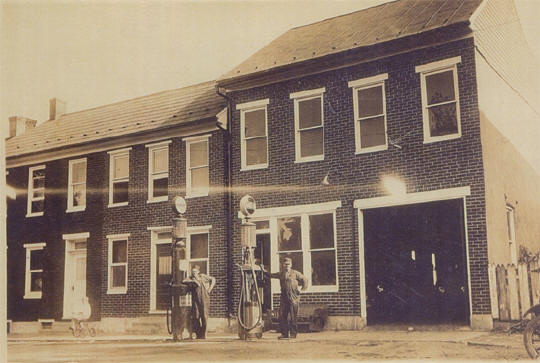 Old garage on 521 Wet Main St. the operated by Robert Buddner and Roy Wagerman.
The location became Wagerman's Tavern and then Green's Bakery and is now a residence

The Pastry Shop - West Main Street ~ 1951
Green's Bakery, Clay Green. Shop s now a private residence.
Next to house formally owned by Shirley's family
Open is first shop in the basement of the American Legion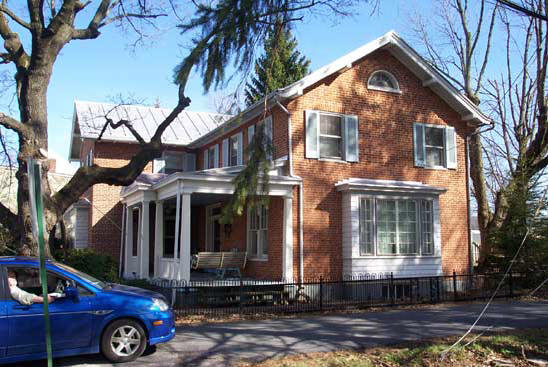 Samuel Hay's House - former Mayor of Emmitsburg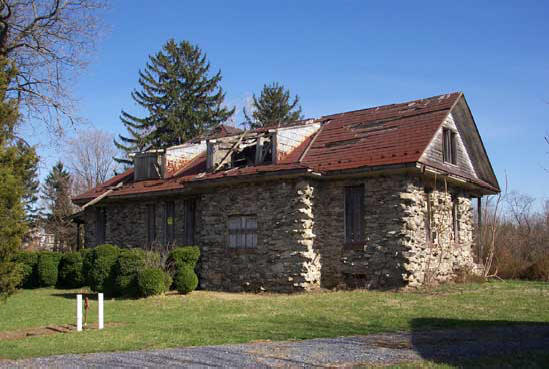 Owned by Isaac Annan owner of Annan and Bros store on square, which is now the Ott House. Farm is over 200 acres and also home to original town's septic system.
Know a story about a particular building on this page?
Is so, please send it to us at history@emmitsburg.net