Growing up in Northern Frederick County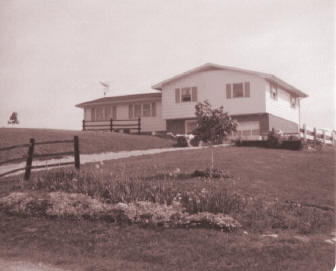 The Old Miller House around 1978
As a child from a broken home I was lucky to have two places to call my home. 11620 Haugh's Church Road, near Rocky Ridge, is the address where I grew up. It's been almost a decade since I lived there. The memories I had growing up there with my mother and my brother are there. I also spent half of my life, if not more in Mount Storm, West Virginia where my Grandparents lived. My father lived in Red House Maryland, near Oakland. I always looked forward to going to my dad's house for the holidays, school vacations, and hunting season. I love spending time with my dad and seeing my grandparents, and to this day, I look forward to reliving those memories and visiting old stomping grounds. I love the hillbilly life and the mountain setting. The mountains I once roamed make the South Mountain chain appear to look very small in size.
In Northern Frederick County during the early summer months, I would watch our neighbor Tommy ride his John Deere tractor, cutting, raking, and bailing hay from the field where our property connected. I would watch him all day long. I always wanted to drive a tractor like that. I guess that's why I ended up helping out on a farm down the road when I was a teenager. There my wish came true and I was able to drive those tractors. I would lay in the hay during the evening watching the sunset and seeing the stars awaken to the dusk. I would wait until I could see the moon before I would go in for bed.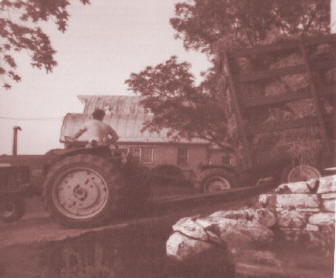 C. L. Wiles Farm
I remember when Tommy sold his farm and the land was leased out to the Swayer's farm, he cultivated the land and in spring he plated corn. During the summer I would be hiding from my mother, pretending I didn't hear her calling my name when it was time to come in for supper. I remember running through the corn fields in the autumn before he would cut the corn stalks down with a harvester. I would go in the field and collect the ears of corn lying on the ground and twisted it until I had a handful of kernels. I would throw the kernels into the air until they would fall down on me. I loved farming and I read everything I could find about farming items, tractors and the land itself. I learned to respect farmland at an early age.
I had friends who would cut through the field to come over to my house and I would do the same so we weren't walking along the shoulder of the road which was Route 194 and meet in the middle. These fields were my playground and when I was old enough to go hunting on my own, these fields became my hunting grounds. I would hunt for groundhog, deer and also rabbits. We could hunt in these fields all day long.
A hill formed near the field and below that hill was our house, it overlooked the mountains toward Emmitsburg. At night you could see the lights from Sky Liberty and Mount Saint Mary's College reflect off of the sky. From this hill I used to lean against the fence with my brother Bryan and watch the thunderstorms hit Mount Saint Mary's, 15 minutes up the road. It was amazing to see the flashes of lightning and hear the roar of the thunder before it hit our house. I can remember one time in particular, standing along the fence when my brother told me to look at his arm. There was so much electricity in the air that the hairs on his arms were standing straight up. We decided to go in before we got struck by lightning and quickly hurried in the house. All of a sudden, "POW", the tree we were standing under was struck by lightning. What a deafening sound that was.
I can remember walking down Haugh's Church Road to my friend's house and at the bottom of a hill, a tiny creek ran trickled by. I would stop off there and play in the water, picking up crawdads. That was the place to be when the weather was hot. The creek ran through several yards of trees and the shade mixed with the cool sensation of the water from the stream felt great when you walked in it.
As a child during the winter, I always looked forward to snow. Those days were awesome because my brother, who is ten years older than me and his friends would sled ride all day and all through the night. Our yard at the top, as I mentioned had a hill, then flattened out and then it went down hill again to our neighbor's yard which was separated by a small growth of pine trees.
There was field behind us and to the left side of us. At the bottom of the second hill, between the field and the pine trees was a cut that was about 10 feet wide. That became part of our race track when we went sled riding. We used the old style sleds made of wood that had steel runners. We would build ramps so we could fly a little bit in the air and come crashing down before we hit the second hill and continue through our neighbor's yard until we ended up close to 194. My brother would throw water on the starting point so it would freeze, which allowed us to fly down the hill. I remember one time when my brother's friend hit one of those pine trees head on and damn near killed himself.

The Blizzard of 1983
We had a blizzard in 1983 and two to three feet of snow had fallen. We were out in it playing and sledding. When the storm ended my brother made me a fort to hide in and play so that I would leave his friends alone. He started throwing snowballs at me and a snowball fight broke out.
In our backyard there was a work shop and a woodshed where my brother hung out during his teenager years. He would work on cars all night long and have several friends over to help him. This is where I started to learn about cars and how to work on them. He had several motorcycles, mostly made by Triumph. He had a couple of choppers too. He would take me for rides on them in the back yard. When he moved out of the house I quickly took over the work shop. And this was where my friends and I would hang out at as we got older.
Groundhogs always nested and dug holes under the shed and I was constantly shooting them because it became too much of a problem. Somehow I always ended up cornering one of them. I never knew until then that groundhogs could growl and chatter their teeth. They would rush toward me and I would back away to allow them back into their hole. I even cornered one that climbed up the tree that was near the shed. To fix the problem I threw a smoke bomb down the hole, which I soon found out was a mistake because I almost caught the work shop on fire.
Near our house, across 194, there was railroad tracks. I used to go over there and explore and find all kinds of stuff such as railroad spikes and plates that the spikes were hammered into. I always loved walking along the tracks. My dad would come and visit and we would set cans up long the banks of the tracks and shoot a .22 caliber rifle from the tracks and knock over the cans. Our neighbor whose property bordered the tracks and a field above the tracks would always talk to my dad and me for hours. I loved to sit there and listen to my dad talk about the telephone company where he worked and the changes that were being made. Our neighbor would always ask him questions about his experiences.
Above the tracks in the middle of the field was a fishing pond. Surrounding it on one end was nothing but rusty old farm equipment. The weeds and tall grass were consuming them and bees would always nest there. When I was a teenager I always went fishing there with my brother. We would go early in the morning and stay there until lunch time. Then we would go back home and he would walk over to the field near our house and pull several cobs of cattle corn from their stalk's to see if they were ready for human consumption. For dinner on those evenings we would have fish and corn on the cob, after which we headed back out again until dusk.
During my teenager years, I used to have what was called a rec-room; this was also something I took over when my brother moved out. It used to be a car garage until my dad built it to be another room for our guests that used to come over and talk to my parents. Before my brother moved out he was teaching me how to play the bass guitar in the rec-room. I was about 12 years old. The reason that us boys stayed down there was because we listened to bluegrass and rock very loud. However, by the time I was 13, I was playing several musical instruments introduced to me by my music teacher. I really took to the guitar. So I played the electric guitar and my brother played the bass. We would go outside and sit on the front porch and play Muddy Waters or Bluegrass jamming to our instruments.
I remember digging in our garden and my brother found Indian arrow heads and rocks of all sorts. Once I found an old wrench from back during the early 1900's. That was when I started to show my interest in American History. The town I actually lived in was called Ladiesburg. Supposedly, the town was named after the widows who lost their husbands during the Civil War. Route 194 was the major highway that ran through the area. In New Midway was where I went to elementary school, and in front of the fire station is a marker that says, "George Washington stayed the night here." This was the Cookery House where he stayed.
Looking back on my life today, I can't help but to smile. Those memories I have of Haugh's Church Road will always be with me. Whenever I get a chance I always go travel down Haugh's Church Road and see what the house I grew up in looks like today. I notice that the farm land has been divided up into lots and houses have been built, but I don't think that makes a difference, because I will remember the area as I knew it best. Through the eyes of a child growing up and that's my story.
Read other articles by John Miller
Have you own memories of growing up in Frederick County?
If so, send them to us at history@emmitsburg.net