A Soldier's Return to Adams County
John B. Horner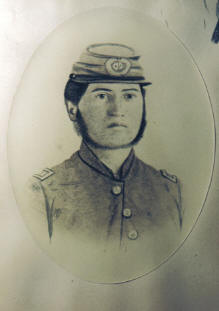 Lt. John Ross Horner 80th, New York. (20th New York Militia) Killed in the Civil War. Buried in the National Cemetery of Sister Mary Horner McAllister.
John Ross Horner was a farm boy from southern Adams County, Pennsylvania. His father, John Horner, at the age of 59, would raise Co. C of Cole's Maryland Cavalry and serve as its Captain for two years until forced to resign because of ill health. John Ross was attending Delaware Literary Institute in New York along with his good friend and fraternity brother, Ambrose Baldwin. At the outbreak of the Civil war in 1861, they both were instrumental in recruiting Co. K of the New York State Militia also known as the Ulster Guard. Baldwin had served a 3 months enlistment in the summer of 1861 and no doubt shared the knowledge he had gained with his good friend, John Ross, as Ambrose Baldwin was chosen the Captain of Co. K and John Ross, 2nd Lieutenant beginning September 17, 1861. Horner was later promoted to 1st Lieutenant December 21, 1861.
At the second battle of Bull Run, August 30, 1862, the 20th New York found themselves heavily engaged. As the Ulster Guard moved against Brown's Confederate brigade through an open field, the fury of hell broke loose upon them. With a crash like the sharpest thunder, Confederate fire burst upon the Union ranks. Before the attack, commanding officer, Col. George W. Pratt had offered, "If there be any sick men (those) lacking in courage), let them fall out now", but not one man did so. Perhaps their youthful enthusiasm, perhaps the confusion of the woods or the Confederate musket fire, or a combination of all these things, caused the Regiment to go off course. Instead of striking the left of Brown's Brigade as planned, they reached the far right. This misdirection brought about their isolation and allowed the 15th Alabama and 21st Georgia Confederate Regiments to pepper them constantly with deadly musketry fire. Col. Pratt suffered a mortal wound from which he would die two weeks later.
Even so, the 20th Militia came within twenty-five yards of the embankment which was their goal, but their losses were so extensive that now the Regiment, which had numbered 450, looked more like a large Company(100+ soldiers). They fell back, some tried to regroup and charge again, but were again repulsed. Dead and fatally wounded bodies lay everywhere. One could have walked across the field from body to body without ever having to step on the ground.
Lt. Col. Theodore Gates, now in command, ordered a general retreat which was accomplished in considerable disorder. Somewhere in this carnage, John Boss Horner fell, mortally wounded. The Union forces were driven from the field and only able to return under flag of truce two days later.
The day after John Boss died, Capt. Baldwin hastily scratched out the following note to Capt. John Horner back in Adams County, Pa.:
Centreville, Va., August 31, 1862 John Horner, Esq. Dear sir,

Lieut. J. Boss Horner has fallen-shot dead yesterday while bravely executing his duty. Shot in the breast, then in the head. l have not yet been able to get his body, but will if I can. The enemy drove us from the field. Allow me to mingle my regrets for a brave comrade along with his kindred.

A. N. Baldwin, Capt. Co. K, 20th Reg't, N. Y. S. M.
After a reply from Capt. John Horner, Capt. Baldwin penned a more leisurely letter a week later:
Upton's Hill, Va. Sept. 6, 1862 Capt. John Horner, Dear sir,

Yours of Sept. 4th inst. received and I take this early opportunity to answer it. I am glad to inform you that his body(your son's) has been properly buried and a mark placed over it. It is by a culvert on the railroad where the battle raged the hottest. John Hanmore, No. 446-8th St., Washington, can give you the exact locality. He was a friend of our regiment and went out with our surgeon to the field, under flag of truce and helped bury him. The rebels had stripped him off his shoulder straps and shoes, taken his watch, purse, sword and revolver. Hanmore cut off a lock of his hair and some buttons, which you can send for to him. I could not get to the field to secure his body, nor could they bring it away, being there on Monday with too few ambulances to even

bring away all our wounded, so they wrapped him in a blanket and buried him like a true soldier, as he was.

Our relations were of a brotherly kind-schoolmates-members of the same fraternity there. I am not satisfied with merely what officially pertains to my duty, but would mingle the tear of sympathy with those of a bereft family. Please consider me not as a stranger, but as a friend. An intimacy of years had bound me very close to your son; otherwise I should not have taken measures to officially connect him with me as a Lieutenant. He was loved by all the men and respected by all.

With great respect, yours, etc.

A. N. Baldwin, Capt., Co. K, 20th N.Y. Inf.
Capt. Baldwin had noticed the body of his friend in a mass grave with 83 other bodies.
He rescued it and had it buried by a Confederate detail who were already burying one of their own dead. He also marked the grave site and drew a rough map showing its location.
John W. Hanmore did, indeed, send a letter and map to Capt. John back in Adams Co. showing the location of his son's grave site and when Capt John journeyed there in 1864 with a contingent of Cavalry, he brought his son's body back to Gettysburg where it resides in a place of honor in the New York section of the Soldier's National Cemetery.
In 1863, when the 20th N.Y. was hurrying to Gettysburg for the fiercest battle on the North American continent, they stopped at a farm for something to eat as their forage wagons had not yet arrived.. Members of the family there noticed on the caps of some of the soldiers "20th N. Y." They said, "That is the Regiment to which our son and brother belonged. Had you known Lt. John Ross Horner?" One of the soldiers replied, "Yes, he was our Lieutenant and was killed in the 2nd Bull Run Battle." Without knowing it, they had stopped at Capt John's farm. Capt Baldwin promised that if his life was spared in the forthcoming battle, he would come back to visit Capt. John.
In my journal entry for Tuesday, June 30, 1998, I wrote as follows:
"Today, along with several dozen other Civil War Institute participants from Gettysburg College, I stood a short distance from where 1st Lieutenant John Ross Horner fell and was buried on the Manassas (Va.) Battlefield." After reviewing the facts of how John Ross Horner had died there, I continued, then read from John W. Hanmore's letter of January 25, 1863, 'My dear sir, you may well be proud of your son. My acquaintance with him was a casual one, but my acquaintance with the officers and men of the 20th has been with some of them life long. Their praise of your son was unbounded'"! I noted that when the 20th New York had stopped at Capt. John Homer's farm on its way to Gettysburg, Capt. Baldwin had promised that if his life was spared in the upcoming conflict, he would come back to visit Capt. John. "On the third day of the Gettysburg Battle, at the climax of Longstreet's assault, an exploding shell nearly tore off the leg of Capt. Baldwin. He died shortly thereafter, as did so many Civil War soldiers, alone, without a friend to speak to him, far from home and family. Our tour guide was very generous in his remarks, all were visibly moved, some were in tears.

After the others had moved on down the trail, I lingered for a few moments, reflecting on the great sacrifice made by John Ross Horner and others like him, who considered it a matter of honor to give up their lives for what they perceived to be a just cause".
---
Want to learn more about the Civil War? Then try our archived edition of the Civil War along the Mason and Dixon Line!