Civil War Crossroads
Re-enacting Civil War Ancestors
John Miller
Emmitsburg Area Historical Society
My family and I have been re-enacting for nine years and it has been the greatest hobby that we have ever participated in. As a re-enactor, you choose who you want to be and by working hard, you can achieve your goal of historical authenticity, which may take several hours of research depending upon your impression.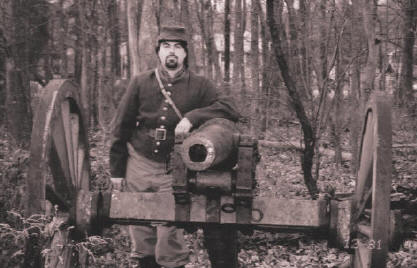 When I began re-enacting in 1997, I joined an artillery unit called Stuartís Horse Artillery that was headquartered in Thurmont. I met several re-enactors who portrayed and honored their ancestors, but I was not aware of my familyís Civil War heritage at that time.
After years of researching, I soon discovered I had family members that served in both armies. Many of my Union ancestors served with the 3rd Potomac Home Brigade (Maryland), Coleís Cavalry, and also the 1st West Virginia Infantry.
On the Confederate side, Corporal John Harvey served with McNeilís Rangers; John Durst served with the 60th Virginia Infantry. Charles Miller was a private in 2nd Company Richmond Howitzers, also known as Company K, 1st Virginia Artillery commanded by Captain Lorraine F. Jones.
Nearer to this area, John F. Key and John W. Gardner both served in the 1st Stuartís Horse Artillery. John Key enlisted on October 1, 1861 as a private at Martinsburg, Virginia. He was captured at Madison Court House on December 28, 1863 and sent to prison at Point Lookout, Md., where he was later exchanged on March of 1865 and paroled on April 27, 1865.
When I formed the 22nd Virginia Infantry in 1999, I started to research the West Virginia area where the 22nd Virginia was from. During that same year, I became the Civil War Historian for the Emmitsburg Historical Society encompassing the Emmitsburg and surrounding areas and I felt that my research on the 22nd Virginia was too far away to relate to this area but I soon found a connection. Coleís Cavalry, a unit raised in this area fought against the 22nd Virginia at the battle of New Market, Virginia in 1864.
The more I researched the more I wanted my reenacting impression to reflect the Emmitsburg area and my heritage. It was then that I decided to do a first hand impression of one of my ancestors. Certainly, my ancestors who rode with Stuart were familiar with this area. Even Charles Miller would have traveled through Monterey during the retreat from Gettysburg.
To honor my Civil War Heritage, I will be portraying John Key. This will enable me to assist those in the community who are looking for a first hand view of those soldiers from this area. By doing this I will also be able to honor my Confederate ancestors, thus taking on a whole new meaning to my research and re-enacting career. I often look at the mountain toward Monterey Pass from my hunting ground, and I feel such a strong connection to this Civil War battle that words canít describe how awesome it is to be part of those honoring its name. If you stop for a moment and look around, you will see just how much Civil War history surrounds us. Letís remember it while it is still here for us to enjoy.