New businesses rejuvenate old Jubilee store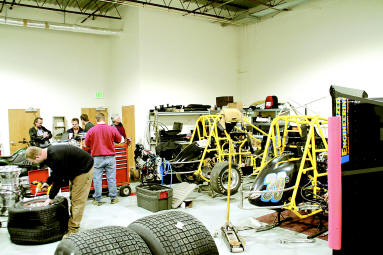 Catoctin Motor Sports is one of three businesses now occupying a portion of the old Jubilee Foods store in Thurmont. Catoctin Development and Advanced Development are the other two businesses. All three are owned by Donald Owens, who also purchased the vacant grocery store and will be renting out the remaining 12,000 square feet of space.
(Photo by - Robert A. Rosensteel Sr.)
(2/1) Catoctin Development and Advanced Development Services operated out of an office in Frederick with 1,100 square feet of workspace.
"Everyone was sitting on top of each other," said Sam Bollinger, co-owner of Bollinger Enterprises. "When you got up from a desk someone would take it."
And that doesn't include finding space to work on the sprint cars that Catoctin Motor Sports operates.
That's no longer the case with the new 5,400 square foot office at one end of the old Jubilee Foods store. And if the companies ever run out of space, another 12,000 square feet of empty space sits vacant next to the office, ready to be rented.
The store had sat vacant for four years until Donny Owens purchased it for his companies.
"It was a mess," Bollinger said. "There were asbestos tiles on the floor and an old drop ceiling. We pretty much gutted it. We tore out the tiles and sprinklers, fixed the sprinkler system and cut windows so we could get some light."
Other changes include an updated electrical system, propane tanks, a fenced-in back area and a security system.
The entire project cost about $400,000. The companies had their first planning session on redeveloping the old store in November and moved in the middle of January.
"It was a lot less expensive," Bollinger said. "We bought it for a lot less than anything we could have gotten in Frederick."
The other advantage is that many of the principals in the company are Thurmont natives who have now been able to bring their businesses back to their hometown.
"Our relocation to Thurmont is a key component to our growth strategy," Owens said. "We've been able to plan the new facility to streamline our operations, enabling us to grow and provide more services to our customers. And, it is nice to be back where I grew up."
Catoctin Development is a residential development company and Advanced Development Services is an underground utility company. In business for six years, the companies employ 35 people.
Canyon Construction was the general contractor on the project and Bollinger Enterprises represented the owner through the purchase and renovation.
Read other news articles on Thurmont