ESP adds artistic flavor to Thurmont
Brendan Weeks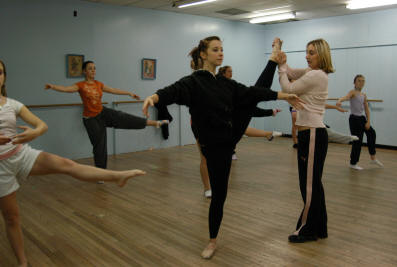 Thurmont's ESP Dance and Music first began in the late 1960's in the basement of owner Linda Sicilia's home. Today the studio is one of the most reputable in Frederick County, having won countless awards in both regional and national competitions. Pictured above, principal dancer, Megan Adelsberger, 18, is aided by instructor Ashley Boyer.
(2/15) When Linda Sicilia's dance teacher passed away in the late sixties, she decided to take the reigns of a piece of Thurmont's cultural side. For over 35 years her dance studio has provided the town with an outlet for the performing arts.
Sicilia opened her first studio in the basement of her mom's home. "My dance teacher died and there were a couple of students who wanted to continue," said Sicilia. On the garage next to the home still hangs a sign noting "studio 2," when the business began to expand.
From that point on the business began to blossom. The studio relocated several times. At one point it was even in the back of the old fire hall. Today the studio is on Water Street in a building that Sicilia was able to purchase and is currently renovating.
Over the years, ESP Dance and Music has gained a reputation for being one of the best studios in the area. Their dance troops regularly participate in both regional and national competitions.
They have won countless awards as well as scholarships for individual dancers. But the honor that Sicilia is most proud of was achieved last year at a national competition held in New York City. One of her dance groups was invited to participate in a gala. "That was thrilling for me," said Sicilia. "They only pick five groups in each category and we were one."
Sicilia attributes the studio's success largely to the creativity of her daughters, Kyra, Kela, and Kara, who also work at the studio. "The girls are very creative musically," she said. "Their choreography is very different than most places, and that's just a gift they have."
She also identifies their constant interactions with each other as a means to a creative end. The youngest daughter, Kara, lives in a basement apartment in her mother's house and her two sisters are always stopping by with ideas about dance.
"We don't go to work, we live work," said Sicilia. "From the time we get up, it's work. We talk about choreography. It's just constant."
"It's nice," said Kara Sicilia. "We actually get along really well. We're very, very close."
Another factor in their success is the desire always to continue learning about the art form. A couple of times each year they invite teachers from Los Angeles and New York to come and teach at the studio. "We bring people in so (the students) are exposed to a lot of different ideas," said Sicilia.
They also require that students and teachers alike attend "master classes" that are offered at the competitions. "We don't just compete; we educate our students and ourselves," said Kara, who also teaches at ESP..
As time marches on, Sicilia sees popularity trends shifting in the dance world. Males have been increasingly interested in taking dance lessons, particularly hip-hop. "I'm finding a lot of boys like to dance," said Sicilia. One of their male students, Patrick Cubbedge, was noticed in a competition and played a part in the 2003 movie Camp.
As far as what's in store down the road for the studio, Sicilia is slowly handing over the business to her daughters. "I'm trying to let the girls take over more," said Sicilia, "But it's hard when you've been doing it since you were five." Perhaps eventually the studio might branch out and open another facility in other cities. "We've talked about it," said Sicilia, "When the time is right."
ESP Productions, 15 Water Street, Thurmont, currently offers classes ranging from ballet to tap to hip-hop. Classes are offered for students as young as three and also for adults. More information can be found at www.espdance.com, or by calling (301) 271-7458.