New Rock-N-Roll School comes to Hagerstown
Evolution Rock School "Where Rock Stars Evolve"
Parent owned, performance based rock n roll music school is located in the heart of downtown Hagerstown, MD neighboring The Suns Stadium.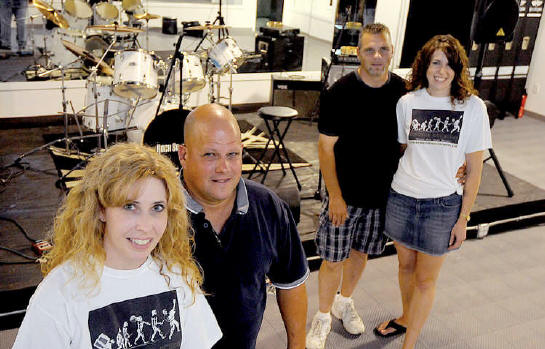 Evolution Rock School will provide a cool, safe outlet for creativity in a self-esteem building environment. Students starting as young as five yrs old will have the opportunity to learn and play different genres of rock music and become a member of a band.
With a talented and educated staff of instructors including Scott Fisher, Dusty Corbin and Ryan Baker, the school will offer music lessons in vocal, guitar, bass, drums and keyboard. In addition to private instruction, Evolution Rock School offers two performance programs. Our Total Performance Program includes private lessons, band placement, weekly rehearsals and live performances based on skill level. The Band Experience Program is perfect for students that are already taking lessons from an instructor outside of Evolution Rock School or even for those musicians that are experienced players and can learn songs on their own without the assistance of an instructor. This package gives these students an opportunity to play in a band while receiving direction from one of our music directors.
The school's schedule consists of three-month semesters including an end of semester live concert at Cancun Cantina located in Hagerstown, MD. The school will offer a rolling enrollment, which means students are encouraged to sign up at the beginning of a semester, but can join anytime at a pro-rated price.
Evolution Rock School located at 435 E. Baltimore Street Hagerstown, MD near the Suns Stadium. Hours of operation: Tuesday, Thursday, Friday 4:30–9:00 and on Saturday 10:00–5:00. Phone #: 301-733-1850 www.EvolutionRockSchool.com. We welcome you to come by for a free assessment by one of our professional instructors and meet other amazing students that share your love of music.
"You can go anywhere to take music lessons, but what sets us apart is the unique experience of being part of a band." Says co-owner Cindie Figgatt.