The Greatest Book Ever Written
Richard Long
Catoctin Church of Christ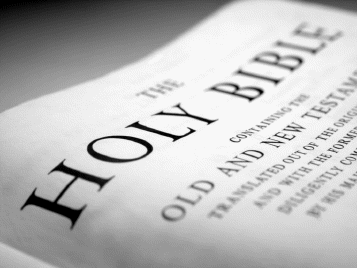 (1/1) The greatest book ever written has been examined and critiqued by people throughout history in an effort to disprove it, yet no one can say this book was written by man. Who wrote this book is important for our salvation. Did God inspire the Bible or did some men write it? We all need to look very carefully and examine the facts when humans try to disprove the Bible.
Modern science has proven that the earth travels through space at the speed of 12 miles a second. But when you look at history, men have come up with some crazy theories and some of them are extremely ridiculous. Many of these theories have been suggested by men who do not have a shred of evidence to back them. God explained to man about the world in which we live. Job 26:7 "He hangeth the earth upon nothing." Isaiah 40:22, "and . . . the circle of the earth." These Scriptures were inspired by God hundreds of years before Christ was born and in no way reflect the thinking of that time period because man still believed the earth to be flat until the 15th century when Columbus proved the earth to be round.
Many years after both the Old and New Testament were written men believed evil spirits caused most illnesses as a result of displeasing the gods. But when you examine the Bible it identifies the exact animals that carry disease in their flesh and if not properly cooked, these could result in Trichinosis, pork worms, or some other sickness. Leviticus 11 explains this in detail. The Bible also teaches that people with symptoms of contagious diseases should be quarantined, Leviticus 13:4-46. When we realize this was recorded by God for man over 3,000 years before bacteriology became a science, it should make man take Godís inspired Word very seriously.
The idea of God sending His Son to earth, which is the most important event in history, was clearly explained to man hundreds of years before it happened. Even though most people in the world reject Christ and His teachings, God told man it was going to happen hundreds of years earlier. Isaiah claimed, Isaiah 9:6, For to us a child is born, to us a son is given, and the government will be on his shoulders. And he will be called Wonderful Counselor, Mighty God, Everlasting Father, Prince of Peace. The virgin birth of Jesus was revealed in Isaiah 7:14. His death for our sins was revealed in Isaiah 53. The fact that they nailed his hands and feet had been clearly told by David, the Psalmist, one thousand years B. C., Psalm 22:16-18.
The Bible also states in Psalm 22:16-18, that they would cast lots for His clothing and that is exactly what they did in Matthew 27:35. David also confirms the resurrection of Christ in Psalm 16:9-10. This resurrection of the Christ to an exalted place in heaven is written in the second Psalm and confirmed in Acts 13:27-41.
These historical facts mentioned here plus many, many others were written for us so that we could understand that the greatest book ever written was inspired by God. These facts, inspired by God, were recorded so that all of us could understand the Bible was written by inspiration, II Timothy 3:16-17 and not by thoughts of men, II Peter 1:20-21.
When we walk into a store that sells Bibles, we see in increasing number of translations. This is possible because of technology and the ease of obtaining different manuscripts. There are a number available around the world. The Dead Sea Scrolls that were found in the late forties in Israel provide Greek and Hebrew scholars an opportunity to compare these writings with our Bible. Scholars felt this would be an excellent opportunity to correct and update the book of Isaiah, since it was found complete. Yet with careful examination by Hebrew scholars, they concluded corrections were not necessary. We still possess the true Word of God after centuries because God is caring for His Word as He promised.
God made it clear that His Word would not be lost, but would last as long as the world, Psalm 119:160 and Isaiah 40:8. God also made known, II Peter 1:3, that "His divine power has given us everything we need for life and godliness through our knowledge of Him who called us by his own glory and goodness." John 20:30-31 tells us that the scriptures were written so that all men could have faith in Jesus and by obeying Him we could have eternal life with Him, but we must step away from the way the world lives and follow His plan for daily living and worship.
There is a day coming that everyone of us must stand before Jesus and be judged, II Corinthians 5:10, and this judgment will be based on how we respond to His Word, John 12:48. We are all given a stern warning not to go beyond what is written. Jude 3 ends by saying, "I felt I had to write and urge you to contend for the faith that was once for all entrusted to the saints."
This means that Christians shall stand for, fight for, and defend the truth at all cost to them personally. The Greek word used here "contains the root of our English word agony. The defense of the faith may well be a costly thing; but that defense is a duty which falls on every generation of Christís church."
Even though God has warned us not to add to or take from Godís Word: Deuteronomy 4:2, Galatians 1:8-9 and Revelation 22:18-19, man has not listened and has changed it and continues to do so, II Timothy 4:3-4. Paul said, "For the time will come when men will not put up with sound doctrine. Instead, to suit their own desires, they will gather around them a great number of teachers to say what their itching ears want to hear. They will turn their ears away from the truth and turn aside to myths."
There are so many people in todayís world that reject the Bible. Many religions, run by men, vote to change the instructions God has given us. Yet the Bible is our guide to heaven and even though men imply the Bible cannot be understood and they want to give their personal twist and modernize Godís Word. Jesus personally said, John 8:31-32, "To the Jews who had believed him, Jesus said, ĎIf you hold to my teaching, you are really my disciples. Then you will know the truth, and the truth will set you free.í"
Only the truth will set us free from sin. When we pick up the greatest book ever written, God is communicating to us in written form, II Peter 1:21. "For prophecy never had its origin in the will of man, but men spoke from God as they were carried along by the Holy Spirit." Can there be any doubt that God guided those who by inspiration from God wrote the Scriptures we have in our Bible today, II Timothy 3:16-17. "All scripture is given by inspiration of God, and is profitable for doctrine, for reproof, for correction, for instruction in righteousness: That the man of God may be perfect, throughly furnished unto all good works."
When God says something in the Bible it is true because, Hebrews 6:18. "God did this so that, by two unchangeable things in which it is impossible for God to lie, we who have fled to take hold of the hope offered to us may be greatly encouraged."
Many men believe they can improve on what God has already revealed and so they produce creed books, catechisms, manuals, articles of faith, constitutions, disciplines and a multitude of other guidelines to produce new religious philosophies. Others have produced books which they claim are inspired. When the teachings of God are contrasted with the teaching of man the Lord makes it clear that He will not recognize manís authority over His. Mark 7:6-9, He replied, "Isaiah was right when he prophesied about you hypocrites; as it is written: "ĎThese people honor me with their lips, but their hearts are far from me. They worship me in vain; their teachings are but rules taught by men.í You have let go of the commands of God and are holding on to the traditions of men." And he said to them: "You have a fine way of setting aside the commands of God in order to observe your own traditions!" Traditions will not save anyone, only the truth!
Jesus said, "Sanctify them by the truth; your word is truth." John 17:17. Truth produces faith, Romans 10:17, "Consequently, faith comes from hearing the message, and the message is heard through the word of Christ." Now, if Godís Word is truth, then anything in opposition to it would be wrong or sin!
The Bible would be several times larger if for every command there was a list of "doníts". When someone is sent to the grocery store to buy something, the sender doesnít need to list all the other items on the shelves and tell the buyer not to buy them. And so it is with the Bible. God has instructed us how to worship Him, when to worship Him, what to do when we worship Him and that excludes all the ideas man has added to or taken away, that man feels makes it better.
Those that have decided to make Jesus their Lord will confess Him to be the Son of God and then be immersed or buried beneath the water as Romans 6:3-4 teaches. "Or don't you know that all of us who were baptized into Christ Jesus were baptized into his death? We were therefore buried with him through baptism into death in order that, just as Christ was raised from the dead through the glory of the Father, we too may live a new life."
That new life comes by being "in Christ," added by Christ to His church, Acts 2:47. "And the Lord added to their number daily those who were being saved.." God places forgiveness after you have been baptized and since He is the Creator, He decides when a person is saved."
The greatest book ever written needs to be followed as God intended it to be!