From the Pastor's Desk
Greetings from your Mennonite Neighbor
Pastor Brenda Walter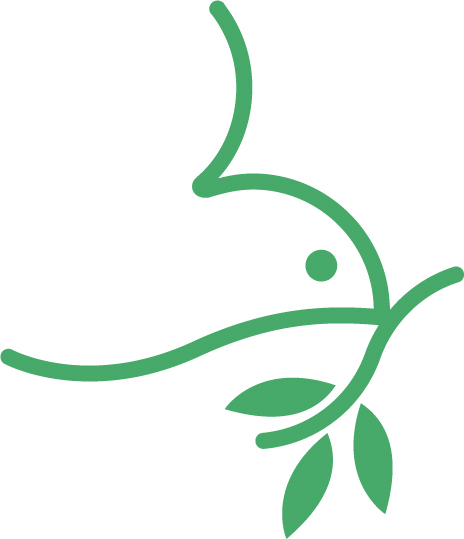 The Mennonite Church is Christ-centered and a historic peace church that grew out of the Protestant Reformation in the early 1500s in Europe. A small group of reformers felt the New Testament taught that church should be separate from state. They believed their ultimate loyalty was to God, and that Jesus' disciples should follow his example and put away the sword. They also believed people should voluntarily follow Christ through adult baptism rather than being baptized into the state church as infants.
Thousands of these Anabaptists were persecuted and martyred during the next two generations.
Menno Simmons, converted to Anabaptism in 1536, in the Netherlands. He traveled throughout northwestern Europe, preaching and writing. Eventually, many Anabaptists came to be known as Mennonites.
Close to the Pennsylvania/Maryland border in Fairfield, PA, the Fairfield Mennonite Church is a place of hope and healing where people from diverse backgrounds seek together "to do justice, love mercy and walk humbly with your God" (Micah 6:8). We also consider the Beatitudes from Matthew 5:1-10 a Biblical Foundation for our call to ministry.
Our mission is to seek to follow Jesus through acts of service, simple living and active peacemaking. We are an Anabaptist community that strives to support, encourage and provide opportunities for spiritual growth. We seek to be inclusive in our worship and service, recognizing the wisdom of many faith traditions and welcoming everyone in the spirit of Jesus. In so doing, we hope to break down barriers that divide us from each other so that we may unite in faith through service to the world.
So what do all these words mean?
We, at Fairfield Mennonite, live out this mission through acts of service to our community. Fairfield Mennonite houses the Food Pantry for residents within the Fairfield School District and those with Orrtanna and Cashtown addresses. Operating hours are 1pm-5 pm every third Friday of each month. Currently about 65 families are receiving aid. The Pantry is run solely by community volunteers and supported by local churches and area residents. Alcoholics Anonymous meets on site every Sunday, Wednesday and Saturday evening.
We have an active Prison Ministry, specifically working with those men and women who are looking to re-enter society. Our hope is that through mentoring, and walking along side these individuals, negative behaviors can become positive influences resulting in reduction of recidivism. Many church participants volunteer also with the Re-entry Program through the South Central Community Action Program teaching life skills such as budgeting, problem solving, cooking and gardening.
Striving to live simply has led us into developing An Environmental Concerns Committee. The first challenge was to stop using Styrofoam cups, paper plates and plastic wear for social hour and fellowship dinners. Just this action has significantly reduced our weekly trash. We also learned that the dishwasher ran more efficiently when used weekly! We now recycle any plastic, glass, tin/aluminum cans, newspaper and cardboard by supporting Adams Rescue Mission.
On a larger note: lighting was changed to energy efficient bulbs, insulation was added to the attic cutting the need to use air conditioning this summer. We are also looking forward to a lower heating bill. Another planned building project will be to add Plexiglas to the inside windows for further insulation. And individuals and families have been educated on various "Green Tips" to reduce energy use at home.
Active peacemaking is carried out locally by participation in peace rallies, writing our congressman and representatives and trying to solve conflicts through non-violence means, that is talking verses fighting. A wonderful guide, "Agreeing and Disagreeing in Love" can be found at the following link: http://peace.mennolink.org/agree.html. So much more could be shared. I encourage each of you to define how you daily carry out "active peacemaking." It can begin with a smile.
We strive to support, encourage and provide opportunities for spiritual growth. We seek to be inclusive in our worship and service, recognizing the wisdom of many faith traditions and welcoming everyone in the spirit of Jesus.
Here at Fairfield Mennonite we recognize, and respect, many faith traditions. Most members were not born and raised in the Mennonite tradition; some carry baggage from previous religious experiences and some are attending while continuing to explore other world religions. We recognize that spiritual journeys are as unique as each individual.
Fairfield Mennonite is a safe place to ask all the hard questions: Is there a God? What made Jesus so special? What is sinning and salvation? Am I really loved in spite of myself? Pastor Emeritus Joyce Shutt once commented, "If you feel like a misfit, Fairfield Mennonite is the place to be." Another defining quote came from her father, Howard Musselman; "When you stop asking questions you might as well die." Join us Sundays for Adult Bible at 9:30 am and worship at 10:30 pm. We do not know all the answers but will work together to find them!
In so doing (the above), we hope to break down barriers that divide us from each other so that we may unite in faith through service to the world.
Perhaps the most visible act of service to the world is through our Annual International Gift Festival. "Honor Veterans--Support Peace", is the theme that weaves it's way through this year's International Gift and Rug Festival, November 10-14.
In cooperation with local veteran's organizations, festival planners are asking the community to donate personal care items for our troops overseas. There will be collection areas at the festival where shoppers can drop off their contributions.
Armed Forces Morale, Welfare and Recreation have expressed an urgent need for specific personal care items for female military personnel who are often inadvertently overlooked. Suggested items such as body wash, disposable razors, sanitary napkins, body lotions-moisturizers, combs/brushes, powder. [sanitary napkins are excellent for sweat absorption], candy, magazines, puzzle books, CD's, etc. It is hoped these items will reach our troops by Christmas. A signed Christmas card with your return address on the envelop would also be great to include with your donations.
The International Gift and Rug Festival retails only rugs and crafts that are produced by fair trade cooperatives of Ten Thousand Villages, the 2nd largest fair trade organization in the world.
Fair Trade ensures that individual artisans own the items they produce and receive fair wages for their efforts. This guarantees the customer a quality product, the artisan fair and just compensation, and forges a bond for all who support Fair Trade.
Rugs and crafts of Ten Thousand Villages are unique, hand made, and designed by the craftsmen with pride in their sense of accomplishment. Fair Trade is an equitable solution to poverty and social injustice. The economic stability of Fair Trade encourages peace among Muslims and Christians who work together in many projects. Receiving a fair wage allows families to build lives and plan their future. Working toward common goals emphasizes similarities not differences, opening doors to peace and living together harmoniously.
Each lovely piece, whether a pair of unique earrings, an intricately carved stone figurine, a symbolic tree decoration, hand thrown pottery, or an exquisite, one of a kind rug, carries with it a story of possibilities for hope and peace in a broken world.
Mark these dates and times on your calendar:
Nov 10th & 11th 9AM-3PM
Nov 12th & 13th 9AM-8PM
Nov 14th 9AM-5PM
Come see the cool rickshaw out front of Fairfield Mennonite Church; Bring much needed personal care items for our military personnel overseas; Enclose a personalized Christmas card with your return address on the envelope.
Make a Difference in our World! Support Fair Trade! 49th International Gift and Rug Festival, W. Main Street, Fairfield, PA
For additional information call the Church at 717-642-8936 or go online to www.fairfieldmennonitechurch.org.
Brenda Walter became a member a member of Fairfield Mennonite Church in 1993 after serving as an Elder in The United Methodist Church. Brenda was called from the congregation and began serving as Pastor in February 2002.