An Emmit returns to Emmitsburg
(8/21) It's the oldest-known painting of anyone born in Emmitsburg and it just happens to picture William Cole Emmit, the son of the town's founder, William Emmit.
"It's the only portrait of an Emmit in existence and now it will preside over meetings of the town his father and grandfather founded," said Michael Hillman with the Greater Emmitsburg Area Historical Society.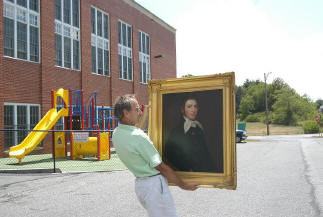 Hillman convinced the portrait's owner to donate it to the town. He picked up the painting the weekend of August 9-10 and turned it over to the town on Aug. 13. The mayor and Emmitsburg town council will officially accept the portrait at a September meeting.
In addition to the portrait, Hillman received two letters – one written in 1908 describing William Cole Emmit and his lineage and the second, a short letter Emmit wrote to his sister in 1855.
The first letter describes Emmit as being "generous, warm hearted, most hospitable and fond of pleasure."
William Cole Emmit was in Emmitsburg in 1800, the son of William Emmit and grandson of Samuel Emmit. William Cole Emmit eventually married Henrietta Stokes, daughter of a North Carolina governor, and lived in Wilkesboro, N.C. After his wife died, Emmit married a Mrs. Taylor and moved to Tennessee where he died in 1863. He had no children by either marriage.
Hillman wanted the town to have the portrait in order to protect it. The mayor and town council have agreed to the same terms as used when Hillman donated two historic maps of Emmitsburg to the town earlier this year.
"By giving it to the town, we're giving it to the people," Hillman said.
Read other news stories related to the Emmitsburg Town Government