Land Conservancy Art Auction
Chris Little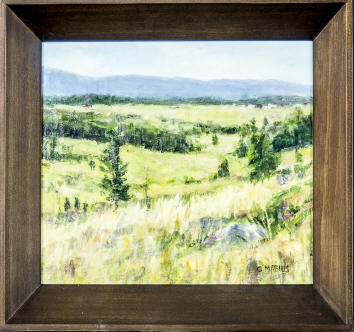 (4/2016) On Sunday, April 24, the Blue Parrot Bistro in Gettysburg will host the Land Conservancy of Adams County's 19th annual Art Auction, featuring a wide variety of original artwork created by local and regional artists—everything from painting and drawing to ceramics and other three-dimensional work.
New this year, the event will feature both live and silent auctions, and in addition to original two-dimensional art, the auction will include high-quality collectible Americana
"The Land Conservancy's art auction has always been one of our most dynamic events," said Land Conservancy President John Kiehl. "We invite long-time supporters and folks who've never been to one of our events—everyone is welcome—and we have a great time supporting both the Land Conservancy and our local art community."
Over the years the Art Auction has become one of the most significant fundraisers for the Land Conservancy, which works to preserve the rural character of Adams County by partnering with landowners to create conservation easements preserving land from unplanned development. Since its founding in 1995, the Land Conservancy has worked with county landowners to preserve nearly 10,000 acres of rural Adams County land.
The Blue Parrot Bistro, located at 35 Chambersburg Street, Gettysburg, has long hosted the Land Conservancy's auction event. Auctioneer Randy Hilker will again present the artwork for auction. There will also be door prizes, raffles, and more.
Doors for the auction will open at noon, with bidding beginning at 1 p.m. Admission to the event is $15—though artists donating art for auction are invited to attend free of charge—and all proceeds will benefit Land Conservancy programming.
Donated art will be on display at the Blue Parrot Bistro throughout the month of April. The Blue Parrot will also host a First Friday Artists' Reception from 4-6 p.m., Friday, April 1 to showcase the artists who donated work to the auction.
"We couldn't hold this event without the support of the artists and donors who contribute art to the auction each year, so we like to hold an event in conjunction with the auction that gives them some added exposure," said Kiehl.
The Land Conservancy of Adams County is an accredited nonprofit land trust dedicated to preserving the rural lands and character of Adams County. For more information about the Land Conservancy or its upcoming art auction, visit lcacnet.org.