"Making it Better: Folk Art in Pennsylvania Today" Exhibit Opens May 1
Arts Council, HACC Team up to Present Folk Art Exhibit
The Adams County Arts Council and Harrisburg Area Community College are collaborating as hosts of a statewide folk arts exhibit, Making It Better: Folk Arts in Pennsylvania Today. The exhibition opens at HACC's Gettysburg campus on Saturday, May 1.
Opening events begin at 11:00 A.M. with a presentation by exhibit curator Amy Skillman, who is vice president and director of Arts and Heritage Programs at the Institute for Cultural Partnerships. A gallery walk has also been scheduled to introduce the exhibit to the public. Light refreshments will be served.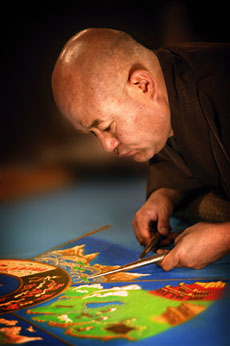 In addition, Tibetan mandala writer Losang Samten, an NEA National Heritage Award recipient, will discuss and demonstrate the making of a Tibetan sand mandala. Tibetan sand mandala construction is an ancient and sacred practice intended not only to uplift and benefit every person who sees it, but also to bless the environment. This presentation will be held in HACC's Community Room.
Making It Better is a vibrant interactive exhibition featuring objects, photographs, video, music, and interactive stations that allow visitors to experience Pennsylvania's many folk art traditions and learn how traditional arts function in and shape today's communities.
The exhibit features learning opportunities for all ages, including several special workshops and concerts featuring artists demonstrating their art and talking about their own traditions.
The art in the exhibition features more than 30 artists from all over the state and represents a wide array of traditions: from Sudanese dance to Slovenian accordion; from Aztec ritual flutes to Urban Graffiti; from blacksmithing born of the steel industry to Italian bobbin lace, which was learned by girls as insurance against poverty; and from German Catholic sawdust carpets to Vietnamese funerary portraits. This exhibit demonstrates that, although many traditional arts are rooted in century-old practices, they are meeting the needs of those living in very modern times.
The featured artists come from many cultures and traditions. They have different reasons for settling in Pennsylvania. Some were born and raised here. Some are refugees seeking asylum. Some are immigrants who came in search of jobs and opportunities. Yet all have rich traditions that they love sharing with anyone who is willing to learn.
The exhibit will run through July at HACC's Gettysburg campus, 731 Old Harrisburg Road, Gettysburg. For more information about the exhibit and associated events, contact the Adams County Arts Council by calling (717) 334-5006 or email aie@adamsarts.org. More information about the exhibit can be found by visiting www.folkartpa.org.