Simple Gifts Take Music, Gettysburg! Stage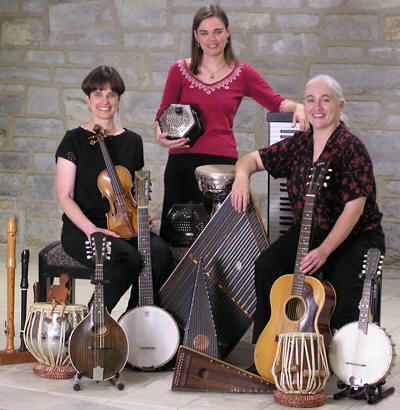 (4/18) Three women plus ten instruments equals one good time when Simple Gifts takes the stage at Music, Gettysburg! Friday, April 24th, at 7:30pm.
Simple Gifts founder Linda Littleton is joined by Karen Hirshon and Rachel Hall in one of the most delightfully eclectic mixes of music you will ever hear" according to Mark Oldenburg, chair of Music, Gettysburg! This award-winning trio performs on an impressive array of instruments, including two violins, mandolin, hammered dulcimer, recorders, and guitar plus some more unusual instruments like the bowed psaltery, baritone fiddle, banjolin, guitjo, and doumbek.
Simple Gifts presents a wide variety of ethnic folk music, including everything from lively Irish jigs and down-home American reels to hard-driving Klezmer freilachs, haunting Gypsy melodies, and exotic Balkan dance tunes. Throughout their performances, they put their own distinctive stamp on traditional tunes, blending styles from diverse cultures with their American roots.
The concert takes place at the chapel of the Lutheran Theological Seminary at Gettysburg, and is free and open to the public. Simple Gifts also announced an invitation to interested musicians to join a "jam session" immediately following the concert.
According to the Celtic Classic Festival in Bethlehem, PA, "few musicians can match the warmly personal stage presence Simple Gifts possesses." It is obvious that these women love the music they play, and they know how to share their talents, their enthusiasm, and their sense of humor with the audience.
Linda Littleton and Karen Hirshon have performed as Simple Gifts since 1995. The group was founded by Littleton in 1989 and has performed throughout the mid-Atlantic region, including appearances at the Smithsonian, Brooklyn Museum of Art, National Governors' Convention, Longwood Gardens, Whitaker Center, Hershey Theatre, Philadelphia Folk Festival, Philadelphia Museum of Art, Ontario Center for Performing Arts, Clarion Folk College, and dozens of colleges and universities throughout the region. Simple Gifts has opened for Natalie MacMaster, Tom Paxton, John McCutcheon, Robin and Linda Williams, Jay Unger and Molly Mason, and Boys of the Lough.
Simple Gifts has recorded five albums. Their newest, "Time and Again," won a bronze star (third place) in the Crossroads Music Awards. The recording includes traditional music from Romania, Hungary, Bulgaria, Greece, Ireland, Scotland, France, Denmark, and America, plus an original composition by each group member.
Come enjoy this Friday evening concert which is free and open to the public. The Seminary Chapel is located at 147 Seminary Ridge in Gettysburg. For more information about this and other concerts remaining in the Music, Gettysburg! schedule, please call 717-338-3000 ext 2197 or visit the web site at www.musicgettysburg.org.