Music, Gettysburg! Presents Barnstormers with the Rockcandy Cloggers January 11th
(1/4) Music, Gettysburg! presents the Barnstormers, one of the area's most acclaimed folk duos, accompanied by RockCandy clogger folk dancers Sunday, January 11, 2009 at 4:00 P.M. in the chapel of the Gettysburg Seminary.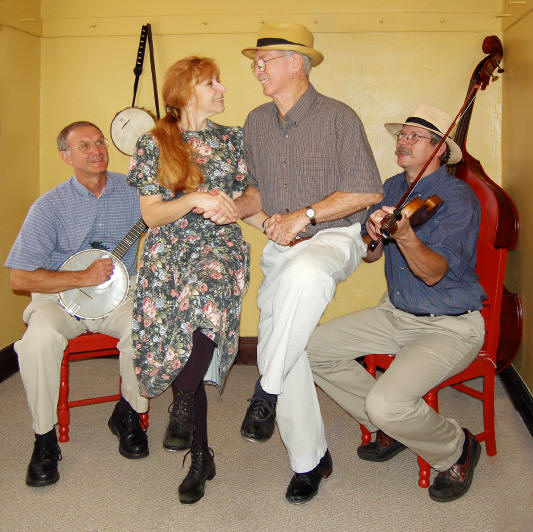 Returning to the Music, Gettysburg! concert series, Slim Harrison and Tom Jolin teamed up as The Barnstormers over 28 years ago to perform traditional American folk music. Previous performances include the Smithsonian Institute and for former Vice President and Nobel Prize recipient, Al Gore. In 2006 they performed at the Viljandi Folk Music Festival in Estonia. The Frederick Post said, "known for their high energy performances and versatility on many instruments, they are real crowd pleasers." Dulcimer Players News called them "international favorites"…adding, "this is good homemade music designed to set your feet to tapping."
They are joined on the Music, Gettysburg! stage by The RockCandy Cloggers, with whom they have been collaborating since 2005. Slim plays the fiddle, banjo, guitar, mountain dulcimer, harmonica, jaws harp and sings. He is also a sought after traditional dance caller. Tom plays the hammer dulcimer, banjo, button accordion, guitar, harmonica, bowed psaltery and sings. Candy plays the string bass, concertina and jaws harp. Rock Howland plays the fiddle. Both Candy and Rock are award winning cloggers that dazzle audiences with amazing footwork.
They perform for all kinds of venues including schools, folk festivals, and history events. In 2007 they performed for the prestigious Bethlehem Musikfest, the 67th New York Remembrance Day Ball and did a one day residency at Marshall Elementary. In 2008 they completed an extremely success residency at Saint Francis Xavier School in Gettysburg. Their 2008 schedule included performances at Germany's 10th Moelln Festival and the Rudolstadt Folk Festival, Germany's largest world music festival. They also performed at many German schools. Other events included York Patriot Days and Carlisle Summer Concert Series.
Slim Harrison is Wolf Trap Master Artist, performing residencies for the Wolf Trap Institute since 1983. He is a master of the claw hammer banjo and red hot square dance fiddler. He is a renowned square dance caller and a regular caller for McDannel College Common Ground on the Hill Festival. He is a previous Howard County Arts Council Outstanding Artist of the Year and a 2005 nominee for the State of Maryland Art Educator of the Year. He does numerous artist in residence programs for the state of Maryland.
Tom Jolin has been performing for 35 years and making instruments for 30 years. The talented hammer dulcimer player travels though out the Pennsylvania region with thrilling performances. The January 2008 issue of Celebrate Gettysburg Magazine titled a feature story about him: "The Gift…. Bringing Happiness to People Through Music." He is a rostered presenter for the Pennsylvania Humanities Council and a sought after artist in residence in schools through the Pennsylvania Council on the Arts. He was the Adams County Arts Council, Arts for a Lifetime Speaker in 2007 and also performed for the Pennsylvania Speaker of the House Millennium Awards Ceremony.
Rock Howland and Candy Ranlet teamed as the RockCandy Cloggers in 1994. Each is a winner of individual clogging competitions, including the National Clog and Hoedown Council East Coast Championships and Deer Creek Fiddlers Convention. They teach clogging at their own studios and also at Common Ground on the Hill Festival. They performed at the Kennedy Center and are regulars for the Washington Folk Festival and Maryland Sheep and Wool Festival.
Come enjoy this Sunday afternoon concert which is free and open to the public. The Seminary Chapel is located at 147 Seminary Ridge on the west edge of Gettysburg. For more information about this and other concerts remaining in the Music, Gettysburg! schedule, please call 717-334-6286 ext 2197 or visit the web site at www.musicgettysburg.org .