Vintage Photography Exhibition at Gettysburg's new Majestic Theater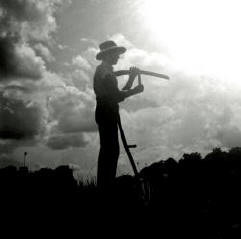 (4/10) Fine art dealer, Americas' Arts, will present an exhibition of vintage photographs from the 1930s and 40s, created by Adams County, Pennsylvania farmer and photographer, Charles "Jim" Lott, in the Majestic Theater Gallery, April 20th through July 5th, 2006. A special Public Reception and Presentation will take place on Saturday, April 22nd, from 6:00 to 8:00 p.m., during Gettysburg's annual History Meets the Arts festival. The exhibition, titled "Heritage: The Photography of Charles `Jim' Lott," includes fifteen limited edition photographs never before exhibited, along with sixteen other limited edition pieces first shown in April of last year.
"Jim" Lott (1914 – 2004) lived his entire life in Adams County Pennsylvania and was known to most as a successful farmer at Granite Hill Farm, as well as, square dance caller and dedicated member of his church. However, very few people knew that he was an accomplished, self-taught, life long photographer.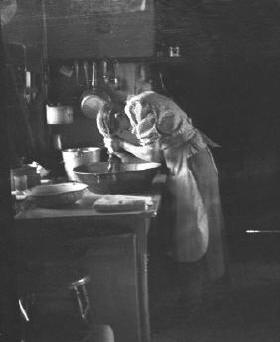 As a teenager, he said he became "smitten with the bug" for photography. In 1937 Lott built his first darkroom in an unused hallway of the family farmhouse. He used an old Ford taillight, placed inside an oatmeal box, as his darkroom safelight. As recorded in his personal memoirs, "The big problem was that I didn't have running water to wash my film and prints. With the wind pump installed near the barn . . . this provided water under low pressure for the barn and hog pen. I contrived a crude washer in the hog pen. This caused me much running back and forth to keep the flow regulated."
His eldest child, John, says his father "probably would have scoffed if someone called him an artist. But, with a camera in hand, that's what he was. He could compose a photo in his mind, click the shutter in the field and make it come alive in his darkroom. In a life full of the hardest kinds of work, he found escape and fulfillment in photography." John remembers his father simply saying, "I like to see that print coming up in the developer, you know."
Americas Arts' owner Larry Knutson has spent more than 600 hours cataloguing Jim Lott's photographic estate. When considering Lott's enormous creative output, Knutson is reminded that American photographer Walker Evans believed the emergence of serious, non-commercial still photography as an art plausibly dated from the 1930s. "That was the period of Jim Lott's own creative germination, within his fertile agricultural setting and among the emerging field of artistic photography itself," Knutson explains. "Among the various items that Jim left behind, including his own notes and thousands of negatives, were American photography reviews published in the 1930s and 40s that he was clearly referring to. Jim recognized in the 1930s, as Evans and others did, that the power of photographic images was limitless."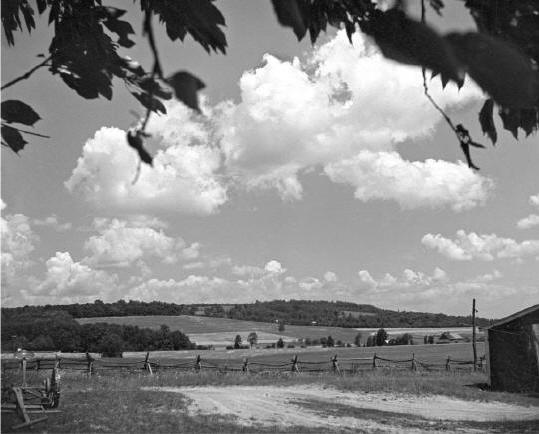 Utilizing the original, fragile nitrate negatives, Americas' Arts has produced thirty one limited edition photographic prints of Mr. Lott's creative work from the 1930's and 1940's. "Last April we introduced Series One of Jim's work, which consisted of fifteen unique pieces," Knutson explains. "Now, one year later, we are introducing Series Two, which consists of sixteen more images from the same time period. As with Series One, all the pieces are in small editions of only 100 each." The limited edition photographic prints are gold embossed with Mr. Lott's signature, and then individually numbered on the verso. The photographs may be ordered via Americas' Arts L.L.C., either framed or unframed.
Jim Lott created images of people and agricultural landscapes, in relationship with one another, as well as himself. Beyond the cultural story conveyed in his photographs, the viewer also discovers Lott's brilliant ability to convey what Evans described as ". . . the dream of making photographs like poems - reaching for tone, and the spell of evocation, for resonance and panache rhythm and glissando, no less." As son John remembers, his father "loved clouds, often using a yellow filter to enhance their definition above a landscape. He preferred high-contrast prints, but made sure to preserve the vitality of subtle detail in the shadows."
"Heritage: The Photography of Charles `Jim' Lot" will run April 17th through July 5th in The Majestic Theater Gallery, at 25 Carlisle Street, in downtown Gettysburg. Gallery hours are Monday through Friday from Noon to 8:00 p.m., Saturday from Noon to 10:00 p.m., and Sunday from 1:00 to 7:00 p.m. Americas' Arts is the exclusive agent and publisher for the photographic estate of Charles "Jim" Lott. For more information please contact Americas' Arts at (717)-677-7514 or visit www.americasarts.com.