Strawberry Hill Nature Preserve sets first annual Live Green Festival for April 18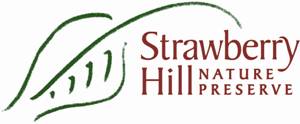 (4/12) Strawberry Hill Nature Preserve will host its first annual Live Green Festival on Saturday, April 18. This community Earth Day celebration will focus on topics relating to "recycle and reuse," and will be held with support from the Adams County Chamber of Commerce and Penn State Cooperative Extension.
The celebration is free and open to the public and officially kicks off at 9:30 A.M. -- but early birds can drop in for a community "recycle and reuse" yard sale beginning at 8:00 A.M. All proceeds will benefit Strawberry Hill's environmental-education programs. Donations of clean, serviceable items for the yard sale may be made daily after 2:00 P.M., from Wednesday, April 15 through Friday, April 17.
Two master gardeners from Penn State Cooperative Extension will provide instruction on composting and gardening at the festival. Roy Thomas will present an instructional composting presentation in the morning, with useful inormation on how to most efficiently compost your family's decomposable waste, as well as the best way to use your backyard composted materials in your garden. And in the afternoon Julie Falk will provide helpful information on what plants grow best in their gardens, along with what plants are native and what plants are invasive species.
After the afternoon gardening class, volunteers can help plant Strawberry Hill's Butterfly Garden and create a brand-new Sensory Garden, both of which are being designed by students at Fairfield Area High School as their senior projects. The Sensory Garden will treat future visitors with wonderful sights, smells -- even sounds.
Additional activities throughout the day include an interactive animal presentation in the morning and a guided nature hike in the afternoon with Strawberry Hill's environmental educator, Eddy Rubin.
Food will be available for purchase, but visitors are also welcome to pack a picnic lunch. Raffles will be held throughout the day with opportunities to win fun and interesting prizes including crafts and artwork. The celebration concludes at 4:30 P.M.
For more information about Strawberry Hill Nature Preserve's first annual Live Green Festival, call Strawberry Hill at (717) 642-5840 or email joe@strawberryhill.org.
For more than 20 years, the non-profit Strawberry Hill Nature Preserve has managed its 609-acre preserve as a living classroom for the community. Open to the public year-round, Strawberry Hill offers a picnic area, nature center, and 10 miles of walking trails through wooded hillsides and along mountain streams. It provides educational programs and special events throughout the year. To learn more about Strawberry Hill Nature Preserve, please visit www.strawberryhill.org.
Read other news stories related to the Fairfield