MSMU to start permanent presidential search early
Angela Smith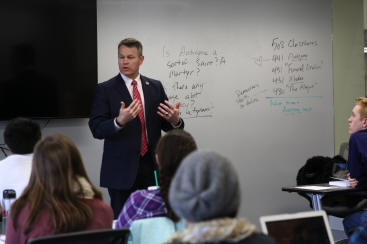 (3/1) The Mount community received an email from Mary Kane, Chair of the Board of Trustees, on February 3, announcing the appointment of a Presidential Search Committee. This committee will work to submit one or more nominations for the position of permanent president of the university to the Board for action at its June meeting. Members will consult with faculty, administration, staff and students in order to reach the best possible decision for the university.
The university recently hired retired Brigadier General Timothy Trainor in August to serve as Interim President for an expected term of two years. In the email sent out to alumni, current students, faculty and staff, Kane stated Trainor has been doing a "magnificent job bringing the Mount community together." She also stated "in today's rapidly changing higher education environment, stability in leadership is critical," as reasoning for starting the search early. Trainor is being considered for the position, along with other candidates, and intends to stay on as permanent president of the university.
"When I came to the Mount six months ago as interim president, I did so not as a caretaker but as someone who has the opportunity to help advance the university. Since then we have come together again as a community, and are working hard together to move the university forward," stated Trainor, "We have made great progress in a short time."
Trainor is the former dean of the Academic Board at the United States Military Academy at West Point and came to the Mount at the end of a tumultuous year of having former president Simon Newman resign in February 2016 after bringing national attention to the university over controversial comments on retention strategies.
Trainor has since been hard at work to make improvements and to move the university forward. Some of the initiatives he has started in his short time in office include a strategic planning process, the launch of a capital fundraising campaign, the start of new academic programs and a partnership between the university, the Shrine Grotto of our Lady of Lourdes and the National Shrine of St. Elizabeth Ann Seton, in Emmitsburg.
"The Seton Dubois initiative strives to increase visitors to the National Shrine of St. Elizabeth Ann Seton and the Grotto, which will benefit our local economy," stated Trainor, "This partnership has the potential to establish our area as a national leader for innovation in Catholic education and in service learning to the poor and disenfranchised."
Trainor and his wife, Dr. Donna Brazil, have used their time in the area to get involved on and off campus through attending Division I and club level sporting events, visiting the Seton Shrine, meeting with Mayor Briggs and getting involved with the Emmitsburg VFW.
"My wife Donna and I feel very much at home here at the Mount and we hope to be a part of this community for many years to come."
Read other news stories related to Emmitsburg