Rising gas prices impacting lifestyles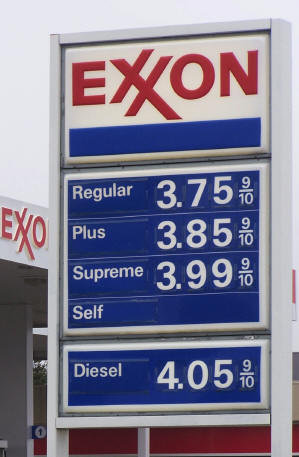 (2/25) Gasoline and diesel fuel prices continue to climb, having risen almost 12% since the start of the year. The rise in price at the pump is a result of a rise in crude oil prices and decreased production of gasoline at US refineries.
Brent crude, the global benchmark hit a fresh nine-month high of $125 a barrel as this paper goes to press. Prices have risen 15 per cent in the past month against the backdrop of growing tensions with Iran and supply disruptions in other, smaller producers such as Sudan, Syria and Yemen. Petroleum production from Europe, Africa and the Middle East flowing West tends to be priced relative to this oil.
Unfortunately for East coast American drivers, gas prices are based upon the price of Brent crude, not West Texas Intermediate, which is US produced oil, and which is currently at a all time supply high.
As a result, fuel prices have broken all previous records during February, and economists are predicting that "you ainít seen nothing yet." Prices are expected to exceed $4 or more per gallon - some are saying $5 or more - at the gas pumps by spring.
Area residents are already reducing the number of shopping and family outing trips they make, while others have begun car-pooling to save commuting costs.
Emmitsburg resident Diane Decker echoed the comment of many women interviewed for this story: "I have been cutting back on driving and making every trip count, and instead of shopping in Frederick, I try to do more shopping locally."
Tony Orndorff of Zurgable Brothersí Hardware received unanimous agreement for customers gathers around the check out counter with his answer of: "It Sucks!... Itís taking away all my spare money." Fellow worker Charles Shultz echoed Tonyís comments, adding: "I canít even afford the drive to go fishing anymore."
Pastor Jon Greenstone of Elise Lutheran Church commented that: "Price of heating oil is really robbing our offerings away and preventing funds from being available for more important ministry expenses." Susan Allen of the Council of Churches remarked that that requests for gas cards from the Seton Center are up and wondered how folks on limited or low income manage to afford to get to their jobs."
While the increase in gas prices have hit everyone hard, some of the hardest hit are those who came to the area seeking a small town environment for their family while continuing to DC fro work. "Commuting 5 days a week to DC with the current gas prices has drastically changed our house hold budget. Instead of spending over $100 a week in gas I know pay close to $200 which puts a financial toll on where our money is being spent." Noted one Brookfield resident. "We as a family aren't driving nearly as far as we once had and when my wife shops we turn it into a family trip and shop where many stores are in the same general area."
Another resident of Brookfield, our very own Teenís View writer Kat Dart is tacking the issue head on. "I'm sixteen years old, and going for a Motorcycle license. The motorcycle gets around 80 mpg, so Iím saving some serious money right there."
Emily McGlaughlin of Fairfield said she is looking for entertainment and recreational activities that are more local. For example: hiking trails. She is also appreciating the stories that her grandfather told her about when they had to ration gas during WWII and the struggles they had. Finally, she is choosing to spend more time at home with family.
Kay Deardorff of Strawberry Hill was more Philosophical: "Öthe price of gas is affecting visitation to our Preserve. This, in turn, makes my job more challenging as I am forced to become more creative in finding ways to make our facility appealing. At the same time it can be beneficial as we have a place where people can get out into nature and enjoy the creation around us without paying a high cost for Entertainment."
One parent noted that she had banned her son from his four-wheeler. "All he was doing was wasting gas ridding around in circles." She noted. "I told him to ride his bike, which is not only healthier for him, but has restord peace and tranquility to the neighborhood."
Local business owners are being hit hard. Lynn Biller of the Emmitbsurg Subway relied that "It has effected the prices we pay for our products, so our food cost is higher. Yet we can't really raise our prices much, since we are associated with a high quality/low cost product and would lose customers."
Cindy Wivell of CJís Embroidery in downtown Emmitsburg said she was keeping a weary eye on the cost if UPS shipments of supplies. "The cost of shipping keeps going up. So far weíve been able to absorb the increase and not raise our prices, but that only means we make less. "
Roddy McNair of McNairís Landscaping Supply echoed Cindyís comments. "Our business is very competitive, so I have to absorb the fuel increases. But itís increasing getting harder to do that."
Local Veterinarians Drs. Gary Kubala and Kim Brokaw, who depend upon their trucks to get to their clients, are also felling the pinch of the increasing gas prices. Dr. Kubala said he spends anywhere from $200 to $300 a week on gas, and for the first time last week it cost more then $100 to fill his truck. In spite of that, he hasnít raised his trip fees. "Things are hard enough on animals owners as it is, I donít want to add to their burden by raising our trip fee price and cause someone to hesitate to call us when needed. I would rather the money go into the care of the animal."
If there is an upside to the downside however, many residents noted that are spending more of their income locally, as more distance stores, service stations and eateries no longer prove as lucrative as they once were, due to added transportation costs.
At $4 a gallon, the 50 mile round tip to Frederick cost up to $8, the equivalent of top of the line appetizer at the Carriage House, and entrťe at J&Ds, restaurant or several a handful of hardware at Zurgable Brothers.
Fitzgerald Automotive on North Seton Ave., which specializes in tune-ups, is seeing an increase in business. "While the price of gas is outside your control, how much gas your care waste is within your control, " said owner Pete Fitzgerald. "A properly tuned car will burn anywhere from 20 to 25% less gas. So a tune up pays for itself in just a few tanks." Bob Mort of Quality Tire added that proper tires also help one hold down fuel costs.
Read other news stories related to the Emmitsburg