Two area bridges to be replaced
(6/25) A bridge located near the Rock Ridge Fire Company on Maryland State Route 76 (Motters Station Road) has been closed to traffic for replacement and a Route 140 bridge is facing a similar fate.
According to the SHA, the North Frederick County bridge, which spans Motters Run, shows "signs of significant deterioration" and, along with the Route 140 bridge, has "reached the end of…useful life span."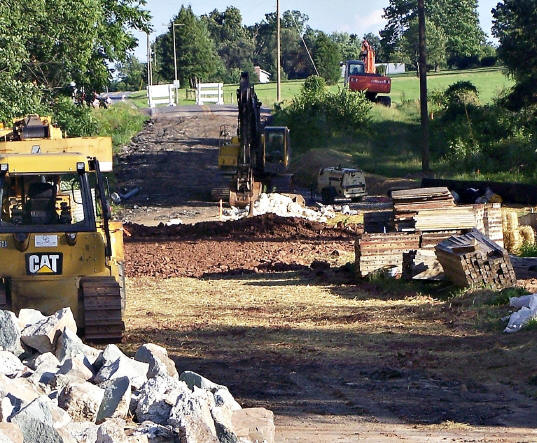 The Route 140 (Taneytown Pike) bridge spans the Monocacy River.

In addition to completely replacing the bridge on Route 76, the SHA will also be increasing its width "to match that of the approach roadway, reconstruct the bridge approach itself, and raise the profile of the road to improve sight distance and safety."

Plans call for construction to have begun in June "once school has ended." The SHA stated that the bridge should be re-opened by August before area schools reopen, weather permitting.

"As an incentive for rapid construction, a monetary reward will be provided the contractor for each day ahead of schedule that the project is complete, with a penalty for each day it is not complete beyond the allotted time," the SHA stated.

Rocky Ridge Fire Company Chief Alan Hurley said he did not expect the closure to affect fire fighting operations.

"We have two routes to go (to access different areas of their coverage responsibilities)," he said. One route involves taking Old Mills Road to Old Frederick Road, while the other route involves taking Bollinger Road to Four Points Road.

He said he did not expect the bridge to be complete by the dates for the firemen's carnival, but that "they (SHA) put pretty good detour signs up for us. It shouldn't affect attendance too much."

The Route 140 bridge will also be completely replaced, with the new bridge being located 30 to 40 feet south of its present location "to reduce sharp road curvature on the Frederick County side of the bridge, increase sight distance, and improve safety."

The bridge will also be widened to make it bicycle compatible.

"Traffic will be maintained on the existing roadway until the new bridge and approach roadway is near completion," the SHA reported.
Read other news stories related to the Emmitsburg