Churchgoers mourn friends struck,
killed by SUV before Mass
Nicholas C. Stern & Pam Rigaux
Frederick News-Post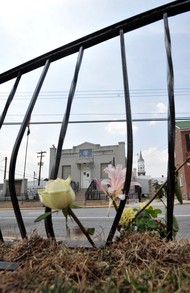 (8/10) Friends of the Emmitsburg couple who were killed Sunday as they were leaving church came to pray at the church Monday.
Emmitsburg resident Elsa Schubring sobbed before she went inside St. Joseph's Roman Catholic Church on North Seton Avenue.
The memory of Patricia Mauro-Cillo, 64, and her husband John Cillo, 53, talking and laughing with her seconds before they were killed keeps playing in her mind.
"I can't sleep," she said.
On Sunday, Mauro-Cillo, Cillo and Mauro-Cillo's mother, Marian Derosa, 89, decided to attend mass at St. Joseph's. They stopped on their way into church to talk to Schubring and her family, Schubring said. They talked for a few minutes.
Meanwhile, a greeter at the church, Mary Camilleri, 63, of Fayetteville, Pa., tried to parallel park her 2006 Mercury Mountaineer along the northbound shoulder of North Seton around 11:20 a.m.
For unknown reasons, Camilleri accelerated rapidly in reverse, striking a parked 2003 Ford Explorer before continuing into the street, hitting Mauro-Cillo, Cillo and Derosa, according to a preliminary investigation by the Frederick County Sheriff's Office.
The sheriff's office said the three were trying to cross the street.
But Schubring said the three of them and her husband jumped out of the way when Camilleri's Mercury hit the parked SUV.
"John tried to save his wife and his mother-in-law," she said. "We tried to stop the car. We put our hands up."
Patricia Mauro-Cillo died at the scene. Deputies found John Cillo and Marian Derosa, 89, severely injured, said sheriff's office spokeswoman Cpl. Jennifer Bailey.
Cillo later died after being taken from the crash in a Maryland State Police helicopter, Bailey said. A separate police helicopter took Derosa to the R Adams Cowley Shock Trauma Center in Baltimore. Her condition was not known as of Monday night.
The couple is well-known in Emmitsburg for their humor and dedication to the community, their friends said. They volunteered to help with area programs, said Kristine Sweeney, a good friend of the family. "John helped at the Grotto for years. He went on missionary trips," she said. "He was hilarious."
"It's a small, small town and everybody knows everybody in this town. This whole town's feeling it," the Rev. Vincent O'Malley said.
He was standing on the front steps of his church following his 10:15 a.m. children's mass Sunday as churchgoers began arriving for the next mass.
O'Malley said he saw Camilleri's SUV shoot diagonally across the street, heard people scream and then shouts that people had been hit.
He ran into the street and saw three people lying there. A parishioner who is also a nurse took their pulse and watched over them until emergency responders arrived minutes later, O'Malley said.
O'Malley blessed them and said a prayer over their bodies. He also helped console Camilleri.
"Who of us has not put the car in reverse when we thought we were pulling into drive," O'Malley asked rhetorically. "Who of us has not touched the accelerator when we though we were touching the brake?"
O'Malley said most of the attendees at the service the three attended were children, and that four children were nearly hit in the crash.
"They were as good a people as you'd want for a neighbor," O'Malley said of Mauro-Cillo, Cillo, Derosa and Camilleri.
O'Malley said he did not know about the family's funeral plans.
The Frederick County Sheriff's Office is deciding whether or not to charge Camilleri in the crash, Bailey said.
The vehicles have been towed to the sheriff's office for evidence collection, and investigators attended autopsies of Cillo and Mauro-Cillo Monday at the Office of the Chief Medical Examiner's in Baltimore, Bailey said.
Read other news stories related to the Emmitsburg