Emmitsburg Economy Takes Hard Knocks during Recession
Katherine Heerbrandt
Emmitsburg Chronicle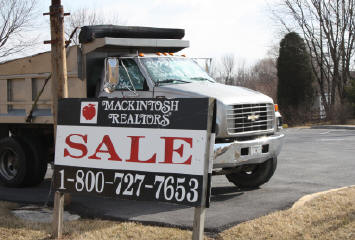 (3/1) On a freezing Monday night, the dining room at the Carriage House is packed. A Saturday afternoon finds Ski Liberty overflow parking lots filled to capacity. An early Sunday evening at Jubilee Foods is no less crowded than it was five years ago. The Antiques Shops has its "best month ever."
Recession, what recession?
Delve a little deeper and you will see some signs. RealtyTrac lists 10 homes pending foreclosure in and around Emmitsburg, one property up for auction, and three others in foreclosure. The list changes daily.
Selling a home, especially in this once-booming area, mirrors the national trend where home prices dropped a record 12.4 percent in the final quarter of 2008, the biggest annual decline in 30 years, according to the National Association of Realtors. The median price for a home fell from $205,700 in the last quarter of 2007 to $180,100 in 2008.
Libby Briggs, Briggs Associates realtor and co-owner, wasn't surprised when the area's housing bubble finally burst. The realtor knew inflated housing costs couldn't last because she never predicted them in the first place.
"I always say, if someone told me that housing would go so high here, I would've told them they're crazy," she said.
Two housing counselors see an average of 30 new people a week at the Frederick Community Action agency, a consistent number for some time.
The worst situation for those hoping to forestall foreclosure, counselor Brad Peterson said, is when they have lost jobs and take another at a much lower salary, or are still unemployed after months of looking. He predicts the pain will persist for another 18 to 24 months.
Losing a job is becoming an epidemic. Frederick County Workforce Services report that the number of visitors to the county's business and employment center has jumped 24 percent since last February.
The construction business was the first indicator that the good times were coming to a close, at least for a while. W.F. Delauter is down to 23 employees from 60 this past summer.
The Emmitsburg Dispatch, a staple for several years, shut its doors in December. Newspapers are especially hard hit because they generally rely on advertising dollars to keep them solvent. The historic building on the square that housed the Dispatch and other offices now sits empty.
Mayor Jim Hoover said that for the better part of a year, the town has witnessed an increase in delinquent water and sewer bills, another indicator that the economy is taking a toll on Emmitsburg's townspeople.
Emmitsburg Surviving
It is true our economy is in bad shape. Debt is high, unemployment is up and people are losing their homes at an alarming rate to foreclosure.
But it is not the first time our country has weathered such setbacks. History shows us that prosperity is cyclical.
The unemployment rate will likely top out at 9 percent, according to The Economic Times. But that's not history-making. The U.S. unemployment rate hit that all-time high in 1983. The current 7.2 percent unemployment rate isn't anything new; we witnessed a similar rate of loss in 1990.
A lot of us are saying our current situation is aggravated by bad policies and bad habits, to be sure. But also by a mindset that we're entitled to have it all.
"We Americans are on the spoiled side," said Libby Briggs, who also serves as president of the Emmitsburg Business and Professional Association.
As for the state of Emmitsburg business, Briggs believes most are holding their own, in part, because the town is uniquely positioned to survive an economic downturn.
A ski resort and golf course, university, nursing homes, a hotel and the National Fire Academy aren't only employers, they also bring a steady stream of tourists and visitors into town, a boon to restaurants and other shops.
Business may be off a bit at the Ott House and other local eateries, but manager Laurie Harley said the landmark is fortunate.
"Everyone's feeling the crunch, but we're lucky there are so many people passing through," she said. Recessions and a recent smoking ban have yet to make a major dent in the thriving pub.
That doesn't mean restaurants are immune. A relatively new eatery, Alesandro's Italian restaurant was listed in foreclosure recently, but managed to pull itself together and is still open for business.
Despite the somber economy, the National Restaurant Association forecasts that restaurants, which employ 9 percent of the country's workforce, will remain strong in 2009, experiencing an inflation-adjusted decline of 1.0 percent.
Not Just Luck
Emmitsburg's business community might have luck on its side, but for those industries most hard hit, luck has nothing to do with it.
Libby Briggs and husband and partner Don Briggs sold their office building last spring and now operate Briggs Associates, a real estate and appraisal firm, from a home office. The arrangement suits the couple much better, Briggs said, in addition to saving the expense of an outside office.
Carl Athey, W.F. Delauter's vice-president and partner, has seen his share of construction companies go under. In business with partner Kirby Delauter for 17 years, Athey believes the first companies to fail are those that expanded too fast and reached too far. Their credit's shot and they can't get bids on jobs. To survive, you have to be thrifty.
"We didn't purchase new equipment at every opportunity. We might not have had the best looking trucks around, but we don't have debt and we have good credit," he said. "You can't be financially healthy enough."