Bill Wivell named construction supervisor for Habitat for Humanity
(3/6) Bill Wivell, of Emmitsburg, was recently named Habitat for Humanity's first full-time construction supervisor, after working for several months as a part-time supervisor on several Habitat projects.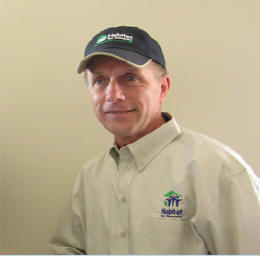 Wivell first began working with Habitat for Humanity in 2005 when the Frederick County United Methodist churches, Mt. St. Mary's University and the Habitat Chapter at Gettysburg College joined hands to build the first Habitat home on Academy Court in Emmitsburg. In addition to being on the project steering committee, Wivell served as construction supervisor.
In 2006, he supervised the construction of the first Habitat home on Blue Mountain Road in Thurmont. Wivell also traveled to Biloxi, Miss. with a group of Habitat volunteers from Frederick to rebuild homes destroyed by Hurricane Katrina.
With 11 homes planned for 2008, Wivell's first duty in his new job is supervising the work of students from Frederick Community College's Career Technology Center who are renovating a Habitat home on 18 West 7th Street in Frederick.
Prior to working with Habitat, Wivell spent 15 years in the general contracting business with his father and five years as the director of maintenance at Mt. St. Mary's University in Emmitsburg. He also owns Tom's Creek Electric and has a Maryland master electrician's license and over 20 years' experience in the construction field.
In addition to is work with Habitat, Wivell is the current president of the Emmitsburg Council of Churches and has been involved with youth baseball in the Emmitsburg area for 25 years, ten of which he was a member of the Frederick County Umpires Association.
Read other news stories related to the Emmitsburg