Emmitsburg elects 2 to board of commissioners in uncontested race
Ashley Andyshak
Frederick News-Post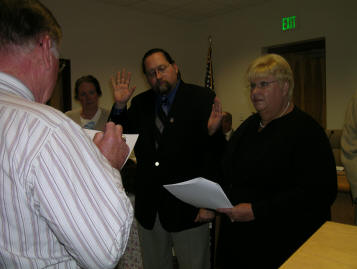 (9/25) Both Glenn Blanchard and Denise Etris said they want to work with the current board of commissioners to get things done in town.
The two were elected to the board in an uncontested race Tuesday.
Blanchard will be serving his second term as commissioner, and said he wants to focus on improving the town's water and sewer lines, roadways and parks.
He also said he wants to continue to work with the Emmitsburg Historical Society to bring more historical materials to the town office, like the three maps that hang behind the commissioners' table. He also wants to encourage more people to preserve the town's history for future generations.
"I don't expect to get this done myself, I expect to be working with the other town commissioners to get this done," he said.
Etris has been attending town meetings ever since she moved to town three years ago.
"Two weeks after we moved here, we went to our first town meeting, and I was hooked," she said.
Since then, Etris has served on the board of appeals and the streets committee, and was the lone member of the town's charter review committee. She was also an election judge twice.
Etris said she'd like to see people give the idea of a northern truck bypass route a chance.
"A lot of people think it's not going to happen, but no one has actually pursued it. No one has sat down with Pennsylvania and talked about it," she said.
She said she'd also like to develop or update the town's disaster emergency plan.
"We have great resources in this town, with the fire department and the ambulance company, and the National Fire Academy connected with FEMA," she said. "We could have a really good plan in place."
Etris said she'd also like to begin the "slow process" of revitalizing the downtown area.
"It's not going to happen overnight," she said. "It's something for the future, but if we don't start working on it right now, it's not going to happen."
---
Two elected to Emmitsburg board
Jeremy Hauck
The Gazette
(9/27) There were no surprises in the results of Emmitsburg's first-ever September election for town commissioner Tuesday night.
Only two people registered as candidates for the two open seats, so it was inevitable that incumbent Commissioner Glenn E. Blanchard would win a second term, and that Denise E. Etris would be elected to the board for a first term.
Etris and Blanchard ran unopposed for the two seats on the five-member board, after Commissioner William B. O'Neil Jr. declined to run for a second term.
According to Pat Feeser, town spokeswoman, 111 people voted in the election. There were four write-in votes, but no write-in candidate received more than one vote.
The returns, posted on the window of the Frederick County Sheriff's office downtown, showed that Blanchard earned 102 votes and Etris earned 98 votes.
There are 1,366 active registered voters in Emmitsburg, according to Stuart Harvey, Frederick County election director.
Emmitsburg's town government switched the election date from late April to late September, according to Mayor James E. Hoover, to give newly elected officials more time to wrap their minds around the town's budget before having to vote on it. The town's fiscal year begins July 1.
''[Commissioners] didn't have a fair opportunity to really do their homework," Hoover said Tuesday, adding that he recommended the change. ''By doing this, it spread out some of the workload."
In the past, newly elected commissioners, when faced with approving a budget six weeks after coming into office, ended up ''rubber-stamping what the [sitting] majority [said]," Hoover said.
Emmitsburg commissioners serve three-year terms, meet twice a month, and are paid $4,000 per year.
Emmitsburg's next election for town officials is on Sept. 30, 2008. The mayor's position and the seat of Commission President Christopher V. Staiger will be up for election.
Read other news stories related to the Emmitsburg Town Government