Things heat up in Emmitsburg
(8/16) On August 4, things heated up in Emmitsburg at the Mayor's Community Bar-b-que, and only one man walked away the ultimate champion as Emmitsburg's first Grand Griller.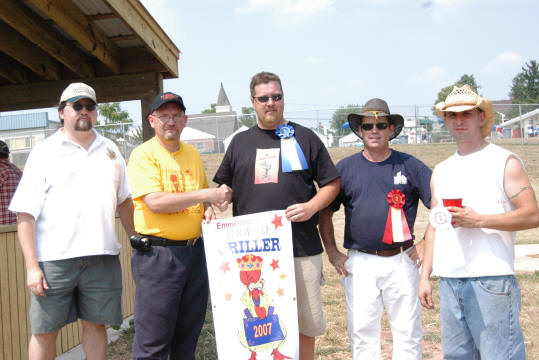 Winners of the bar-b-que contest received ribbons from the Mayor. L to R: Glenn Blanchard, Emmitsburg town commissioner; James Hoover; Alan Fitzgerald, Glenn Higgs and Randy Hall
Alan Fitzgerald, a.k.a Al's Flamin' B.B.Q., is the one who owns the bragging rights as the Grand Griller of barbeque chicken. He won the title with an award-winning family recipe. For several years Fitzgerald has been working on his recipe and although the barbeque was his first competition, Fitzgerald didn't seem too surprised at the outcome.
"I always knew I had good stuff," Fitzgerald said.
With one win under his apron, Fitzgerald is hungry for more chicken to barbeque and he intends on entering contests in the future.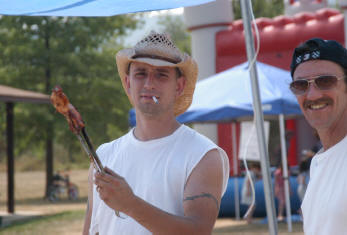 Randy Hall (left) of Team Boonedock shows off his barbeque chicken at the Mayor's Community Bar-b-que, Team Boonedock walked away from the competition with second place.
Randy Hall of Team Boonedock also savored a sweet victory, taking home second place for his sweet and spicy family recipe. Cooked with mesquite-soaked charcoal, smoked with apple chunks and lathered in secret sauce, Team Boonedock's recipe was passed down to Hall from his father and Hall wanted to let everyone know one thing.
"I wanted to show off how good the chicken is," Hall said with a smile.
Although Hall wanted to show off his dad's recipe, he did not enter the competition solely based upon that desire.
"The fact that the money raised is being donated to the college fund was a big motivator to enter," he said.
All of the money raised from the approximately 250 dinners sold at the barbeque will be put into a scholarship fund that Emmitsburg Mayor James Hoover is attempting to set up.
The cause behind the barbeque also motivated Glenn Higgs to enter the contest.
"I really love how the mayor does things for the community," Higgs said. "This is what small towns are all about."
Not only did Higgs participate in the competition, but he also walked away with a third place win. Higgs used a Holland Grill, which prevents the chicken from being exposed to an open flame, to cook his chicken. He also used his secret sweet n' sassy sauce, which he makes late at night to prevent anyone from copying his recipe, to season the chicken.
"This is my passion, my fun time," Higgs said. "I'm not much to look at, but I'm good to have around."
With nine different varieties of chicken to sample, a moon bounce to jump on, and Springfield Exit playing music, there was plenty to do to keep those busy who weren't caught up in the heat of the competition.
Overall the first annual Emmitsburg Community Bar-b-que seemed to be a success, which is a good thing for Hoover, who has already purchased the ribbons for next years competition, scheduled for the first Saturday in August.
Read other news stories related to the Emmitsburg Town Government